09th June 2023
Vicki Fletcher (ECBC President 2022-2023)
Exeter's women's boats lead the way at Summer Eights
Exeter College Boat Club President Vicki Fletcher (2021, English) reports on an exciting Summer Eights for the Club.
This year's Summer Eights was a memorable event for Exeter College Boat Club. We had six boats racing – three Women's boats and three Men's boats. It was the first time in ten years that we had entered a Women's third boat, and the first time in ECBC history that the W3 has ever bumped.
Both sides of the Boat Club performed admirably, but the women's side stood out most of all. With three Blues rowers, a Blues cox, and five of the best female rowers from ECBC, the Women's first boat had erg times comparable to many Division One crews. After narrowly missing out on a double overbump on Day One, the W1 ended the week by moving up five places and up a division, from Division Three to Two in three days, bumping Linacre W1 in just 35 seconds on the final day. The Women's second boat similarly missed out on an overbump on Day One and then steadily moved up three places, with one bump on each day, while the Women's third boat bumped twice and rowed over twice for their strongest Summer Eights ever.
For the Men's boats the week was a battle to consolidate their positions against tough opponents. The Men's first boat rowed over on all four days, while the second boat rowed over on three of the four days, only suffering a bump on day one by a very talented Hertford boat that went on to secure blades. The Men's third boat suffered bumps on the first three days, but rallied well on Day Four to avoid getting spoons.
This is what some of the rowers had to say about Eights Week:
"It was my first time ever doing Bumps racing, and I really enjoyed it. It felt like college spirit was very strong this week, and I felt like I was a part of something really special." – W3 rower

"While it was gutting to miss out on blades, it was still pretty cool to go up five places in three days. It feels like the W1 just gets stronger and stronger each time we race, and I can't wait to race again next year!" – W1 rower

"Rowing over every day was hard, but I feel like we produced a high standard of rowing that showed just how much we'd been training both on the land and on the water." – M1 rower

"Racing in the W2 was one of the highlights of my university experience so far – we combined competitiveness and camaraderie, and I'll never forget bumping on the last day!" – W2 rower
Out of the 54 athletes who raced during Eights Week, 48 learnt to row at Exeter. Many of these rowers have learnt to row in the last 12 months, which is testament to the exceptional coaching and support that the Club has received. Out of our four female Blues, three also learnt to row at Exeter, further showing the strength of our club. We are already looking ahead to Torpids 2024, and laying the foundations for a successful week.
The excitement of Eights Week was compounded by the new additions to our racing fleet. After the retirement of the old but well-loved Lady Galadriel, the W2 and W3 raced in a brand-new shell – a Janousek – which was christened Sandra D II on the final day of racing. The M2 also raced in a new shell, to be named Trigger after our senior member's dog. Everyone at the Boat Club would like to thank the kind donors who enabled these acquisitions, notably Emeritus Fellow Raymond Dwek and his wife Sandra, whose generosity funded the Sandra D II. The strong performances of the W2 and W3 in particular were enabled by our new boat, and we look forward to training the next generation of novice rowers in these shells.
All in all, it was a fun week of racing, culminating in the ECBCA annual dinner in hall. It was fabulous to have so many alumni come back and tell us about their memories of ECBC, and it was especially inspiring to have some female alumni return and tell us about their experiences over the years. We would like to thank all of the alumni and staff who have supported ECBC during both Eights Week and the rest of the year.
Victoria Fletcher (ECBC President 2022-2023)
Marking Exeter College Boat Club's 200th anniversary
In 2024 Exeter College Boat Club will celebrate its 200th anniversary with a range of festivities, including a picnic at the Henley Royal Regatta and a reunion event at the annual Oxford and Cambridge Boat Race. Details will be shared by the Development and Alumni Relations Office in due course. You can also subscribe to receive emails from the Exeter College Boat Club Association, led by alumnus and ECBCA chairman Matt Holyoak (2015, History). If you would like to hear from Matt with ECBCA updates please email development@exeter.ox.ac.uk and confirm you are happy for Matt to have your name, matriculation year and email address for this purpose.
Details of some of the events are still to be confirmed, but the provisional programme includes:
Boat Races
ECBCA has booked the function room of the Blue Anchor for the Boat Races between 13.00 and 17.00 on Saturday 30 March 2024. The pub has a balcony to watch the boats pass, and a big screen will be set up inside to watch the remainder of the event. Tickets will be released at the start of the academic year.
ECBCA Dinner
The annual ECBCA Dinner is provisionally set for Saturday 25 May 2024.
Reunion Outings
On Sunday 26 May 2024 ECBCA hopes to have a barbecue at the boat house alongside a run of outings for returning crews.
Henley Picnic and Row-Past
ECBCA will wrap up the 2023/24 academic year with a row-past and a picnic at Henley Royal Regatta in late June 2024. Exact dates and timings are still to be confirmed.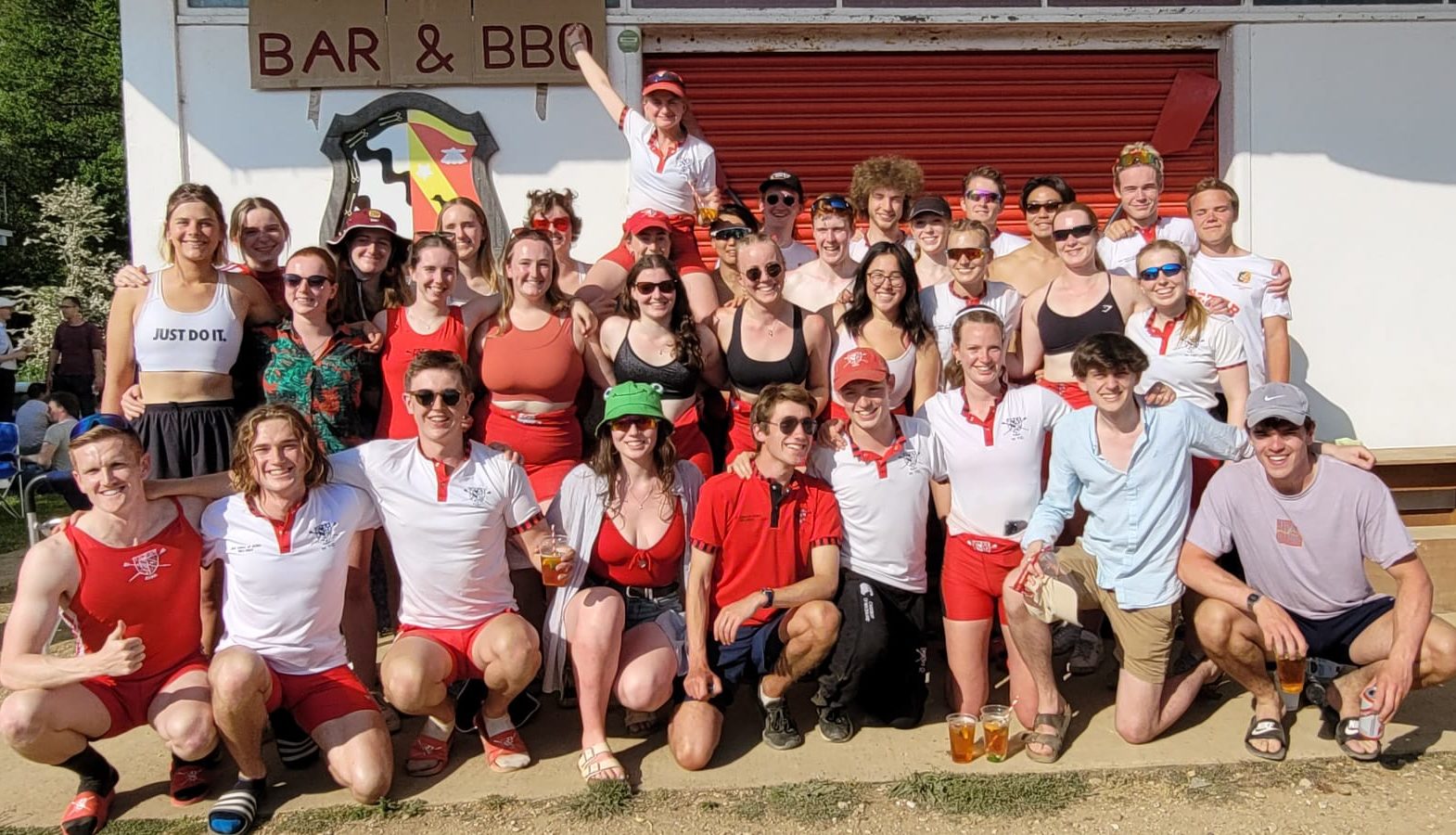 The Exeter College Boat Club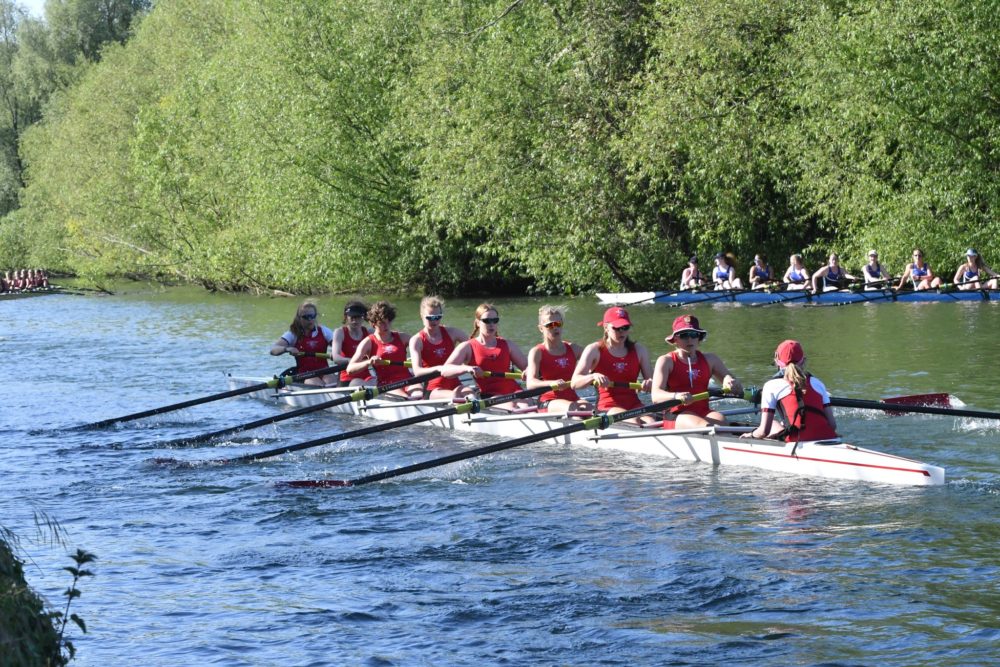 The W1 team rowing on Friday