23rd July 2018
Thomas Hunt - (2016, PPE)
Exonian Dr Rina Ariga wins series of prestigious prizes for her research
Congratulations to Dr Rina Ariga (2012, Cardiovascular Medicine) on winning a series of prestigious prizes for her DPhil research on the heart disease Hypertrophic Cardiomyopathy.
Hypertrophic Cardiomyopathy arises when muscle fibres in the heart are 'disarrayed', leaving the heart susceptible to stopping suddenly. One of the most well-known cases of Hypertrophic Cardiomyopathy is former footballer Fabrice Muamba, who collapsed during an FA Cup match, his heart stopping for 78 minutes. His life was saved thanks to the rapid attention on the pitch from medical personnel, including a consultant cardiologist who happened to be at the game as a fan.
Dr Ariga's research investigated ways to measure disarray in living people, so that people at high risk can receive appropriate treatment before it is too late. She borrowed a magnetic resonance imaging (MRI) technique from neuroscience, which is used to map the path of nerve fibres in the brain, and modified the technique so that it can be used to map the muscle fibres of the heart which, unlike the brain, are always moving.
For this innovative research Dr Ariga has received the Young Investigator Award from the British Society for Cardiovascular Magnetic Resonance and the Clinical Science Prize from the Association for Inherited Cardiac Conditions. She is also a recipient of the Royal Society of Medicine Cardiology President's Prize for 2018.
Dr Ariga participated in Exeter's inaugural Three-Minute Thesis competition, winning first prize for her talk about her research, which is available to listen to here. The competition challenged entrants to distil their DPhil thesis and explain it to a non-specialist audience in just three minutes.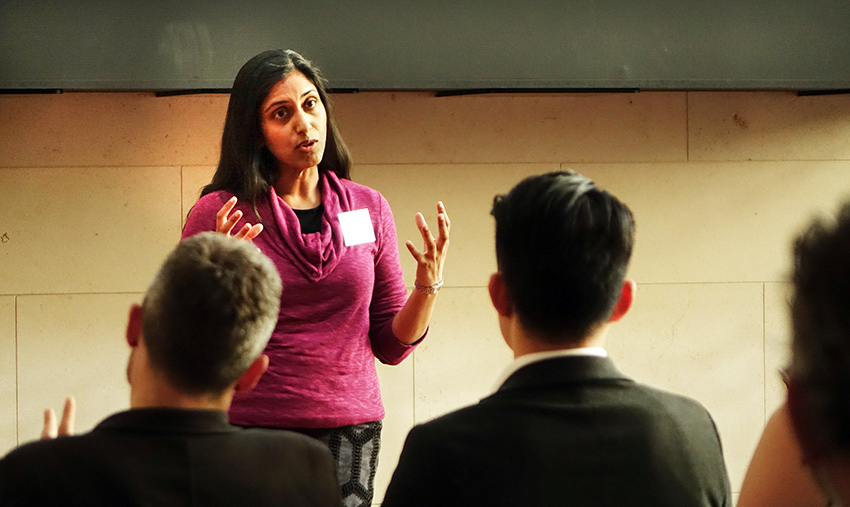 Dr Ariga presents her research at the inaugural Three-Minute Thesis competition in the FitzHugh Auditorium, Cohen Quad