Exonian generously donates William Morris volumes
Alumnus Dr Dominic Berry (1983, Classics) has very generously donated to Exeter College a Kelmscott Press first edition of fantasy novel Child Christopher and Goldilind the Fair, written and published by Exonian William Morris (1852, Classics). This two-volume work joins three other William Morris books recently acquired by the College Librarian, Joanna Bowring.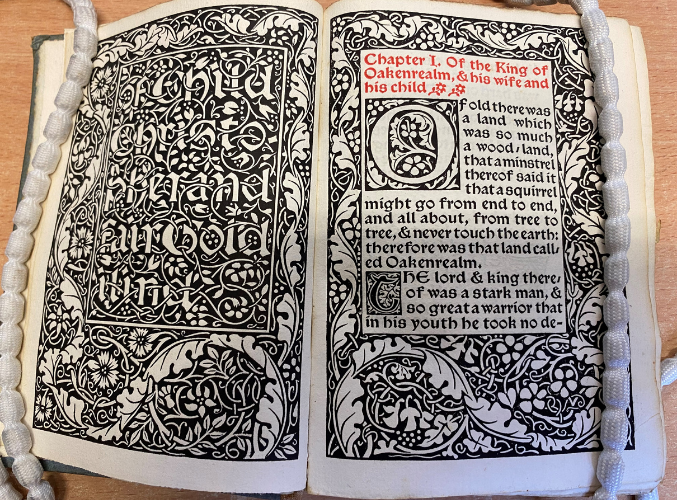 Written by William Morris in 1895, Child Christopher and Goldilind the Fair is a novel based on the thirteenth-century tale Havelok the Dane. This beautiful first edition, over two volumes, was published in 1895 by the Kelmscott Press, which Morris founded in 1891. The book forms a bridge between two of Exeter's best-known literary alumni. One of the first fantasy novels, it had a strong influence on JRR Tolkien (1911, Classics and English), helping to inspire the world he created in The Hobbit and The Lord of the Rings.
Dominic Berry said: "The book was bought by my great grandparents Edwin and Maud Scott-Nicholson. They were Morris enthusiasts: they built themselves an Arts and Crafts house called Barn Close outside Carlisle in 1902, furnished it with Morris textiles and filled it with their own collections by Morris and the other designers of the period. They gave this book to their son Christopher, my grandfather, who read Modern History at Magdalen College in the 1920s and was killed in the Second World War. I discovered that no Oxford college library owned a first edition of the book and was delighted to be able to pass on Christopher's copy to Exeter."
Exeter's Rector, Professor Sir Rick Trainor, said: "The books are beautiful products of the Kelmscott Press. Their rarity in Oxford libraries enhances the considerable intrinsic importance of this gift to Exeter. On behalf of the whole College community, I thank Dominic for his generous donation to his alma mater."
College Librarian Joanna Bowring said: "Exeter College Library has a growing collection of works by and about William Morris, augmented by both donation and purchase. The collection started in 1896 when Morris's wife Jane donated her husband's personal copy of his masterpiece the Kelmscott Chaucer to his old college after his death. These two volumes will make a wonderful addition to the College Library in the rare book section housed at Cohen Quad."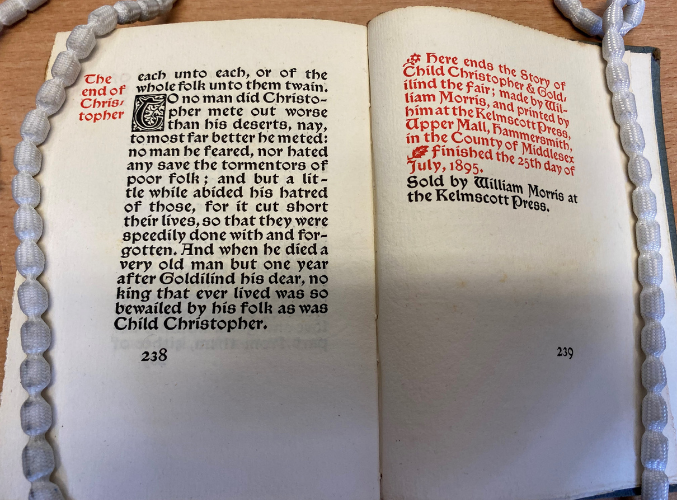 Dominic's donation joins the three latest Morris acquisitions to the College collection, found by College Librarian for sale at Blackwell's Bookshop last winter.
Two are lectures given by Morris and the third small volume, only three inches tall, is a collection of tributes to William Morris by book trade notables and includes a wood-engraved portrait of Morris.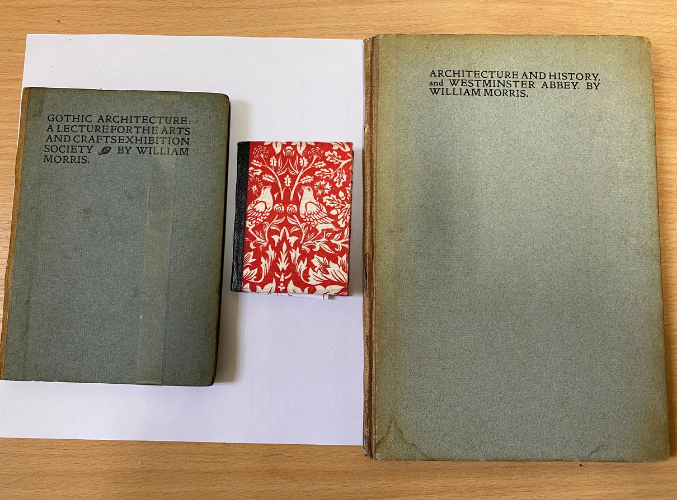 The book by Morris on the left is Gothic Architecture: a lecture for the Arts and Crafts Exhibition Society and was printed by the Kelmscott Press in 1893.
The book on the right is Morris's Architecture and History, and Westminster Abbey, a paper read before the Society for the Protection of Ancient Buildings, on 1 July 1884. It was printed at the Chiswick Press with the Golden type designed by William Morris for the Kelmscott Press, and published by Longmans & Co.
The tiny book in the middle is called Printers on Morris, edited by John J Walsdorf, Beaverdam Press, 1981. It has a foreword by Sir Basil Blackwell, who knew Morris's daughter, and a wood-engraved portrait of Morris by Barry Moser.