Exonian Sir Roland Jackson to publish book on the life of John Tyndall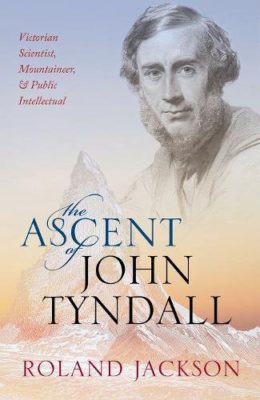 Exeter alumnus Sir Roland Jackson (1976, Molecular Immunology) has written a book about 19th-century scientist John Tyndall that will be published next month. The Ascent of John Tyndall: Victorian Scientist, Mountaineer, and Public Intellectual looks at the rise of Tyndall from a humble background in rural southern Ireland to one of the foremost physicists, communicators of science, and polemicists in mid-Victorian Britain. It will be published by Oxford University Press on 22 March.
In science, John Tyndall is known for his important work in meteorology, climate science, magnetism, acoustics, and bacteriology. His discoveries include the physical basis of the warming of the Earth's atmosphere (the basis of the greenhouse effect), and establishing why the sky is blue. But he was also a leading communicator of science, drawing great crowds to his lectures at the Royal Institution, while also playing an active role in the Royal Society. Tyndall moved in the highest social and intellectual circles. A friend of Tennyson and Carlyle, as well as Michael Faraday and Thomas Huxley, Tyndall was one of the most visible advocates of a scientific world view as tensions grew between developing scientific knowledge and theology. He was an active and often controversial commentator, through letters, essays, speeches, and debates, on the scientific, political, and social issues of the day. Widely read in America, his lecture tour there in 1872-73 was a great success.
Roland Jackson explores the life of a central member of Victorian science and society. He also describes Tyndall's importance as a pioneering mountaineer in what has become known as the Golden Age of Alpinism (among other feats, Tyndall was the first to traverse the Matterhorn and the first to ascend the Weisshorn). He presents Tyndall as a complex personality, full of contrasts, with an intense sense of duty, a deep love of poetry, generous to friends and yet highly combative, persistently affected by ill-health but possessing great physical stamina capable of driving him to his extraordinary mountaineering feats. Drawing on Tyndall's letters and journals for this first major biography of Tyndall since 1945, Roland Jackson explores the legacy of a man who aroused strong opinions, strong loyalties, and strong enmities throughout his life.
Click here to purchase a copy of The Ascent of John Tyndall or to find out more.