Exonian Sir Roger Bannister dies, aged 88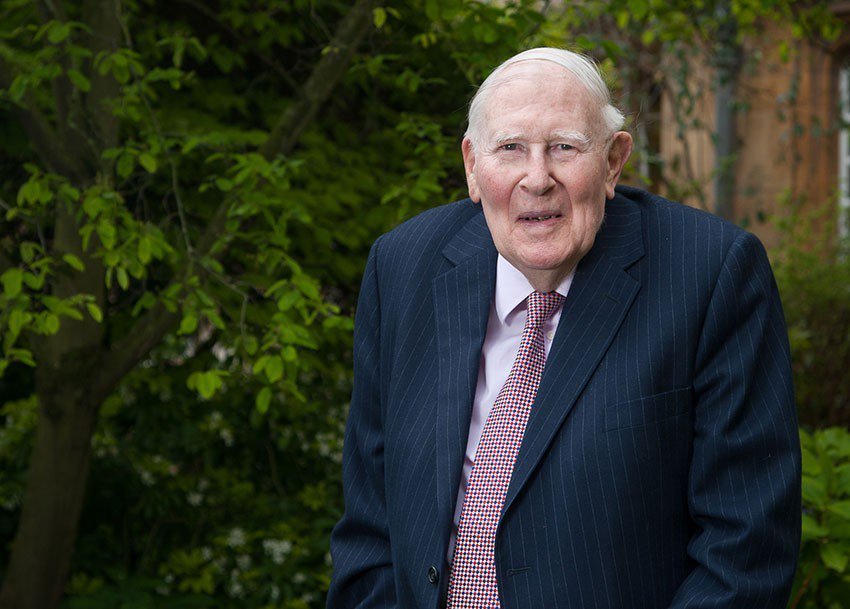 Sir Roger Bannister in 2013, photo by John Cairns
Alumnus and Honorary Fellow of Exeter College Sir Roger Bannister (1946, Physiological Sciences) has died, his family has announced. They released a statement yesterday, which said: "Sir Roger Bannister died peacefully in Oxford on 3 March, aged 88, surrounded by his family who were as loved by him, as he was loved by them.
"He banked his treasure in the hearts of his friends."
Sir Roger received global recognition for becoming the first man to run a mile in under four minutes. He went on to win gold in the mile race at the 1954 British Empire and Commonwealth Games (now called the Commonwealth Games) and in the 1500 metres at the European Championships later the same year. He retired from athletics towards the end of 1954 to concentrate on his medical career, becoming a noted neurologist. He was made an Honorary Fellow of Exeter College in 1979.
Sir Roger came to Exeter College in 1946 to read physiological sciences, aged 17. During his four years at Exeter he was a member of the College's and the University's athletics clubs, serving as president of both. In 1948 he was also president of Exeter College JCR. Having never worn running shoes or been on a running track before coming to Exeter, he came second in the University's freshman's mile race in November 1946 with what he described as "the very modest time" of four minutes and 52 seconds.
Modest as the time may have been, it was the starting point for his athletics career. He was selected as an Olympic "possible" in 1948, but declined as he felt he was not ready to compete at that level. However, watching the 1948 Olympics helped to feed his desire to become a great miler and he set his training goals on the 1952 Olympics in Helsinki. He used the knowledge he was acquiring in his undergraduate studies to inform his training regime and diet, using a tailored mix of interval training, fell running and anaerobic training that did not become common practice among athletes until much more recently.
The 1500 metres final of the 1952 Olympics was extraordinarily competitive, with the first eight runners all finishing inside the previous world record. Sir Roger set a new British record of 3:46.30, but finished outside of the medals in fourth place. His failure to win a medal hit him hard, and he seriously considered giving up athletics before deciding on a new challenge: to run a sub-four-minute mile.
On 2 May 1953, Sir Roger made an attempt on the British record at Oxford. Paced by Chris Chataway, he ran 4:03.6, breaking the previous record by over half a second. "This race made me realise that the four-minute mile was not out of reach," Sir Roger later commented.
With a number of other athletes also pushing to break the four-minute mile, Sir Roger knew that time was against him. He set his sights on making an attempt on 6 May 1954, during a meeting between British Amateur Athletic Association (now UK Athletics) and Oxford University at Iffley Road Track in east Oxford.
On the day of the event there were winds of up to 25 miles per hour, and Sir Roger was not inclined to run as a record was out of reach in such conditions. Shortly before the race, however, the wind dropped and Sir Roger did run, led by his pacemakers Chris Chataway and Chris Brasher. The race took place in front of a crowd of around 3000 people and was broadcast live by BBC Radio.
At the starting gun Brasher and Sir Roger immediately went into the lead. Brasher led the first lap in 58 seconds and the half-mile in 1:58, with Sir Roger tucked in behind, and Chataway a stride behind him. Chataway moved to the front after the second lap and maintained the pace with a 3:01 split at the bell. Chataway continued to lead around the front turn until Bannister began his finishing kick with about 275 yards to go (just over a half-lap), running the last lap in just under 59 seconds.
"My legs seemed to meet no resistance at all, almost as if impelled by an unknown force," Sir Roger would later remark of that run. Yet the image of him gasping for breath at the finish line is iconic, and there can be no doubt how hard he had pushed himself. Of that moment as he crossed the finish he once said: "I felt like an exploded flashlight with no will to live."
The stadium announcer excited the crowd by delaying the announcement of Sir Roger's winning time as long as possible: "Ladies and gentlemen, here is the result of event nine, the one mile: first, number forty one, R. G. Bannister, Amateur Athletic Association and formerly of Exeter and Merton Colleges, Oxford, with a time which is a new meeting and track record, and which—subject to ratification—will be a new English Native, British National, All-Comers, European, British Empire and World Record. The time was three…"
The roar of the crowd drowned out the rest of the announcement. Sir Roger's time was 3 minutes, 59.4 seconds. In the wake of his achievement, he commented: "I felt suddenly and gloriously free of the burden of athletic ambition that I had been carrying for years."
Later in 1954 Sir Roger took gold in the Empire Games, famously overtaking Australian John Landy on the final bend as both men ran sub-four-minute miles, and gold in the European Games, before retiring from athletics. He enjoyed a career as a renowned neurologist, leading ground-breaking research into failures of the autonomic nervous system, and served as the first chairman of the Sports Council (now called Sports England). Under his stewardship, central and local government funding of sports facilities was rapidly increased and the number of new sports centres in Britain grew to over 800. He also initiated the first testing for use of anabolic steroids in sport. He was knighted for his service to sport in 1975 and in 2017 he was made a Companion of Honour, a distinction limited to no more than 65 people at a time.
Sir Roger was made an Honorary Fellow of Exeter College in 1979. He served as master of Pembroke College, Oxford, from 1985 to 1993, and in 1986 was made an Honorary Fellow of Merton College, Oxford, where he also studied.
In 2011 Sir Roger was diagnosed with Parkinson's disease. He reflected in 2015: "I have been fortunate in that it has not interfered with my capacities for expression or the pleasures of the things I can still do, so I am grateful."
Sir Roger continued to attend Exeter College events regularly, including the recent opening of Cohen Quad in Walton Street. He also took the time to meet with students often, welcoming them on their arrival to Oxford over tea in the Rector's Lodgings and talking with them at High Table events.
Exeter's Rector, Professor Sir Rick Trainor said: "Exeter is very proud to have been Sir Roger's undergraduate college. At Exeter he first emerged as a serious competitive runner and laid the basis for his very distinguished academic medical career. Although in due course Sir Roger became a highly successful Master of Pembroke, he frequently visited Exeter. We will miss him deeply."
Lord Coe, two-time Olympic gold medal winner in the 1500 metres, said: "This is a day of intense sadness both for our nation and for all of us in athletics. The world's best runners had been attempting the four-minute barrier for a quarter of a century." Sir Roger's achievement, he added, "transcended sport, let alone athletics."
Sir Roger married Moyra Bannister (née Jacobsson) in 1955. They had four children: two sons, both of whom studied at Exeter College, and two daughters.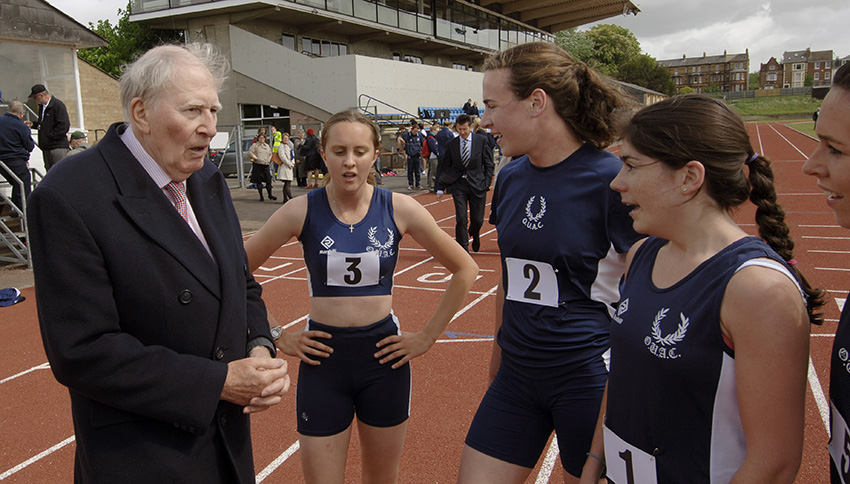 Sir Roger talks to student athletes at the Sir Roger Bannister Running Track, where he broke the four-minute mile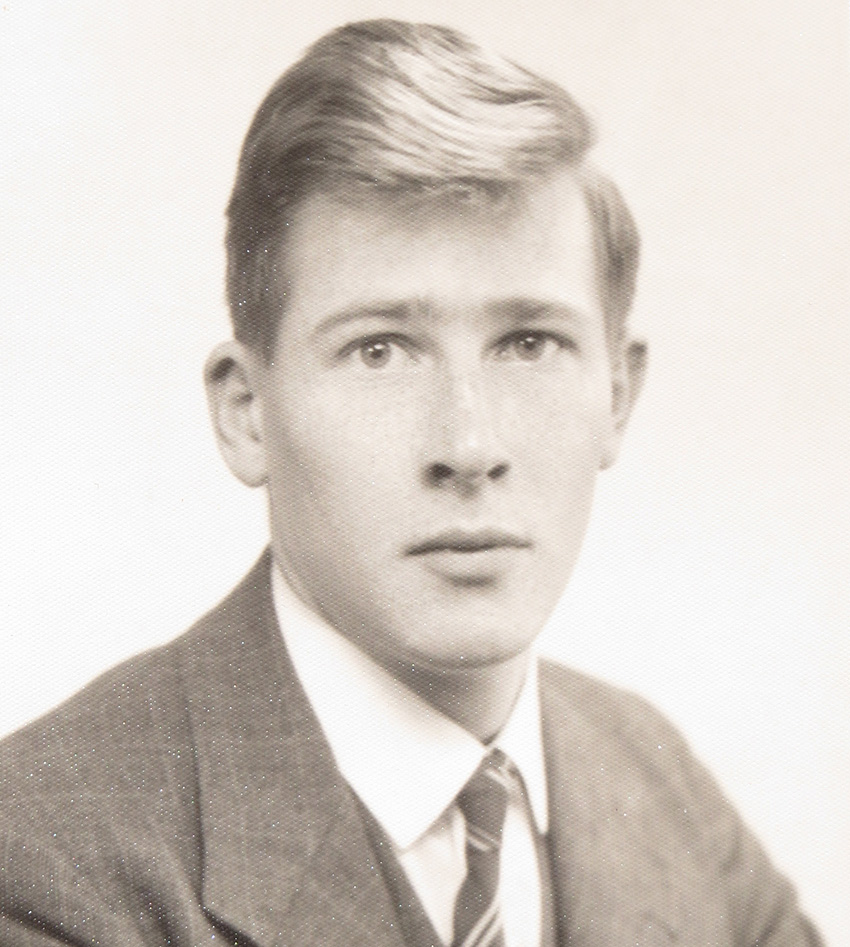 Sir Roger during his undergraduate years at Exeter College