Exonian Sir Roger Bannister Westminster Abbey memorial stone unveiled
A memorial stone to Sir Roger Bannister (1946, Physiological Sciences) was dedicated in Westminster Abbey on Tuesday 28 September 2021. Sir Roger was the first man to run a mile in under four minutes and later became a distinguished neurologist.
The Dean of Westminster, the Very Reverend Dr David Hoyle, led the dedication service, which was attended by family, friends and former colleagues.
The memorial is in the Abbey's north nave, the area known as Scientists' Corner because "Sir Roger always maintained that his achievements as a neurologist far outshone his time on the track," said a statement from the Abbey. The stone was placed near the graves and memorials of Sir Isaac Newton, Charles Darwin, and Professor Stephen Hawking.
Sir Roger came to Exeter College in 1946 to read physiological sciences, aged 17. During his four years at Exeter, he was a member of the College's and the University's athletics clubs, serving as president of both. In 1948 he was also president of Exeter College JCR.
After receiving global recognition for becoming the first man to run a mile in under four minutes, he went on to win gold in the mile race at the 1954 Commonwealth Games and in the 1500 metres at the European Championships later the same year. He retired from athletics towards the end of 1954 to concentrate on his medical career, becoming a noted neurologist. He died in March 2018 at the age of 88.
Exeter's Rector, Professor Sir Rick Trainor and his wife, Professor Marguerite Dupree, attended the unveiling ceremony. Prof Trainor said: "Exeter is very proud to have been Sir Roger's undergraduate college, and it was an honour to attend the service.  At the luncheon which followed, the grace used (by Sir Roger's daughter, former Exeter College Catechist Charlotte Bannister-Parker) was Exeter's, and speeches were given by Sir Roger's sons, Clive (1977, PPE) and Thurstan (1979, PPE) Bannister, and by his widow Lady Moyra, a frequent and much-loved visitor to the College."
Read more about the memorial unveiling on the Westminster Abbey website.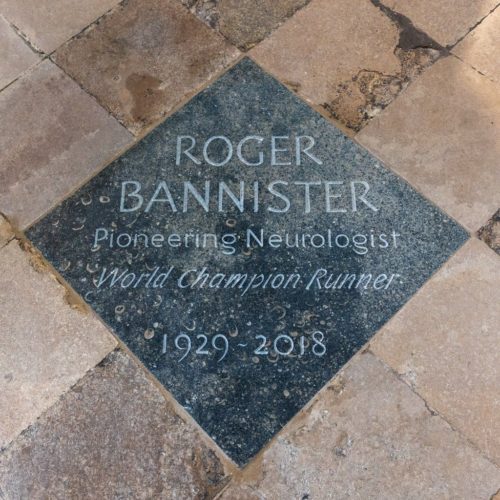 The memorial is made of Blue Purbeck marble and measures 600mm x 600mm. It was designed and carved by artist, John Maine RA. Image credit: Westminster Abbey