12th June 2019
by Jessica Lee (2015, English)
Exonian Thomas Parker becomes world's youngest Master of Wine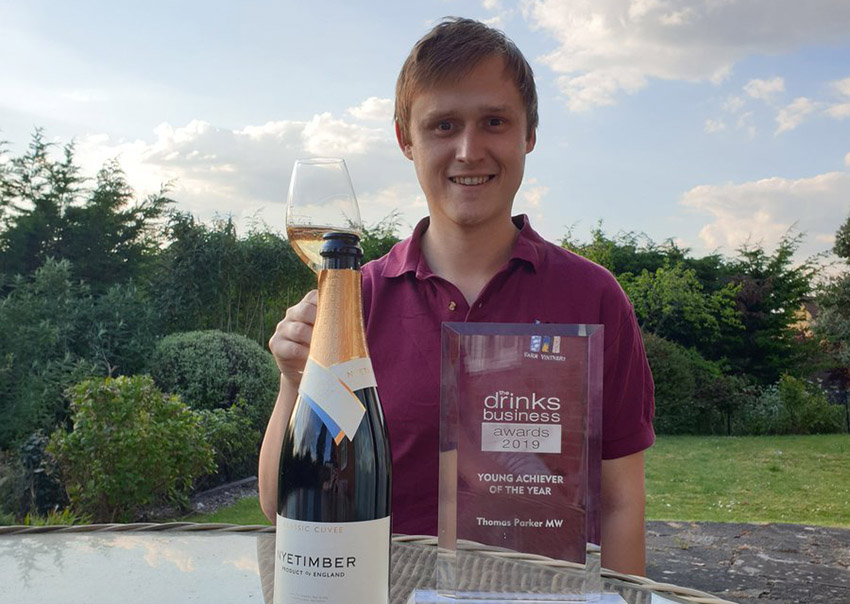 Thomas celebrates being named Young Achiever of the Year in the Drinks Business Awards
The Institute of Masters of Wine has recently named Thomas Parker (2007, Modern Languages) as the world's youngest Master of Wine.
Achieving the title of Master of Wine entails passing a three-stage examination involving theory, practice and research aspects. It took Thomas three years to complete the assessments, which are renowned for their rigour. He is one of 10 people to be given the title this year and joins a group of just 380 people to hold the qualification worldwide.
On his achievement he commented: 'It is great! It is not an easy process and I have been waiting for the results for what feels like a very long time. There's not a high pass rate, either, so it is a big relief.'
Thomas developed his interest in wine-tasting whilst at Exeter College; he was a member of the Oxford University Blind Tasting Society and competed in the varsity blind tasting match in 2011. He reflected: 'I owe a great debt to Dr Hanneke Wilson, Exeter's wine steward, as she was my coach during my time in the Blind Tasting Society and helped start me on the path to joining the wine trade. She pushed me to achieve as much as I could as quickly as possible.'
Thomas has also recently been named Young Achiever of the Year in the 2019 Drinks Business Awards. The award recognises the excellence and precocity of his career to date at Farr Vinters, a leading wholesaler of fine wines.