17th March 2022
Emily Luo (2019, English)
Exonians win competition for student speakers
Emily Luo reports on her role in Oxford University Filmmaking Foundation's film festival and the award-winning TEDx talks that she and fellow Exonian Mark Bissell gave at the 2022 TEDxOxford conference.
This February, the Oxford University Filmmaking Foundation (OUFF) held its first film festival ever. During Week 6 of Hilary Term, the inaugural festival showcased and celebrated the filmmaking talent at the University, screening 27 short films made by Oxford students. The week also featured six exciting speaker events with industry professionals, ranging from actors to directors. After having applied to be an interviewer at the festival, I was selected to interview two of the speakers: Phyllida Lloyd, who directed the beloved Mamma Mia!, and indie filmmaker Isidore Bethel.
I first learnt about the festival in a Facebook post on the Oxford University Drama Society page, where the director of the festival had posted a call out for interviewers. Passionate about interviewing and happy to do public speaking, I eagerly applied with a cover letter. They specifically wanted someone who was 'unlikely to get starstruck', which I found exciting, though I did not expect to interview someone as major as Phyllida Lloyd, celebrated not only for Mamma Mia! but also the Margaret Thatcher biopic The Iron Lady. After a successful interview with OUFF, I was selected as one of their four interviewers for the festival.
As a huge fan of Mamma Mia! (especially its legendary soundtrack) and Meryl Streep, I was thrilled to interview Phyllida. In front of a live audience, I interviewed Phyllida for almost two hours, with a few clips from her films screened in between. Although I had prepared and sent her questions in advance, we ended up having a more natural conversation. One point led to another interesting point, keeping me on my toes. We talked about a variety of topics, ranging from her theatre experience to any tips she had for aspiring directors. Phyllida was lovely to interview and offered some insightful advice about the industry: you do not have to go to film school to be a good film director. Having not gone to film school herself, Phyllida emphasised the power of observing and interacting with people, and argued that learning about others and oneself can be the best experience for film directing.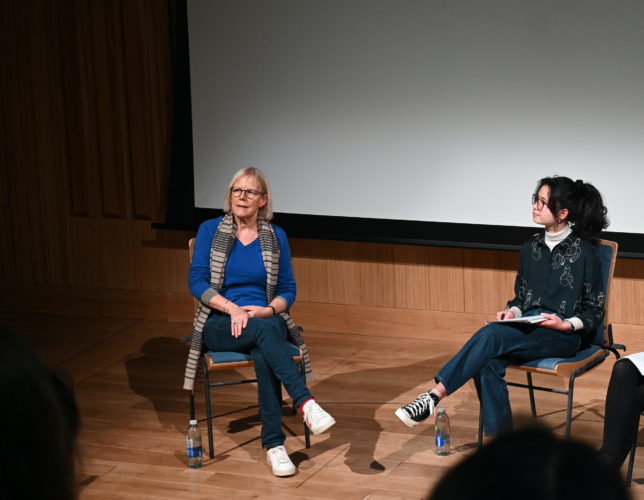 Emily Luo (2019, English) interviews Phyllida Lloyd at the OUFF Film Festival 
I also interviewed the indie filmmaker Isidore Bethel who flew all the way from Madrid to speak at the festival. In 2020, Filmmaker Magazine included him among its '25 New Faces of Independent Film', and we screened his latest film, Acts of Love, before the interview. A documentary-fiction hybrid, Acts of Love features Isidore himself, and we therefore talked about the blurred line between acting and representing yourself on screen. Isidore thought carefully about every question, leading to a personal and insightful conversation. The interview was followed by a Q&A where members of the audience asked thoughtful questions, ranging from how his sexuality informs his work to more technical aspects of filmmaking.
The rest of the week featured speaker events with actor Ben Willbond from Horrible Histories, producer Emily Everdee, Bridgerton actress Charithra Chandran, and BAFTA-winning director Philippa Lowthorpe. Overall, the festival was a huge success, and the film festival next year will hopefully be even more exciting!
In addition to my work with the film festival this term, I was honoured to give my own TEDx talk at the TEDxOxford conference, having won the student speaker competition along with fellow Exeter student Mark Bissell (2021, Williams). With the theme of 'Beyond Frontiers', the conference had an impressive line-up of speakers, ranging from a North Korean escapee to the first Briton to climb Mount Everest without supplementary oxygen. The conference was held in January in the Oxford Town Hall, where Mark and I gave our talks to an audience of 750 people.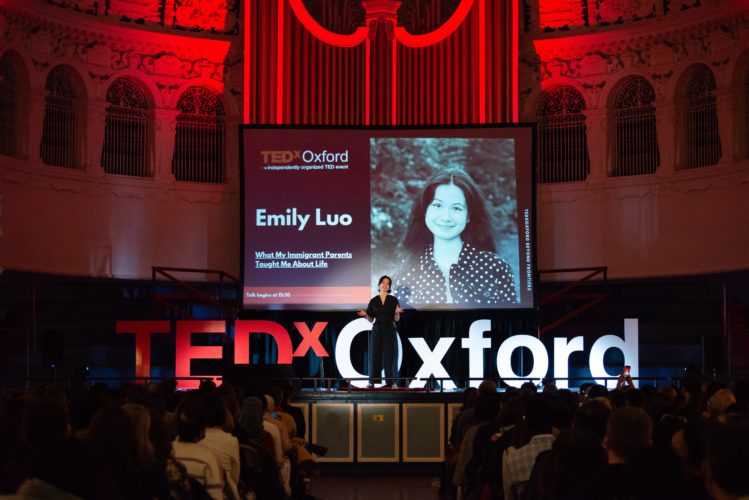 Emily speaking at the TEDxOxford conference 'Beyond Frontiers' 
Mark spoke on 'Innovation, Stagnation, and Progress Studies: Overcoming the Expanding Knowledge Frontier'. He explored the implications of the expanding knowledge frontier and explained that there are many unexploited opportunities for humanity to systematically create progress. Mark commented that: 'I was thrilled to find out that I'd be speaking at the conference. I've been a lifelong fan of TED — I've spent countless hours watching TED talks on a variety of topics. So it's definitely been a bucket-list item for a long time! The conference itself was a day I'll remember fondly for the rest of my life. Hearing the other speakers talk, I was taken through a range of emotions, from utter fascination and excitement about scientific topics to being almost moved to tears by speakers who shared deeply personal and sensitive stories. TEDxOxford reaffirmed my love for sharing all types of ideas. I'm proud to come away from that day having not only offered some ideas of my own, but also having met so many incredible people and having learned from their experiences.'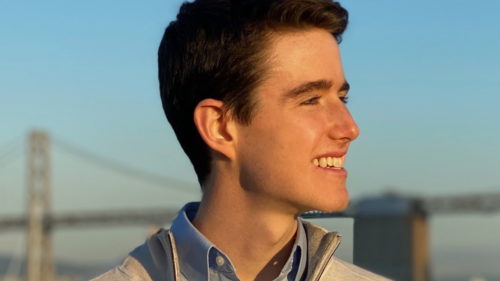 Mark Bissell (2021, Williams) also spoke at the TEDxOxford conference 
I dedicated my talk, 'What my immigrant parents taught me about life', to my Iranian dad and Chinese mum who came to Denmark in the 1990s. I spoke about their hardships and how they have changed the way I approach life for the better. Having never done public speaking before, I was incredibly nervous but also proud to share my parents' stories with so many people. It felt like an out-of-body experience, especially when I noticed people in the audience getting emotional. My parents were sat in the front row, and people later approached us to say how moved and inspired they were. Giving this speech has been the most challenging but rewarding experience of my life and I am grateful to TEDxOxford for the opportunity.