Feeding NHS workers on the front line of the battle against COVID-19
As the COVID-19 crisis escalates, Exeter alumnus Floris ten Nijenhuis is supporting NHS workers with nourishing meals, and he needs your help.
As the COVID-19 crisis deepened, Exeter alumnus Floris ten Nijenhuis (2011, Modern Languages) decided he had to help.
"I approached a friend of mine, Dr Max Brodermann, who works in A&E at the busiest COVID hospital in the UK to offer support," he says. "He told me that nothing lifted morale quite as much as a warm healthy meal. Most doctors on COVID wards are not allowed out of their confined areas, meaning no access to the canteen, which shuts at 5 pm anyway. I therefore told him I would try to cook 50 meals a day for a different London hospital to help out."
Floris's initiative has already borne great success, and he is asking for help to do even more.
He explains, "Thanks to the huge generosity of friends, I raised over £2,000 in less than 48 hours and received multiple volunteering offers, by a staggering amount of people who have recently been furloughed. I also have about half a dozen volunteers who were all at Exeter College with me!
"Keen to help them too, I created #FurloughedFoodiesLondon, an initiative that brings together those who are way too busy – our NHS staff – and those who are sat at home, not allowed to work, itching to get involved.
"I already have eight hospitals lined up and over 20 volunteers, in just 24 hours since the initiative began. But I am looking for more volunteers and more funds to support this initiative until the end of May."
You can help provide nourishing meals and support the NHS by going to www.furloughedfoodieslondon.co.uk. You can donate money to support this great work, or volunteer to cook or deliver meals. You can also follow the work that Floris and other volunteers are doing on Twitter here.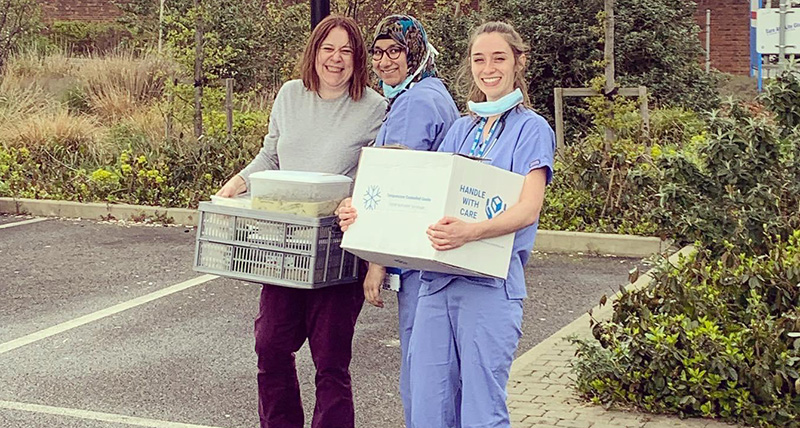 Nourishing meals are delivered to NHS workers in London thanks to #FurloughedFoodiesLondon
You can watch a short film about the great work these volunteers are doing here: