13th March 2023
Costi Levy (2019, Philosophy and Spanish)
From Torpids to the Tideway: Exonians Ella Stadler and Maria Nielsen-Scott to compete in Oxford-Cambridge Boat Races
Costi Levy looks forward to the Oxford-Cambridge Boat Races, which this year will feature two hard-working and talented Exeter students.
Ella Stadler (2019, History; 2022, MSc History of Science, Medicine and Technology) and Maria Nielsen-Scott (2018, Medicine) both learnt to row at Exeter during the first year of their undergraduate degrees. On 26 March, Ella and Maria will compete in the 77th Women's Boat Race, in the Blue Boat (first boat) and Osiris (reserve boat), respectively.
After several years of flooding and Covid related restrictions, Ella and Maria were integral to the resurgence of Exeter College Boat Club (ECBC) during the 2021-22 season. They both competed in the W1 eight throughout the year, winning 'Blades' in Torpids, a four-day-long competition in Hilary Term.
Ella and Maria's experiences and success at ECBC prompted them to join the summer development programme led by the University Women's Boat Club (OUWBC). 'I gave the development squad a try and really enjoyed it', Ella recalls. 'I learnt so much in so few weeks and decided to properly give it a go when I started my Masters'.
This year, Ella has balanced rowing with her Masters programme, and Maria has managed to combine rowing with the fifth year of her medicine degree. This level of commitment and motivation has defined their experience rowing at OUWBC: 'From the coaches to the teammates, everybody is just so supportive. It's only a very small group of people who are going to be willing to put themselves in this situation: training 12 times a week, missing out, having to say no to things, all with the goal of winning the Boat Race,' Ella comments.
With less than two weeks to go before the race, both Ella and Maria's crews have entered the final stages of their preparations. 'The nerves are definitely setting in,' says Ella, 'but the boat is going well, and I'm really excited to show what we can do and how fast we can go.'
Ella and Maria's achievement is a testament to the strength of Exeter's rowing programme, in offering athletes a springboard to achieve success at university level. But most importantly, it speaks to Ella and Maria's talent, motivation, and hard work.
Exeter College is incredibly proud, and we wish Ella and Maria the best of luck in their respective races on 26 March.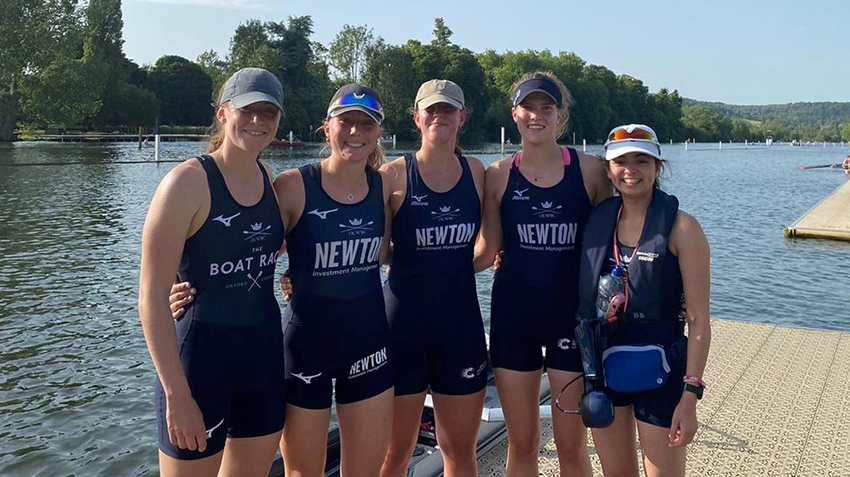 Members of Oxford University Women's Boat Club development squad at Henley Women's Regatta in 2022, Maria pictured far left and Ella next to her