Glory for Exeter's badminton teams!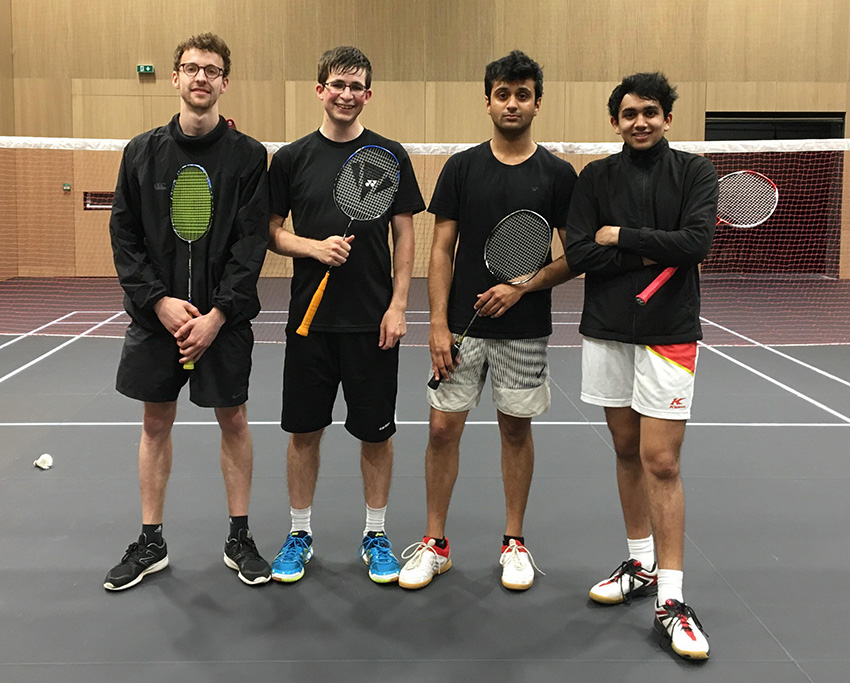 The Cuppers winning team, l-r: Matthew, Tom, Aniruddha and Anuj
Exeter College's badminton teams are celebrating a triumphant season in the inter-collegiate Cuppers and league competitions.
In the badminton Cuppers tournament the men's team beat their rivals at New, Wadham, Queen's and Brasenose to set up a final against Lady Margaret Hall on Tuesday 12 June. The contest was incredibly close: after six games the scores were tied at three games each. The result was decided using a tiebreaker, whereby the team that has won the most points throughout all six games wins the match. The scores were tallied and the result in: Exeter had won with 98 points to Lady Margaret Hall's 97.
In the men's and mixed team leagues there was yet more reason to celebrate. Both teams finished the season unbeaten and were crowned champions of their respective leagues. What an exceptional achievement!
The winning men's team was: Anuj Doshi (2017, Mathematics), Matthew Ellis (2017, Physiology, Anatomy and Genetics), Aniruddha Voruganti (2016, Medicine) and captain Tom Hadfield (2017, Statistical Science). They were supported throughout the season by Chaitanya Kediyal (2017, Jurisprudence).
The mixed team included Angela Shi (2015, Engineering Science), Rosie Maddock (2011, Synthetic Biology), Alice O'Neill (2017, Medicine) and Alice Martin (2017, Molecular and Cellular Biochemistry), along with members of the men's team.
Speaking after the Cuppers success, captain Tom Hadfield said: 'It's the first time in living memory that Exeter has won either of the Badminton Cuppers competitions, so we're very proud to have done so.'