16th March 2021
Costi Levy (2019, Philosophy and Spanish)
Graduate research: Rebecca Tooze on genetics research
To mark Women's History Month Exeter College news intern Costi Levy has been speaking to Exeter students and alumnae about their work. Here she discovers the research of Rebecca Tooze (2019, DPhil in Medical Sciences), a genetics researcher at the Weatherall Institute of Molecular Medicine.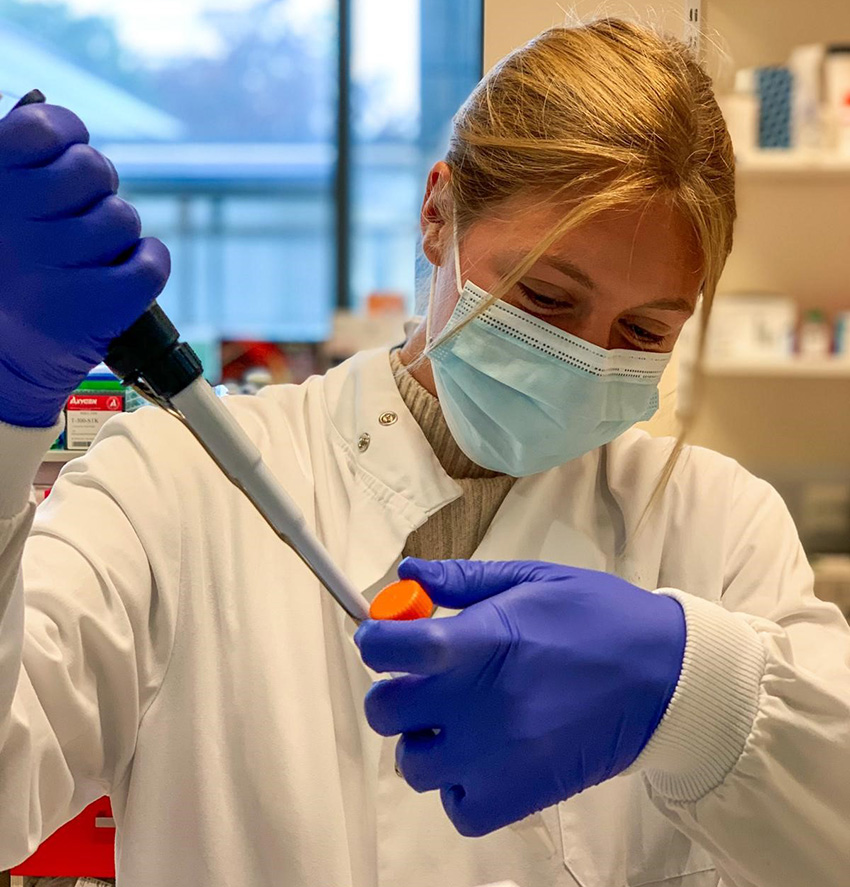 'It's quite busy, especially at the moment!' Rebecca's study focuses on craniosynostosis, a medical condition whereby, during early development, sutures in the skulls of children fuse prematurely. The aim of her DPhil is to establish causes for this disease, by mining through data of individuals with the condition. She developed the skills needed to conduct this research through a year spent working in an evolutionary biology lab in Melbourne, and an eight-week placement at Cancer Research, Glasgow, where she learnt the basics of many molecular skills.
Her supervisor, Professor Andrew Wilkie, is a clinician who meets patients with the condition. Rebecca is then able to use some samples of whole exome and genome data generated from these individuals to screen for genetic changes. The majority of her data, however, is generated from the UK 100,000 Genomes Project, coordinated by Genomics England and the NHS. Since 2013, they have recruited 100,000 individuals from families with either rare disease or cancer, whose data is screened by researchers. At the moment, there are 120 families (137 individuals) with craniosynostosis within this cohort. 'The sequencing data produced for every individual are extremely complex,' Rebecca notes. 'Between each of us are three to four million differences in our genome, which can be written as a long code of letters. Most of these changes are completely harmless and are what make each of us unique. However, in some cases, just one of those differences is responsible for causing the craniosynostosis. Trying to identify this difference amongst three to four million letters is definitely not straightforward and does sometimes feel like looking for a needle in a haystack!'
Rebecca divides her time between computational work, wet lab, and 'many a coffee break'. In the current circumstances, the lab is operating on a reduced capacity with various restrictions. However, Rebecca emphasises that, normally, the Weatherall Institute is an incredible place to conduct medical research. Pre-Covid, there was a large coffee lounge, where people would sit during breaks to chat and discuss their research. 'You can bounce off each other quite well,' Rebecca comments, 'and learn what techniques other people are using, and whether that would be useful to incorporate into what you're doing.'
Discussing her medical research, Rebecca states that 'it's important to drive people in that direction'. Whilst her undergraduate degree in Biological Sciences at the University of Exeter had an 80% female cohort, she notes the much smaller ratio of female to male scientists in more advanced positions. '[Being a woman] has never hindered what I want to do; people always respect my opinions,' Rebecca says, but emphasises the need to encourage women to follow paths of scientific research, where they are interested.