Law and order exist for the purpose of establishing justice and when they fail in this purpose they become the dangerously structured dams that block the flow of social progress.
Martin Luther King Jr
Average number of places available each year at Exeter College: 6.
Overview of the undergraduate courses available and admissions requirements
Overview of the graduate taught courses available
Overview of the graduate research courses available
Why study Law at Exeter?
Exeter has a large community of lawyers, of both current students and alumni together. There are two permanent Law Fellows who are responsible for teaching undergraduates in regular tutorials and arranging specialised tutorials outside College where required.
A mere ten minute walk from the Law Faculty and the Bodleian Law Library, the College is well-placed in the centre of Oxford, making resources easily available to all its law students. In addition, Exeter's library – which is open 24 hours a day – is fully resourced for both undergraduate and postgraduate law students with all current texts and access to online journals available. All law freshers are given book tokens to help cover the cost of any books required by the course.
There is an active student-run Law Society (the John Fortescue Society) for Exeter students which regularly arranges events, seminars, and dinners, hosted and funded by eminent law firms in the City. The annual John Fortescue Society Dinner provides an opportunity for alumni who read or practice law to return to College and meet current students. The society also arranges less formal occasions for alumni and current students to get together.
Our students have a great record in mooting.  In 2014 Sophie Scholl (2012, Jurisprudence) was part of the Oxford University team which won the UK National Championship of the Jessup International Law Moot Court Competition. They went on to compete in the International Version of the competition in Washington USA.
Exeter's law-alumni community is strongly engaged with the College and several alumni offer work experience including opportunities as diverse as the Hong Kong High Court and the Woolwich High Court as well as several individual barristers.
Exeter's Law Fellows
Exeter's Law students
I've had a brilliant time studying law at Exeter so far. The tutors are both outstanding in their teaching and really care for the welfare of the students, which makes them for conversation at the annual dinners! The student community is big enough to make it diverse but small enough to ensure everyone over the three years knows each other, and there's a great inter-year relationship both socially and in helping each other with work.
Xanthia Hargreaves, Law with European Law student
Careers
Students who study Jurisprudence at Exeter go on to study in all areas of the legal sector. Recent graduates have undertaken training contracts and then continued at Slaughter & May, Hogan Lovells International, Baker & McKenzie, Herbert Smith Freehills, Clifford Chance, Pinset Masons, Freshfields, Ashurst, Travers Smith, Linklaters, and Allen & Overy, others have been called to the Bar and are now at Two Temple Gardens, 18 Red Lion Court, 39 Essex Street, Monckton Chambers, One Essex Court, Littleton Chambers and 1 Chancery Lane.
Profile of a former student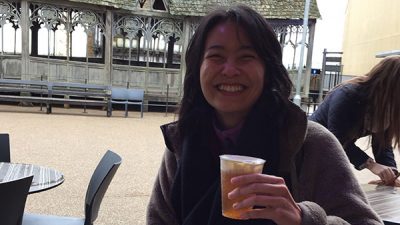 Min Lim read Jurisprudence at Exeter from 1991–1994. She started off as a lawyer in private practice, doing commercial litigation. She then left practice to become a magistrate, hearing civil matters for a year, before transferring to the family and juvenile court, where she was subsequently appointed a district judge. After some years she took a sabbatical and worked as a policy officer for the Ministry of Social Development (MSF) (formerly known as the Ministry of Community Development Youth and Sports), in Singapore, designing schemes to help low income families. She then joined the Legal Aid Bureau, where she provided legal services for the less privileged. Her next stop was back to the MSF, as their legal counsel. She is currently with the Legal Aid Bureau again, as Director this time.
Notable alumni
We have over 900 alumni who either read Jurisprudence or Law at Exeter or who are currently practising in the legal sector, all over the world. Notable alumni include:
The Hon. Mr Justice Aarif Barma – Justice of Appeal of the Court of Appeal of the High Court of Hong Kong.
Christina Blacklaws – Director of Client Services at Cripps LLP and offering consulting services in legal market works.
The Right Hon. Lord Justice Richard Buxton – British judge and former Lord Justice of Appeal.
Tina Cook QC – Barrister at 42 Bedford Row and a specialist in public law child care acting for parents, Local Authorities and Guardians.
The Hon. Mr Justice Thomas Cromwell – Judge of the Supreme Court of Canada.
The Honourable Mr David Holgate QC – current joint head of Chambers.
Susan Grocott QC – Barrister at Deans Court Chambers and a specialist in the family courts.
The Hon. Mr Justice Kenneth Hayne – former Judge of the High Court of Australia.
Nicola Holmes – Principal Associate at Eversheds specialising in antitrust and EU Law.
Sir Sydney Kentridge – Former lawyer, judge and member of the English Bar. During his career, he played a leading role in a number of the most significant political trials in apartheid-era South Africa, including the Treason Trial of Nelson Mandela and the 1978 inquest into the death of Stephen Biko.
The late Sir John Laws – Lord Justice of Appeal from 1999 until 2016.
Justice Yves-Marie Morissette – Formerly Dean of the Faculty of Law, McGill University and then Director of the Institute of Comparative Law, McGill University as well as the Wainwright Professor of Civil Law. Also Justice of the Court of Appeal of Quebec.
The Honourable Acting Justice Murray Tobias – Judge of the Court of Appeal of the Supreme Court of New South Wales.