25th April 2020
Emma Rowland (2018, Jurisprudence)
Making it to the finals of an international mooting competition
Emma Rowland (2018, Jurisprudence) reports on her journey all the way to the final of the international Price Media Law Moot Court Competition.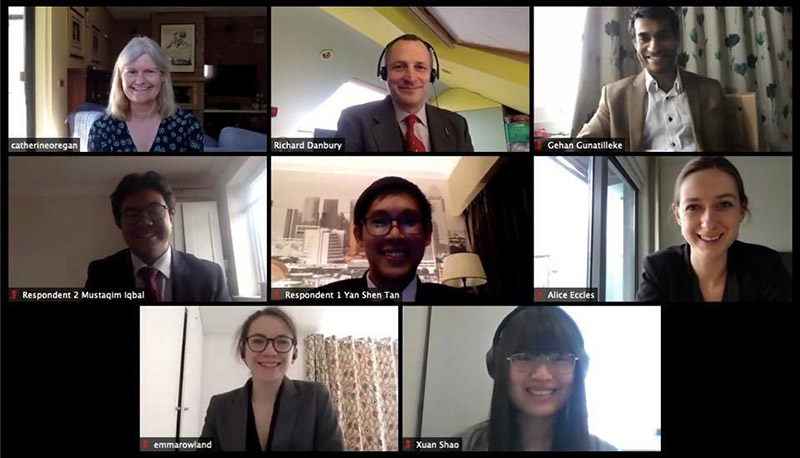 Emma (bottom left) and her team compete online in the Price mooting competition while assessed by a panel of judges
Since August 2019 I have been competing as part of a team of four in a mooting competition called the Price Media Law Moot Court Competition (or Price for short) and earlier this month, despite Coronavirus, my team reached the Finals of the competition. Price is an annual international mooting competition run by the Bonavero Human Rights Institute at Oxford for university students. The competition is described as "raising the profile of freedom of expression by bringing informed and effective debate and discussion on significant issues of information flows and technology to many parts of the world" and the competition case focuses each year on the rights to freedom of expression, religion and privacy.
---
A country called Surya
Our moot problem was based on a made-up country called Surya where the majority faith is the Suryan faith who worship the sun. A nationalist group in Surya had been campaigning against a minority religion called Andha in Surya who practise the wearing of blindfolds. One member of this group released a video calling for Suryans to take up arms against the Andha minority on a made-up social media platform called Hiya!. When religious and racist strife broke out following the video, Hiya! voluntarily co-operated with the police in the identification of the user and other account holders. The user was then arrested and convicted in Surya. He complained, however, that his rights to freedom of expression and privacy were unlawfully interfered with by the Suryan state. The Suryan state, on the other hand, argued that the user's expressions amounted to hate speech and the questions of obtaining personal data without a judicial warrant did not arise as the social media platform voluntarily co-operated.
---
Mooting is in essence a form of mock trial and essential for anyone, like me, wishing to become a barrister. There are many different types of mooting competitions and the rules of each competition vary, but in most teams are given a 'moot problem' (a set of facts) and some legal questions to argue. Teams have to write skeleton arguments, or as we call them, memorials. These can vary in length; sometimes you are allocated a side and you write a memorial for that side of the argument, and sometimes you prepare memorials for both sides. For Price, my team had to write a memorial for both sides, each was to be 5,000 words long and submitted in January. As the subject of Price – international human rights law – is not something we study at undergraduate level in Oxford, we had been researching for the memorial since August.
As well as written arguments, teams also have to compete orally. This involves arguing your case in front of a judge. The normal format is that there are two oralists on each side. Each oralist from the applicant/claimant (in this case the user who posted the video) speaks before the oralist from the respondent/defendant (in this case the government) speaks. There may or may not be rebuttal and sur-rebuttal.
Beyond focusing on legal issues, the main way mooting differs from debating or public speaking is the interaction with the judge. Judges can interrupt at any time and direct you to any part of your argument; they aim to ask the difficult questions to test you and see how well you cope under pressure. Questions can range from asking what your authority is for a particular legal proposition, which requires knowing specific cases off the top of your head, to substantive questions directly challenging arguments. Some of the trickiest questions I faced were direct challenges to my argument that statements such as 'go strip them of their blindfolds' and 'they will incur the wrath of the sun' used in the video were not hate speech. The skill in mooting lies in being well-prepared as well as being able to think on your feet and manipulate the facts you know to calmly answer these difficult questions.
This year in Price there were over 100 teams from all around the world who took part in eight regional rounds which act as qualifiers for the international rounds. At each regional round, the teams have a series of 'matches' where they are either applicant or respondent. The winner of the match is determined by both the team's performance orally, and by which team has the highest scoring memorial. We won our regional round, which was held in Paris in the first week of February, and thus progressed to the international rounds.
At this point, although everyone in the team was hugely excited, we still had to get through the rest of the demanding Oxford term and so put preparation for the international rounds on hold for a few weeks, planning to resume in 7th or 8th week of term. However, around 20 February we received an email from the Bonavero Institute asking for our thoughts about whether the competition should be cancelled as a result of Coronavirus. This came as a bit of a shock to us because at the time, the impact of Coronavirus had not really been felt in mainland Europe; but of course, as an international competition, there were multiple teams from China who were seriously affected by Coronavirus at the time.
On 28 February the Bonavero Institute announced they would be cancelling the International Rounds of the competition, but that they were going to pursue other 'virtual' possibilities of mooting. Having put, at this point, eight months of work into Price I was really disappointed and was not convinced that any form of virtual mooting would be possible.
A week later we received another email detailing the plans for a 'virtual' mooting competition; the first of its kind. Rather than having three preliminary rounds prior to knock-out rounds as normal, each team would record their oral pleadings and these would be used to determine who went through to the semi-finals which would be conducted live via videoconferencing software. Our memorials would also be re-marked for the international rounds.
We submitted our recorded pleadings on 23 March and the semi-finalists were to be announced on 3 April. In this intervening time it was difficult to know how much and in what way to prepare for the semi-finals. Firstly, as a team we were spread across the UK and Singapore, and so we could not prepare together as normal. Secondly, we simply did not know if we would proceed to the semi-finals and spending a little over a week practising our pleadings alone for multiple hours when there was a narrow chance of progressing was not the most attractive prospect, I must admit. Despite this, we did manage to find a way to work collaboratively by giving feedback on our written scripts as well as having Skype calls where we practised mooting.
On 1 April we were told by the Bonavero Institute that we had progressed to the semi-final. The schedule for the semi-finals and finals was a tight timetable, with the semi-finalist being announced on 1 April, the semi-finals being held on 2 April and finals on 3 April. Although seeming like relatively little time, being apart and waiting it out by ourselves made the time go by relatively slowly.
In the semi-finals we faced The China University of Political Science and Law. Their team, like ours, was in lockdown and so were not together and unfortunately one of the team members had a very poor internet connection which made conducting the moot difficult. The judges, however, were incredibly patient and, acknowledging the difficulty of the situation, allowed them additional time to complete their pleadings.
In the finals we faced the Singapore Management University. As the 2016 and 2017 winners and 2015 and 2018 finalists, the Singaporean team was a formidable opponent. They were incredibly well-prepared and unfortunately took the title of overall winners. However, we did win the award of best memorial, which I am incredibly proud of.
Despite being apprehensive when the Bonavero Institute announced they were going to run a virtual mooting competition, I am really pleased they did. This not only meant that all the effort teams put in to preparing for Price since August was not wasted, but it also forced us all to adapt to the situation rather than giving up in the face of a challenge. Mooting through Zoom, rather than in person, meant it was harder to interact with the judges because of small time lags and intermittent Wi-Fi. Not being able to consult each other throughout the moot and prepare together between rounds meant we had to take more responsibility to motivate ourselves to prepare.
Was it worth it?
Going into Price, I knew it would be a significant commitment and it certainly was. Throughout Michaelmas Term much of my spare time was spent researching international human rights law, which meant missing out on spending time with friends. Rather than spending my Christmas holidays at home taking a break, I stayed in Oxford up until 23 December and returned on the 27th in order to work on the memorial because it was due the first week of January. Similarly, in the run up to the regional rounds in Paris, I spent six hours a day on top of studying for my degree preparing for the oral rounds.
Despite the time commitment taking part in Price was definitely worth it. I have gained a huge number of skills: both my written advocacy and oral advocacy have improved significantly, I have had to work extremely closely in a small team for an extended period, stay self-motivated and organised, co-ordinate with previous competitors to run practice rounds, as well as adapt in a relatively short space of time to the challenges posed by Coronavirus. These skills not only prepare me better for a career at the bar, but they also help give me much needed examples for job applications; for example, I recently applied for some pro bono summer work experience and could easily explain how I can adapt under pressure. Reading well over 100 cases and articles on international human rights law has shown me that this is an area of law I will definitely consider doing further study in, if not pursuing a career related to.
In addition to all this, I have also gained life-long friends, maybe not as many as if the competition had taken part in person, but my mooting partner, Alice, and I have become extremely close as a result. As a result, I cannot emphasise enough how worthwhile I think the competition was.