12th June 2019
Jessica Lee (2015, English)
Men's second boat promoted in Summer Eights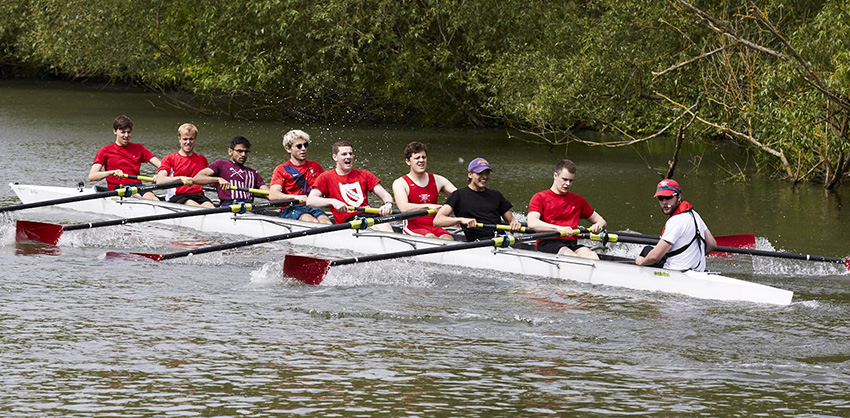 Exeter's Men's second boat on the second day of Summer Eights
Exeter's Men's second boat followed their outstanding Torpids performance, where they advanced in every race to secure 'blades', with another convincing week during Summer Eights. They rowed consistently well, bumping up a formidable three places on the second day of the competition after rowing over on the first. This, combined with a timely bump up on the penultimate day, promoted them from the fifth division to the fourth. On the final day of racing they consolidated their position in division four by rowing over.
Unfortunately, their success was not replicated for the Men's first boat, who rowed valiantly but failed to progress in the second division. They fought a tense battle throughout the week with local rivals Lincoln, one place ahead of them on the river. After rowing over on days one and two, Exeter's crew bumped Lincoln on the second-last day, only to be overtaken by them on the final day to produce no change in place overall.
The Women's teams also rowed with determination but met with little luck – the Women's first boat was bumped down from the second into the third division, while the second boat stayed in the fifth division but bumped down two places. The former ends the week at the top of the third division, while the latter ends the week in twelfth place of division five.