Morris and Burne-Jones tapestry to be housed in museum-quality display conditions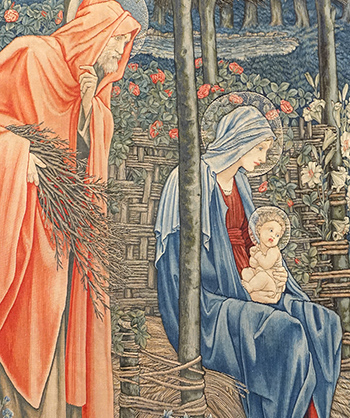 In Exeter College Chapel hangs one of the finest pieces of religious art from the Victorian era. The Adoration of the Magi tapestry was designed by Exonians William Morris (1852, Classics) and Edward Burne-Jones (1852, Theology) after it was commissioned by Rector John Prideaux Lightfoot in 1886.
The tapestry is temporarily being removed from the Chapel so that it can be housed behind UV-filtering, low-reflective acrylic of museum quality. The acrylic will protect the tapestry for the future and improve the viewing experience of those who come to admire it.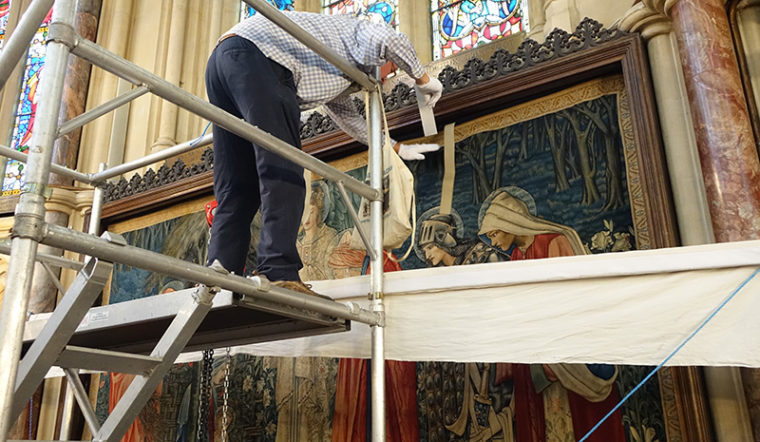 William Jensen, Finance and Estates Bursar, said: 'The tapestry was displayed behind two panes of glass that interrupted the view of it without protecting it fully from dust, ultraviolet light and other pollutants. The College has been looking for a satisfactory way to protect and display the tapestry for six years, and is now able to do so thanks to advances in technology in the museum world. With the panes of glass removed it is immediately clear that they were diminishing the tapestry's appearance, whereas the acrylic won't obstruct the view of the tapestry or reduce the vibrancy of its colours.'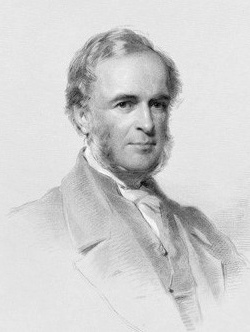 The subject for the tapestry was suggested by Rector Lightfoot (pictured). After assenting to the subject, Morris stated that the colouring should be 'both harmonious and powerful, so that it would not be overpowered.'
Edward Burne-Jones drew the figures, producing a large watercolour and gouache modello in 1887; the cartoons followed in 1888. Morris added detail and colour, with his craftsman-assistant John Henry Dearle. After two years on the loom at Merton Abbey, the Morris & Co factory, the tapestry was presented to Exeter College in 1890 as a gift from the artists.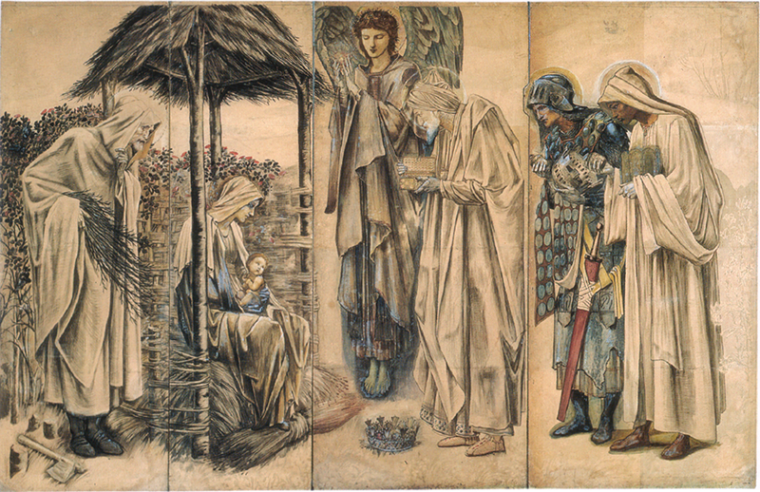 Tapestry cartoon
The project to re-glaze the tapestry is being overseen by professional conservators Georgie Dennis, who read Modern History at Exeter, and Jonathan Tetley. The project forms part of the College's ongoing commitment to protecting and displaying art for the benefit of current and future generations. Other examples include stained glass windows and a carpet, also designed by Morris and Burne-Jones, which were restored and then displayed at Cohen Quad thanks to the philanthropy of the Exeter community. If you are interested in helping the College preserve its art please contact Pamela Stephenson, Director of Development and Alumni Relations.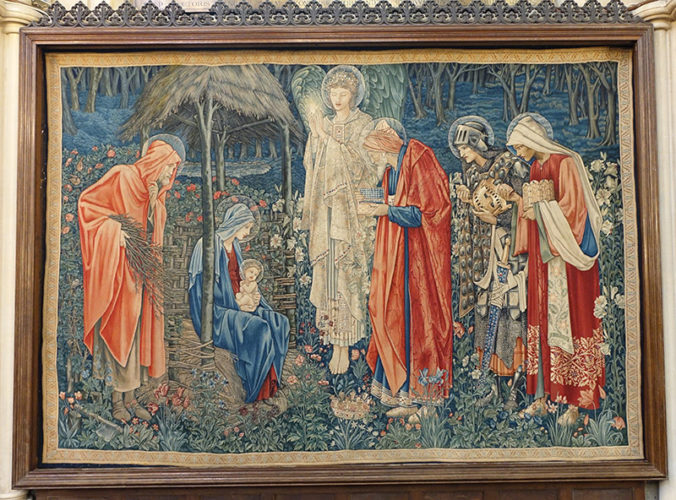 The Adoration of the Magi tapestry