I am a Fellow in History at Exeter College and an Associate Professor in History in the History Faculty at Oxford.  I'm half-French but grew up in the UK.  I studied History as an undergraduate in Cambridge (BA Hons 1996).  After that I lived for Paris for three years, where I worked in a bookshop and then taught English part-time while I studied for my Masters at the Sorbonne in Paris (DEA Paris IV – La Sorbonne, 1999).  I returned to Cambridge to do my doctoral research (PhD. History, 2003) and first came to Oxford in 2003 as a post-doctoral researcher at Merton College.  After a year at Stanford University in California, funded by the US National Academy of Education, I returned to Oxford and took up my position at Exeter College in 2006. I really enjoy life at Exeter; we have a lively, diverse and friendly community of Historians, with a wide range of interests and enthusiasms. Having the chance to teach and work here is a great privilege. In my spare time, I read a lot of nineteenth-century novels and am addicted to all forms of MasterChef.
Research
I am interested in the history of childhood and education, the history of women, and the history of social mobility in nineteenth-century Britain and France.  Studying childhood and the history of education uncovers the roots of modern ideas about individual development and the importance of formal schooling.  Examining the history of social mobility reveals some of the concrete ways in which long-standing ideas about the individual's place in society were challenged in the course of the nineteenth century.  I am particularly interested in the ways in which women and children contributed to the social advancement of their families, and am writing a book which compares the experiences of two families on either side of the Channel over three generations: the Mottes of Roubaix near Lille in northern France, and the Heywoods of Bolton, near Manchester in North West England.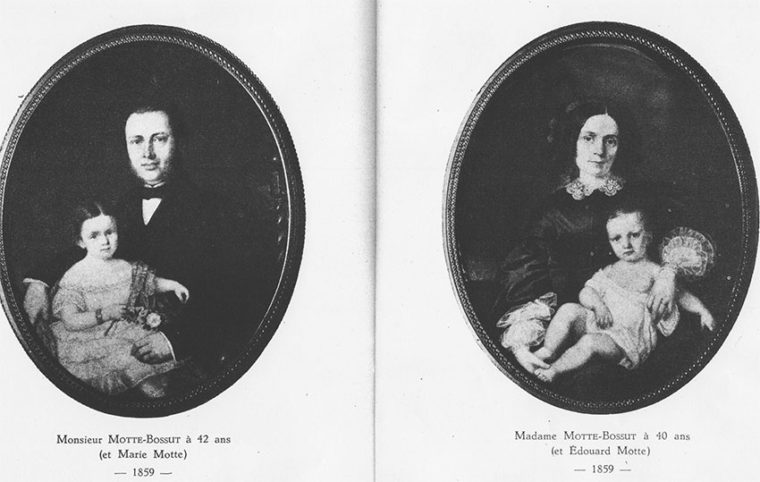 [Source: Gaston Motte, Les Motte: étude de la descendance Motte-Clarisse 1750-1950. Histoire de quatre générations (Roubaix, 1952)]
I launched and run 'Rags to Riches? Experiences of social mobility since 1800', an interdisciplinary research network based at The Oxford Research Centre for the Humanities (TORCH). The network fosters new research on social mobility through seminars and international workshops.
Teaching
At undergraduate level I teach First Year papers on British History 1815-1924 and 1900 to the present, World History 1815-1914, Gender History and History and Sociology. I also teach Second and Third year papers on British History since 1815, and on European History 1830-1914, as well as a document-based Special Subject on childhood and citizenship in late nineteenth-century Britain.  I also enjoy supervising a wide-range of undergraduate theses focusing on varied aspects of the social and cultural history of nineteenth and twentieth century Britain and Europe.
At graduate level I teach a Masters course on Women's Life-Writing, 1750 to the present.  I have supervised Masters' theses on subjects ranging from Girlhood and magazines in 1950s Britain and France, to Gender and Empire in late nineteenth-century India, Egyptomania in late nineteenth century England and Boxing in early nineteenth-century London.  I am currently supervising doctoral students working on School magazines and juvenile literary culture in nineteenth-century England, the history of Champagne in Britain and France, and Working-class housing in nineteenth-century France.
I am keen to hear from potential research students interested in nineteenth century cultural and social history, comparative history, the history of education, the history of childhood and adolescence, the history of social mobility, history of business and the professions.
Selected Publications and Talks
C. de Bellaigue (ed.) Home Education in Historical Perspective, (Routledge, 2016)
'Charlotte Mason, home education, school education and the Parents' National Educational Union in the late nineteenth century' in C. de Bellaigue (ed.) Special Issue 'Home Education 1750-1900: domestic pedagogies in England and Wales in historical perspective'. Oxford Review of Education, 41, 4 (2015).
'Only what is pure and exquisite': girls' reading at school in France, 1800-1870', French History, 27, 2 (2013).
'Faith and Religion' in C. Heywood (ed.) The age of empire, 1800-1900, vol. 5 of The cultural history of childhood and the family (series eds.) James Marten & Elizabeth Foyster, (Oxford, Berg, 2010).
'De la femme aux individus: l'histoire du genre en Grande Bretagne, des années 1960 à nos jours' Revue d'histoire du XIXe siècle, (2008), 37, 55-69.
Educating women: schooling and identity in England and France, 1800–1867 (Oxford, Oxford University Press, 2007).
'"Educational homes" and "Barrack-like schools": Cross-Channel perspectives on secondary education for boys in mid-nineteenth century England and France', in D. Phillips, and K. Ochs, (eds.) Educational policy borrowing: Historical perspectives, [Special issue] Oxford Studies in Comparative Education, 14, 2 (2004), 89-108.
'"Les murs de la pension". The school community in French and English boarding schools for girls, 1810–1867', Paedagogica Historica, 40, 1-2 (April 2004),107-121.
'The development of teaching as a profession for women before 1870', The Historical Journal, 44, 4 (December 2001), 963-988.