Philip Pullman (1965, English) releases new edition of The Collectors
Alumnus and Honorary Fellow Philip Pullman (1965, English) released a new edition of his novella The Collectors on 15 September. The Collectors is set in the world of Pullman's cult classic His Dark Materials trilogy. This new edition features illustrations from artist Tom Duxbury, who specialises in block prints, and has worked on the books of Dame Carol Ann Duffy and Elizabeth Gouge.
Pullman's His Dark Materials trilogy has remained a fan favourite since its first volume's publication 27 years ago. He has won a Carnegie Medal, a Guardian Prize, an Astrid Lindgren Award, and been knighted for his services to literature. Pullman has since given readers new and refreshing insights into his world in a series of companion books, including the first two parts of his Book of Dust trilogy, which Pullman described as not a prequel or a sequel to His Dark Materials, but an 'equel'.
Originally published as an audiobook, The Collectors acts as a standalone story that does not feature the original His Dark Materials characters, but hints at the nature of magical worlds and their relationship to our own.
Pullman will speak about The Collectors at a sold-out event at Oxford's Blackwell's bookstore on 20 September.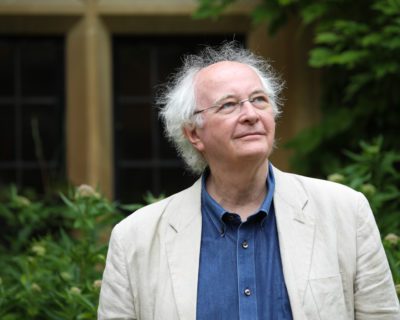 Philip Pullman outside of the Exeter College Library in 2021.