Porters' Lodge refurbishment unveiled
After almost five months of building work, the renovation of the College Porters' Lodge has been completed. 
The refurbishment has substantially improved the accessibility, appearance and sustainability of the Lodge, which has not had significant renovation for many years.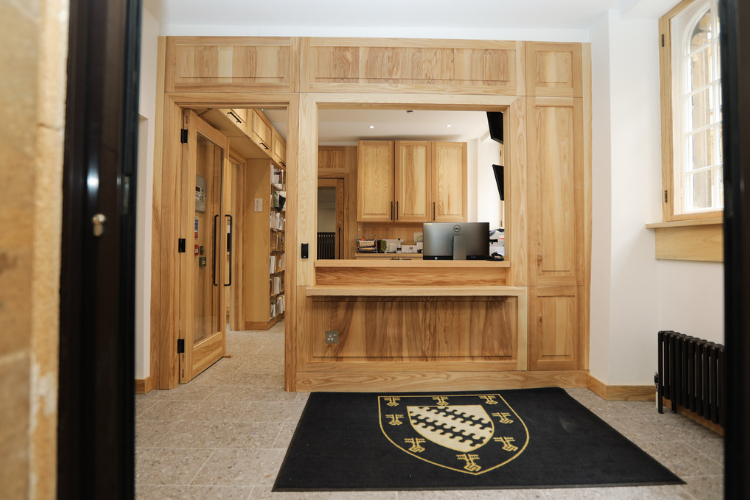 The Lodge front desk has been reorientated to improve the visual line to the College entrance.
The Lodge was moved to a temporary structure on the Front Quad lawn when the building works commenced on 29 November 2021, alongside two sheds to house post and parcels.
Most notably, a hydraulic lift has been embedded into the floor of the arched area to allow unaided access for wheelchair users.  
A secondary gate and railings have been installed, allowing the main wooden gate entrance to remain open during the day and make the entrance much more welcoming, whilst enhancing security and access restrictions for unauthorised visitors.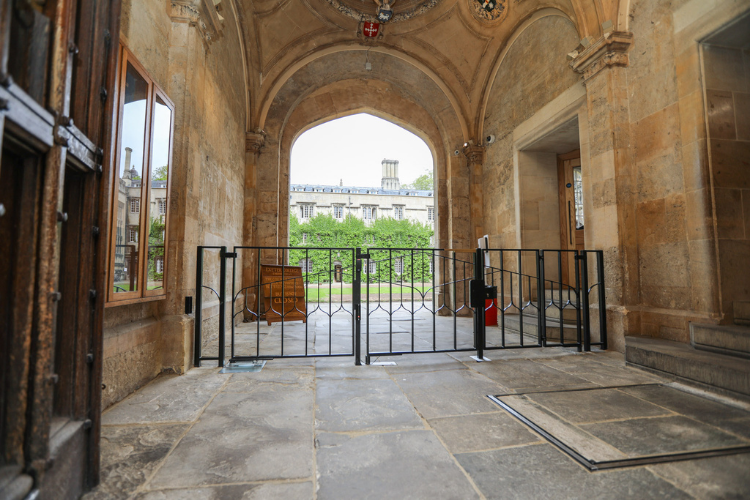 The hydraulic lift, seen towards the right of this picture, is embedded in the floor when not in use.
Another significant change includes reorientating the Lodge counter by 90 degrees to improve the visual line to the College entrance. The various electronic panels for CCTV, fire alarms and other IT systems have been decluttered, making the working and reception spaces more ergonomic for staff and users. 
The pigeonhole area has been relocated to the back of the Lodge, now accessible through Staircase 2, allowing more storage space for parcels. There is also a new automated system to collect held parcels via an iPad on the wall.
Head Porter Sarah McCowie commented:
The lighter hardwood has given the Lodge a very modern appearance, and it feels so much brighter and airy. It makes such a difference being able to keep the main wooden doors open during the daytime, creating a more friendly and welcoming entrance to the College.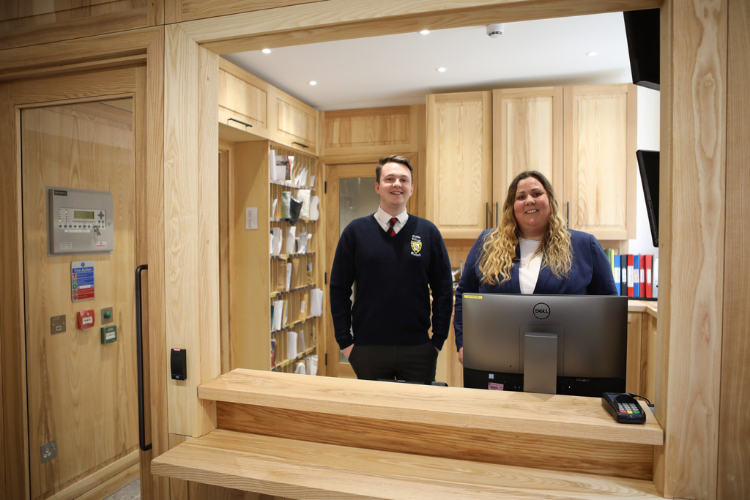 Lodge Supervisor, Hughie Hicks and Head Lodge Porter, Sarah McCowie.
Rector Professor Sir Rick Trainor said:
Maintaining the integrity of the architectural identity of the space within a Grade 1 listed building was significant throughout the duration of the project. The pattern on the new bespoke forged metal railings and internal gates references the traditional shape of the arched ceiling of the College entrance, whilst the brass finishes draw the user's attention to the functional elements of the installation.
Domestic Bursar Babis Karakoulas commented: 
The environmental footprint of the Lodge was a key consideration of the refurbishment. We have made significant improvements to the thermal performance of the site. It's now a lot warmer with the addition of the secondary glazing and internal insulations.
Explore the newly refurbished Lodge: