Oil portrait of Honorary Fellow and alumnus John Kufuor officially unveiled
On 9 May 2023, Exeter College held a day-long event to commemorate the unveiling of a portrait of His Excellency John Kufuor (1961, PPE; Honorary Fellow), former President of Ghana. Over eighty distinguished guests attended the festivities, including His Majesty the King of Ashanti Otumfuo Nana Osei Tutu II, Ghana High Commissioner to the UK His Excellency Papa Owusu-Ankomah, former Cabinet Minister Lord Paul Boateng, former Rector of Exeter College Dame Frances Cairncross, artist Naima Aouni, and John Kufuor himself.
The event began at the College's Cohen Quadrangle, where a photographic portrait of John Kufuor was formally inaugurated. That photograph was taken in 2016 by Fran Monks and is displayed in the Learning Commons, which is well-used and loved by students. This was the first time that the former President was able to see the photograph at Cohen Quad, where an inauguration ceremony scheduled for May 2020 had to be postponed due to the pandemic.
The event continued at Exeter's historic Turl Street site. After a formal lunch, guests headed to the Rector's Drawing Room for the main event. A speech by Rector Professor Sir Rick Trainor recognised both the artistry and beauty of the portrait, as well as its potential – given John Kufuor's illustrious career – to inspire Exeter students, present and future. The Rector's comments proved to be true immediately, as many admiring Ghanaian students from across the University of Oxford had the opportunity to attend the event and meet President Kufuor.
Artist Naima Aouni and John Kufuor jointly unveiled the portrait to much applause. John Kufuor remarked: 'I will say that I'm forever grateful for this honour you've done me today. Inviting me to unveil two portraits in the same day. I never heard of such an honour before so I feel particularly flattered!' The painting will soon hang in Exeter College's Jacobean Hall.
John Kufuor served as the President of Ghana from 2001 to 2009, as well as the Chairperson of the African Union from 2007 to 2008. During his influential career he has received a number of prestigious awards, including the Face-of-Good-Governance Award, the World Food Prize, and the Chatham House Prize, as well as being named a Global Ambassador Against Hunger for the UN's World Food Programme. He was made an Honorary Fellow of Exeter College in 2002. Exeter College commissioned the painting in recognition of his distinguished career.
The artist, Naima Aouni, is self-taught and only started painting at 23. Initially, she had intended to use a dull grey background, but on meeting President Kufuor, with his forty peacocks in the garden, she changed her mind. Naima felt that his larger-than-life personality merited a more daring colour scheme. She chose a red background for its vividness, the gold pin on John Kufuor's collar represents the abundant mineral wealth found in Ghana, and the rich forest green armchair has parliamentary tones and completes the colours of the Ghanaian flag.
Speaking in the run-up to the portrait unveiling, Rector Rick Trainor said, 'This splendid portrait by Naima Aouni highlights the dignity, humanity and natural authority of President John Kufuor, alumnus and Honorary Fellow of Exeter College. President Kufuor's importance as a democratically elected and high achieving President of Ghana, and in more recent years as an international statesman, more than justifies his portrait's inclusion in Exeter's historic Hall alongside other eminent people associated with the College since its foundation in 1314. Like the President's photographic portrait in the College's Cohen Quadrangle, his oil portrait will inspire high achievement in public service by Exeter's diverse student population, present and future.'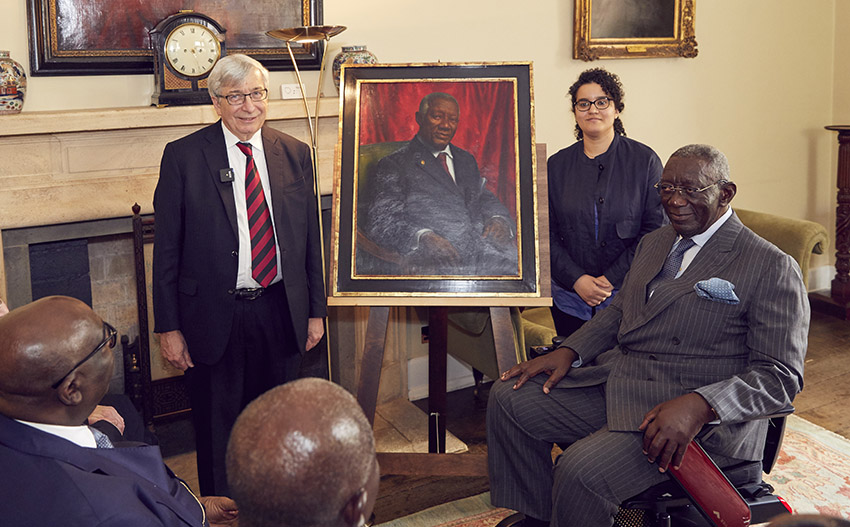 Rector Trainor, Naima Aouni and John Kufuor unveil the oil painting