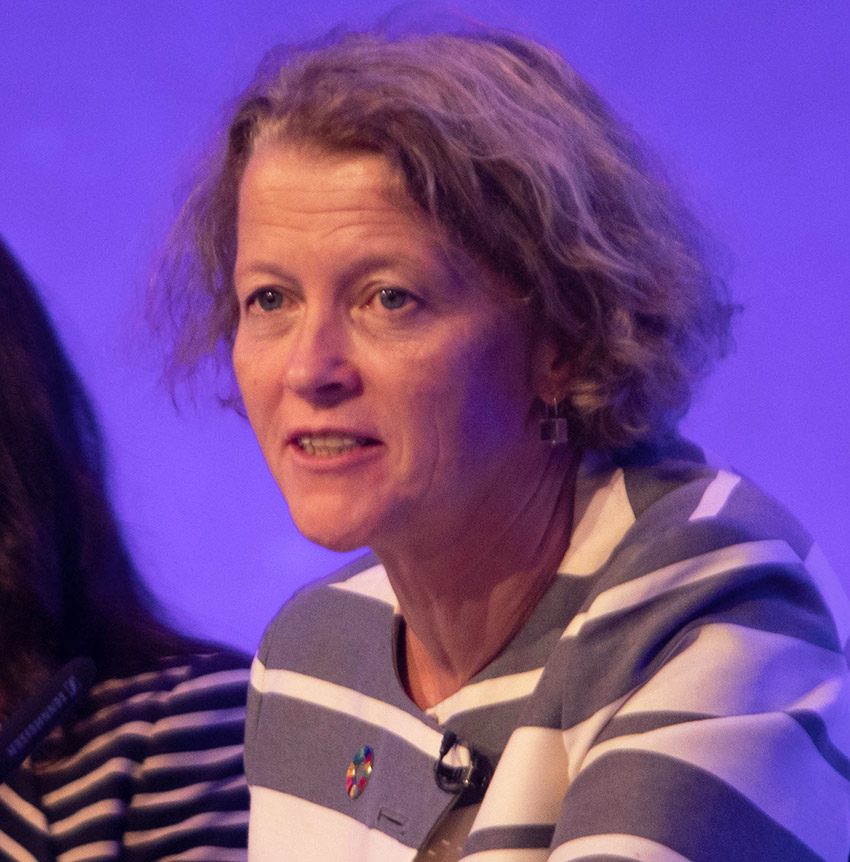 Prof Charlotte Watts speaks at a Department for International Development summit in 2018, © DFID / Michael Hughes
Professor Charlotte Watts (1981, Mathematics) and Catherine Page (2004, English and Modern Languages) are amongst those who have been lauded for outstanding service to the nation in the 2019 Queen's Birthday Honours List, published in June.
Professor Watts was appointed a CMG for services to global health and international development for her work on domestic violence as a global health issue – Professor of Social and Mathematical Epidemiology at the London School of Hygiene and Tropical Medicine, she also is founder of the Gender Violence Research Centre, and possessor of an international reputation in the inter-related fields of gender-based violence and HIV vulnerability. The CMG (Companion of the Order of St Michael and St George) is conferred in recognition of important service to foreign and Commonwealth affairs.
Catherine Page was awarded an OBE for public service, most recently following her work as the Prime Minister's private secretary. On joining the civil service she was initially posted to the business department where she held a range of economic and European roles, including negotiations of the Horizon 2020 EU research programme and acting as private secretary to the Minister for Universities and Science. Catherine undertook secondments to the European Commission and the Cabinet Office prior to joining No 10 and is now a deputy to the Ambassador at the British Embassy in Ireland.
Professor Watts and Catherine Page are amongst the 47% of women who make up the total number of those honoured this year, an increase from 41% in 2018 and 39% in the 2018 New Year's Honours List. According to the Cabinet Office's press release this follows a strategic steer by the Prime Minister to the Main Honours Committee that the honours system should 'support children and young people to achieve their potential, enhance life opportunities, remove barriers to success and work to tackle discrimination.'