Professor Giuseppe Marcocci to publish Machiavelli, Islam and the East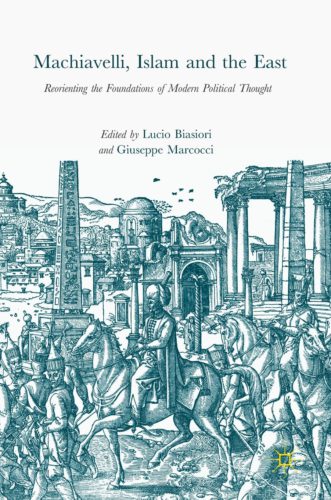 Giuseppe Marcocci, Exeter College Fellow in History and Associate Professor in Iberian History, has edited a volume of work entitled Machiavelli, Islam and the East: Reorienting the Foundations of Modern Political Thought.
Along with co-editor Lucio Biasiori, Balzan Prize Post-Doc Fellow at the Scuola Normale Superiore in Pisa, Professor Marcocci has compiled a volume of work that provides the first survey of the unexplored connections between Machiavelli's work and the Islamic world, running from the Arabic roots of The Prince to its first translations into Ottoman Turkish and Arabic. Machiavelli, Islam and the East investigates comparative descriptions of non-European peoples, Renaissance representations of Muḥammad and the Ottoman military discipline, a Jesuit treatise in Persian for a Mughal emperor, peculiar readers from Brazil to India, and the parallel lives of Machiavelli and the bureaucrat Celālzāde Muṣṭafá. Ten distinguished scholars analyse the backgrounds, circulation and reception of Machiavelli's writings, focusing on many aspects of the mutual exchange of political theories and grammars between East and West.
Robert Black, Emeritus Professor of Renaissance History at the University of Leeds, described the volume as "essential reading not only for Machiavelli scholars but for students of modern global culture in its emerging intellectual stages" and Francesca Trivellato, Frederick W Hilles Professor of History at Yale University, called Machiavelli, Islam and the East "A timely, learned, and thoughtful intervention [that] should be required reading for both students and seasoned scholars interested in the intellectual roots of Western modernity, and will surprise even those who are well acquainted with the work of Machiavelli."
Machiavelli, Islam and the East will be published with Palgrave Macmillan in January 2018. You can read more about the book and pre-order a copy here.  To read more about Professor Marcocci's work click here.