12th June 2019
by Jessica Lee (2015, English)
Professor Oreet Ashery brings art exhibition to the Wellcome Collection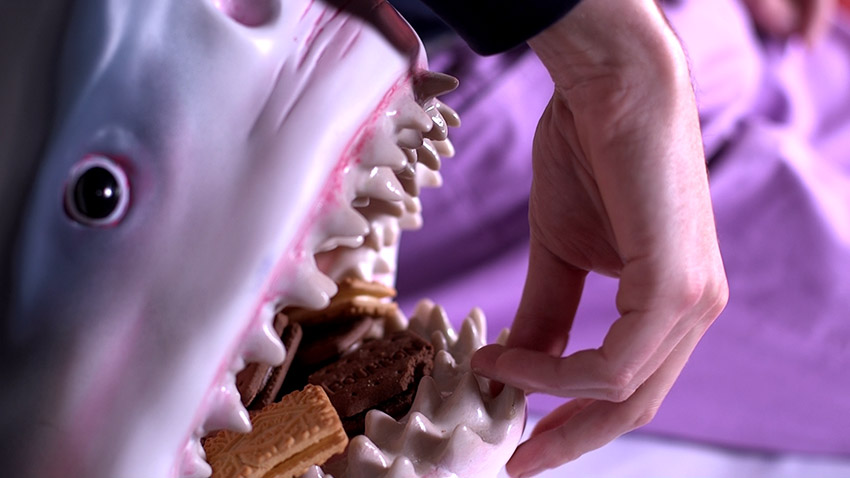 A still from Professor Ashery's film series 'Revisting Genesis'
Exeter's Director of Studies for Fine Art, Professor Oreet Ashery, is currently showing her 12-part web-series 'Revisiting Genesis' at London's Wellcome Collection. It forms part of a joint exhibition, 'Misbehaving Bodies', along with work by photographer Jo Spence (1934-92).
Both artists explore the lived experience of chronic illness; for Spence, illness comes in the form of breast cancer, and her medium of exploration is self-portraiture, and for Ashery, it is illness in the digital era, interrogated via experimental film. The forms of illness Ashery depicts are forms that have evolved under the pressures of late-modern capitalism – illness plus the accoutrements designed for it by industries seeking to profit off its back, such as augmented reality tombstones, digital wills, and cremation jewellery. All are real products available today to anyone wishing to soften the blow of impending demise with consumer relief.
In Ashery's series, the palliative care offered to the chronically ill takes the form of a litany of sales pitches of said absurdist products. In one sequence, a man who owns a biscuit factory wards off death with the creation of a biographical slideshow of bourbon and custard creams, which preserves his lifetime achievements in non-perishable, eternal form. The idea is that the self (or the self's legacy, its biscuits) migrates beyond the body to persist in cyberspace – the world of 'Revisiting Genesis' is one where identity transfers, after death, into the hands of the digital death-industry services. It is a much more fraught process, then, to negotiate the questions of legacy and finitude that arise in the lived experience of chronic illness, and a process that supplies good fodder for what The Guardian calls Ashery's 'pitch-black humour and anti-establishment ferocity', that makes the show such an 'invigorating – if ultimately heart-breaking – experience'.
'Misbehaving Bodies' by Jo Spence and Oreet Ashery shows at the Wellcome Collection in Bloomsbury, London, until 26 January 2020. Admission is free.
To read more about 'Misbehaving Bodies' click here.