Professor Watanabe-O'Kelly receives honorary doctorate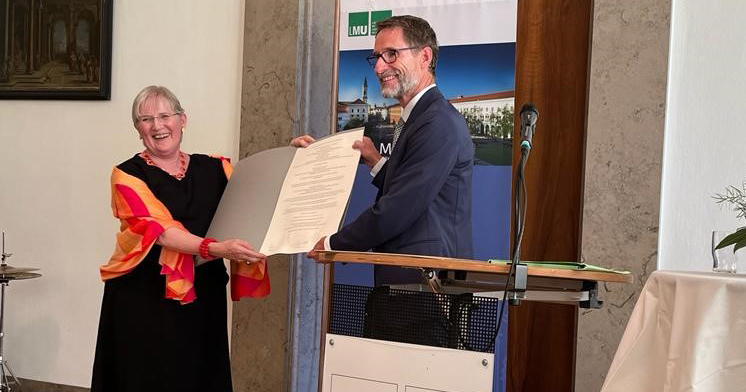 Congratulations to Professor Helen Watanabe-O'Kelly, Professor of German Literature and Emeritus Fellow of Exeter College, who received an honorary doctorate from the Ludwig-Maximilians-Universität Munich (LMU) on 20 June 2022. Announcing the award, the University wrote: 'LMU wishes to recognise Helen Watanabe-O'Kelly's outstanding service to the humanities in Europe.' The statement went on to praise Professor Watanabe-O'Kelly's 'impressive career, prolific body of work and commitment to Anglo-German academic relations [which] make her a role model for subsequent generations.'
Professor Watanabe-O'Kelly's main research interests are in German literature and culture from the late 15th to the early 18th centuries within their European context, in women's writing in all periods and in the representation of women in German literature and culture. She has published numerous articles as well as five monographs, most recently Projecting Imperial Power: New Nineteenth-Century Emperors and the Public Sphere, which was published by Oxford University Press in 2021 and explores imperial ambition behind the cities of Berlin, Paris, Vienna, and New Delhi in the nineteenth century.
On being awarded the honorary degree Professor Watanabe-O'Kelly said: 'My fascination with German began when I was eleven years old and has only grown with the decades. This award by Germany's leading research university, from whose scholars I have learned so much, is an immense honour.'
Exeter College was represented at the ceremony by Rector Professor Sir Rick Trainor and his wife, Professor Marguerite Dupree. From everyone at Exeter College, we extend warmest congratulations to Professor Watanabe-O'Kelly on this fantastic achievement.