23rd March 2022
Rector Professor Sir Rick Trainor
Rector Trainor reviews events of Hilary Term 2022
Hilary Term 2022 at Exeter was surprisingly normal. Some Covid precautions persisted, especially the wearing of face masks in confined spaces. Also, many occasions which in normal times might have taken place in the Saskatchewan Room or the Bar have occurred instead – in order to maximise ventilation – in the Marquee in Front Quad. Yet, teaching (especially tutorial teaching) has very largely been face-to-face. Also, there have been many dinners in Hall, albeit with somewhat reduced seating: the pent-up appetite for in-person socialising has had a very positive effect! Also, extracurricular activities, sporting and otherwise, have revived despite some loss of continuity caused by pandemic interruptions. More generally, while more than a few Fellows, staff and students contracted Covid during the term, few have been seriously affected, although all have had their routines significantly disrupted.
The last few weeks of term brought a serious crisis of a very different kind: the invasion of Ukraine and the resulting war. Many people in College, no doubt like Exonians around the world, were and are deeply upset by the conflict and its distressing human consequences. There was a vigil for peace in the Chapel just before hostilities began and, afterward, an expression of support for all those caught up in the crisis. The MCR, the JCR and the College itself have made donations to appropriate humanitarian charities, and further donations are in prospect. Various Exeter experts – notably international lawyer Fellow Professor Dapo Akande and Honorary Fellows Professor Timothy Garton Ash (1974, Modern History) and General Sir Richard Shirreff (1974, Modern History) – have provided commentary on this major international crisis. Within the College, I am chairing a working group comprising members from all three common rooms to monitor the situation, not least the plight of any students, staff, Fellows or alumni directly affected by the conflict.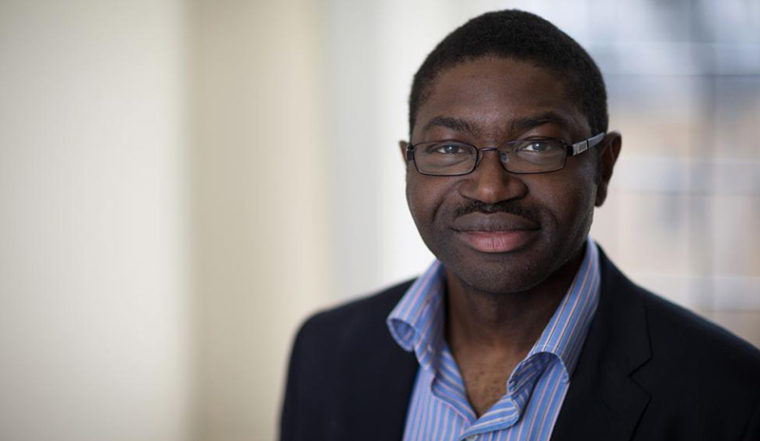 Exeter Fellow, Professor Dapo Akande
These sombre reflections make it appropriate to turn next to the losses which Exeter has sustained since mid-December, when I last reported. Among many Exonian deaths, I note that of George Walker (1960, Chemistry), who had a wonderfully diverse career encompassing distinguished piano performances, influential headships of schools, and the Director Generalship of the hugely successful International Baccalaureate. I also note the death of Professor Sir John Elliott, Oxford's Emeritus Regius Professor of History. Although John was not an Exonian, his widow Oonah is related to George Butler, student and leading Fellow at Exeter during the College's mid-19th century renaissance; together they presented to Exeter a charming contemporary drawing of Butler and other Fellows sipping wine from silver vessels in the Fellows' Garden. A giant of historical scholarship on Spain and its Empire who delighted in mentoring rising talent in the field, Sir John kindly took an active interest in Iberian Studies at Exeter, a major and growing aspect of the College's academic strength. Sir John linked Exeter to the Centre de Estudios Europa Hispanica, which is in the process of funding in the College a second junior research fellowship in the field.
Such progress indicates the vitality of Exeter even during a time of lingering pandemic and international crisis. Other such positive signs can be found in the ongoing renovation of the Lodge – due to be finished before Trinity Term begins – and the imminent restoration of the College Library. Hilary Term saw further detailed planning of the Library project, including consultations, especially with students, about the interim library arrangements for the period of restoration, July 2022 – September 2023. These will include a bookstack of key items in the Saskatchewan Room and study space in a Marquee – promised to be well-heated! – which the College is acquiring for the purpose. Works of art have been removed to a place of safety for restoration, and the decanting of less-used books has begun. No one looks forward to the inevitable disruption, of course, but there is widespread positive anticipation of the restoration of Gilbert Scott's interior, the generation of additional reader spaces, the installation of a discreet lift, and the provision of up-to-date power services. Almost 70 years after the last significant work on the building, and 160 years after it opened, the time has come to give the Exeter community, especially its students, a library fit for the 21st century. A focused appeal to raise the remaining funds for the project is in full swing, led by Director of Development and Alumni Relations Yvonne Rainey.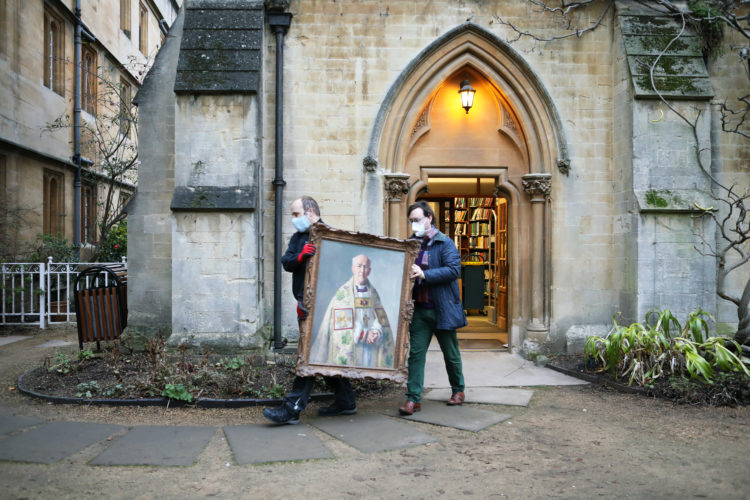 Artwork has been temporarily removed from the Library for restoration and cleaning
A number of Fellows had especially distinguished Hilary Terms. Dr Rachel Fraser (Philosophy), having recently won the Sanders Prize in Epistemology, was awarded a highly competitive British Academy/Wellcome Fellowship. Professor Nandini Das (English) staged a conference at Cohen Quad on 'Richard Hakluyt and the French Connection' in association with her TIDE (Travel, Transculturality, and Identity in England, 1550 – 1700) Project; later in the term she used the same venue for a retrospective on the project which included the launch of two books. Meanwhile, former Visiting Fellow Professor Ladan Niayesh (University of Paris), closely associated with TIDE, held a conference, also in Cohen Quad, marking the 400th anniversary of the significant seizure from the Portuguese of the island of Hormuz at the mouth of the Persian Gulf.
Other notable achievements by Fellows were the talks, at Exeter subject family dinners, by: Visiting Fellow Stephen Elliott, 'What Can Computer "Experiments" do that Real Experiments Cannot?'; Professor Andrew Farmer (Primary Care) on 'Following the Science: Reflections on Health Care Policy and Practice'; and Sub-Rector Dr Barney Taylor (Classics) on 'Death and Not Existing: Seneca, Bede, Nabokov, Sebald'. There were also webinars by Honorary Fellow Governor Dick Celeste (1960, History) on 'How Fragile is American Democracy?' and by former Visiting Fellow Sean Hagan (Georgetown Law School) on 'Understanding and Combatting Corruption'.
In terms of publications by Fellows, Professor Christina de Bellaigue (History) produced 'Women, Mobility, and Education in Twentieth-century England and Wales: A New Analytical Approach', former visiting Fellow Richard Cohen (Hebrew University) published (with Miriam Rajner) Samuel Hirszenberg, 1865-1908: A Polish Jewish Artist in Turmoil (Littman), and Professor Giuseppe Marcocci (History) produced a podcast on 'Same-Sex Marriages in Renaissance Rome'. Last but emphatically not least, I note the publication, by Exeter Emeritus Fellow Dr John Maddicott, of a major book related to the history of Exeter: Between Scholarship and Church Politics: The Lives of John Prideaux, 1578-1650, a major force in Stuart England generally as well as in his college and university.
With regard to alumni, four started 2022 in spectacular fashion by appearing in the New Year Honours list: Andy Anson (1983, Mathematics) OBE; Richard Meddings (1977, Modern History) CBE; Ben Merrick (1993, Modern Languages and Latin) CMG; and Melanie Robinson (1995, Modern History) CMG. University honours were awarded to Sir Ronald Cohen (1964, PPE & Honorary Fellow), who became a Fellow of the Chancellor's Court of Benefactors, and Tim Ashley (1980, PPE), who was named a member of the Vice Chancellor's Circle. Lebby Eyres (1990, Literae Humaniores) did no less than row the Atlantic! Another alum, Dr Dominic Berry (1983, Classics), recalled the achievements of Exonian William Morris by donating a first edition of the latter's Child Christopher and Goldilind the Fair, an early fantasy novel which evidently had a strong influence on J.R.R. Tolkien. Thus the book, which until now has been in no Oxford library other than the Bodleian, forms a bridge between two of Exeter's best known literary alumni.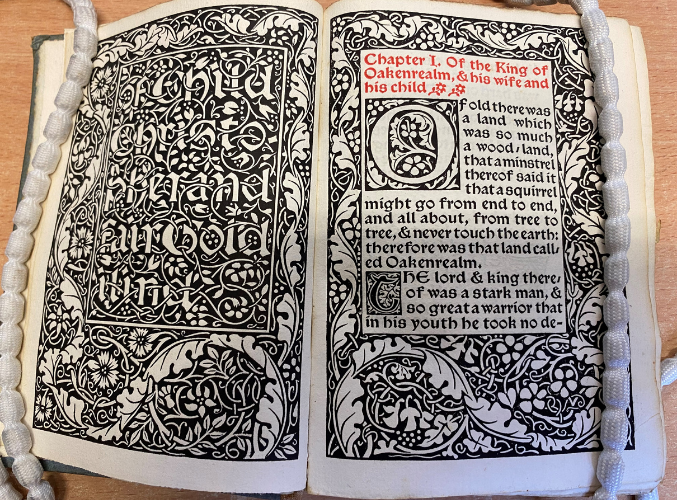 Alumnus Dr Dominic Berry (1983, Classics) has very generously donated to Exeter College a Kelmscott Press first edition of fantasy novel 'Child Christopher and Goldilind the Fair', written and published by Exonian William Morris (1852, Classics). 
Alumni have also recently generated a number of notable publications, including: Financial Regulation and Technology: A Legal and Compliance Guide (Edward Elgar) by Ian Sheridan (2005, MBA); the novels Hourglass (Little, Brown) by Keiran Goddard (2002, English) and The Latinist (W W Norton), by Mark Prins (2009, Williams); the poetry collection Morning Lit (Cinnamon) by Omar Sabbagh (1999, PPE); the children's book Loki: A Bad God's Guide to Being Good (Walker) by Louie Stowell (1997, English); Shadowlands: A Journey through Lost Britain (W W Norton) by Dr Matthew Green (2001, Modern History); and the new podcast Tremolo by playwright Lisa Parry (1998, English), which explores issues of disease and heredity.
Many alumni attended the Fortescue Society (Law) Dinner on 24 February, which featured a striking topical address by Dina Shiloh (1983, English) on her careers as a journalist and a lawyer. Also, alumni ranks were swelled by graduations on 5 and 12 March.
Hilary Term featured many significant sporting achievements by Exeter students. Josh Fallows (2020, Earth Sciences) was crowned the 94th President's Putter Champion, making him the premier Oxbridge golfer of the year. Isabella Wordsworth (2020, Modern Languages), Alice Nicholas (2018, Chemistry) and Amelia Levitt-Smith (2021, Williams) won Blues in women's football, as did Sophie Elliott (2019, Biochemistry), Matt Mundy (2019, Chemistry) and Chris Jurkowski (2018, Earth Sciences) in mixed lacrosse. Amynta Rimmer (2019, Biochemistry) represented the University's second team in netball, and Poppy Tollemache (2019, English Language and Literature), who is a Blue in water polo, helped Oxford top their league. In terms of College teams, Exeter's Men's JCR First team won their league in men's football, earning promotion to the Premier Division. Meanwhile, in Torpids two Exeter boats (the women's first boat and the men's second boat) won 'Blades' and Exeter's other boat (the men's first boat) narrowly missed out on achieving the same feat, bumping on days one to three and rowing over on day four. Such positive results represent the most successful College Torpids in many years. In terms of potential glory yet to come, Jessica Abele (2019, DPhil candidate in Physiology, Anatomy and Genetics), designated Captain of Oxford's women's rugby, will lead a side against Cambridge on 2 April including Megan Isaac (2019, PPE). Likewise, Tobias Schroder (2021, MPhil History of Science, Medicine and Technology) will row in the men's Boat Race on 3 April.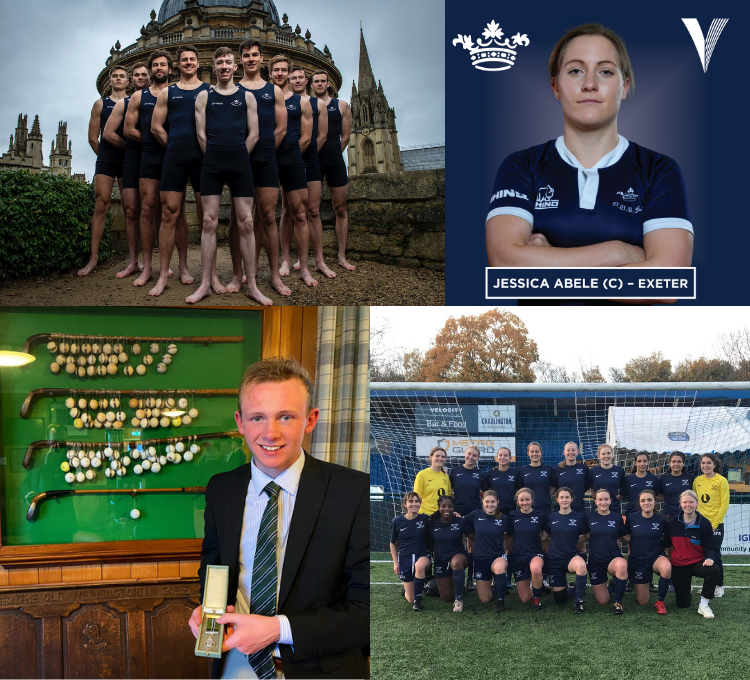 Clockwise from top left: OUBC Men's Boat Race team (Tobias is far left), Jessica Abele, Captain of the Women's Rugby team, the Blues Women's Football team, and Josh Fallows receiving the coveted Putter Champion silver medal
Exeter students also had various non-sporting achievements last term. Ten undergraduates, having survived record levels of competition to be selected, made the early January journey to western Massachusetts to participate in the Winter Study Programme at Exeter's long-standing partner, Williams College. And Exeter postgraduates also achieved significant successes, such as the South Asia Arts Prize awarded to Saba Qizilbash (2021, Master of Fine Art) by the South Asia Arts Initiative at the University of California Berkeley. There was record student attendance, and a number of undergraduate and postgraduate papers, at the three subject family dinners held during Hilary Term. Also, Exeter was active during the February 2022 edition of the annual Turl Street Arts Festival; the culminating combined-choir Evensong was held, as usual, in Exeter's Chapel. Likewise, many students attended Hilary Term's special events – Burns Night, Lunar New Year, two parents' dinners and two halfway halls – in the latter two categories third-year undergraduates experienced what the pandemic had denied them during the 2020/21 academic year.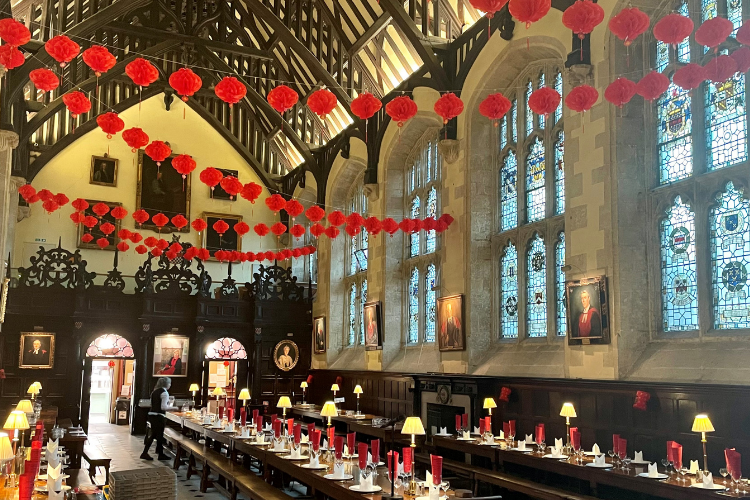 Lunar New Year was celebrated in Exeter's Dining Hall
Meanwhile, there was renewed attention to Exeter's effort to diversify further its student body, with particular attention to under-represented groups. To this end, the College has added a philanthropically funded second Outreach Officer focused on schools liaison. In terms of current efforts, after a year when the College's annual open day for offer holders and their parents had to be held online, a lively in-person version was held on 12 March. Also, although our focus naturally remains on liaison with secondary schools, we have joined four other Oxford colleges in twinning with a local primary school in order to raise aspirations from an early age. In addition, the College celebrated two successful applications to Oxford from veterans of the Exeter-East Lothian study programme.
After a two-year hiatus entailed by the pandemic, overseas travels on behalf of Exeter are about to resume. The forthcoming trip will take us to a number of cities in the Eastern USA and in Canada. If we don't see you on this visit, we hope to see you soon – on another such overseas trip, at resumed Oxford-based events like the very successful Gaudy (for those matriculating before 1970) held in Hall on 19 March, or at High Table on the Wednesday and Sunday evenings of Full Term.
Rick Trainor
Rector