11th October 2022
Rector Professor Sir Rick Trainor
Rector Trainor reviews events of the 2022 Long Vacation
The most notable feature of the Long Vacation was of course the death of Her Majesty Queen Elizabeth II on 8 September. The momentous nature of this very sad event was audible within minutes: the bells of Christ Church Cathedral tolled, in a fashion not heard since the death of George VI in 1952; the doleful sound echoed loudly around the quadrangles, the effect magnified by the quiet of an early evening out of term. Within minutes of the announcement of the Queen's demise I made my way to the Lodge to request that the Union Flag be flown at half mast from the College flagpole, only to find that this sign of the College's sorrow, through the alertness of Exeter's Lodge staff, was already on display. The flag remained at half mast at Exeter – interrupted only by the customary full-mast display associated with the proclamations of the new reign in London and Oxford – until after the state funeral. In the interim a book of condolence was opened in the College Chapel, and the College was represented at the University service of commemoration in St Mary's by the Sub-Rector (I was by then visiting the College alumni in North America, of which more below).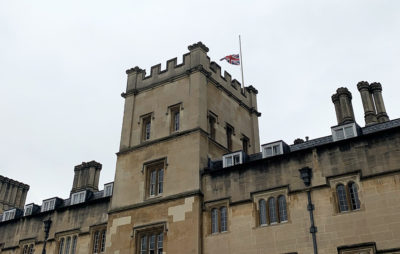 The Union Flag flying at half mast above Exeter's main tower
Throughout this whole period I did not encounter anyone connected with Exeter, in Oxford or overseas, who was other than deeply moved by the Queen's death, state funeral and committal. Exeter played its part: former Chaplain Mark Birch, now Canon and Precentor of Westminster Abbey, had a prominent role in the funeral, and alumnus David Conner (1966, Theology), Dean of Windsor, presided at the committal.
On an infinitely lighter note, Exeter has had a minor upbeat role in the publicity surrounding the accession of King Charles III. The new Sovereign, we have learned, is an aficionado of the Jack Russell Terrier, developed (as relevant news stories noted) by the eponymous hunting parson alumnus of Exeter in the early 19th century! Meanwhile, we are deploying, in the College's grace after meals, the reference – not used at Exeter since the death of Charles II in 1685 – to King Charles.
Overall the summer was busy and prosperous at Exeter. The Exeter College Summer Programme returned, with record numbers of attendees, at Cohen Quad, and the College was full of conferees of various types throughout July, August, September, and early October. The most notable of these gatherings, was the influential British-Spanish Tertulias, a long-running annual dialogue featuring prominent participants from both countries. The location in the College of this event was particularly appropriate (as I assured the delegates at the opening dinner in Hall) because Exeter, the home of the University's chair of Spanish since its foundation in 1927, has a long-running close association with Spain, including now a number of additional academic posts.
Among the summer schools was one, led by alumna Georgie Dennis (1988, Modern History), of conservators who worked, with very positive results, on the restoration of some of the College's portraits. Indeed the Long Vacation had many aesthetic high points, including a further award, and substantial additional positive publicity, for the architecture of Cohen Quad. Just before the start of term came a major exhibition at Wolfson College of the more recent paintings of Emeritus Fellow in English Helen Leith Spencer, which will remain on display until December.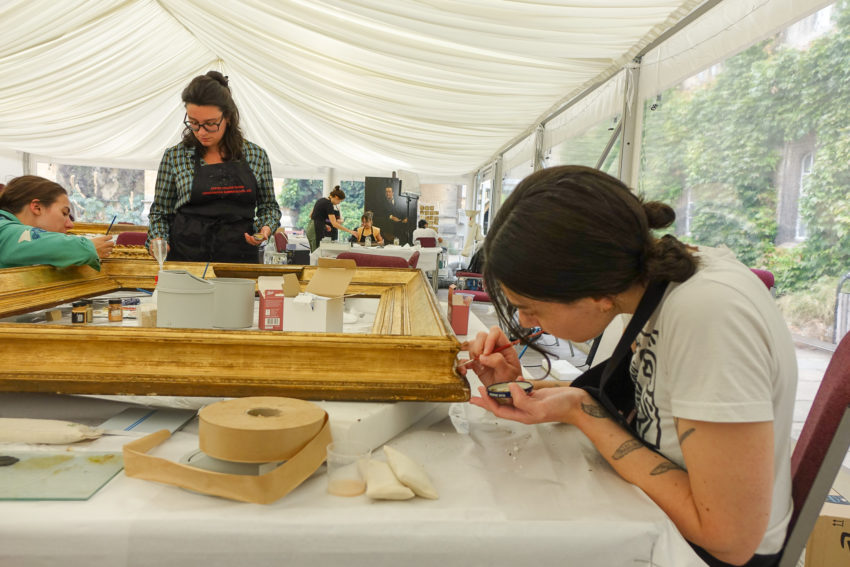 Conservators working on College portraits and frames.
Students, naturally, featured largely in the College's Long Vacation. In June, the Middle Common Room successfully requested an extra formal dinner in Hall exclusively for postgraduates; this event, with stirring student speeches, festively marked the end of the postgraduate academic year (for the many students on one-year Master's programmes, their only year at Exeter). In July and September there were lively College sequels to three University graduation ceremonies, covering postgraduates and undergraduates alike. On two of those occasions the group assembled for the College ceremony in the Chapel had to listen to me speak a second time (mercifully with a different speech!) as I had presided, in my role as Pro Vice Chancellor, in the relevant ceremony in the Sheldonian earlier in the day. The Choir had a tour to central Europe, and Exeter students took to the Edinburgh Fringe an original production, 'Hands and Flowers'.
Exeter College graduates before their degree ceremony.
Exeter's non-academic staff played prominent roles, as did Fellows and Lecturers, in a College party in July. Two months later the younger members (including Marguerite's and my three-year-old granddaughter!) of the families of all these groups had a very lively party in the Front Quad, complete with ice cream van, bouncy castle and magician! Such occasions are especially important at a time of high volumes of conferences and events – essential for the finances of an only moderately endowed college – and Exeter's version of the staff shortages now endemic in the UK as elsewhere.
Our Fellows were by no means active only in parties during the summer. Oreet Ashery (Fine Art) gained 'Recognition of Distinction', the equivalent of full professor, from the University (as did Monika Gullerova, formerly Staines Medical Research Fellow at Exeter, in Molecular Medicine). Meanwhile, Nandini Das (English) won a Vice Chancellor's Innovation and Engagement award for her TRACTION project, which disseminates to teachers materials generated by Nandini's group's research on race, belonging, empire, and migration.
After a competition and several series of interviews, the College welcomed to its new category of Supernumerary Fellow (who are encouraged to participate in the College's academic and social life without the responsibilities of Governing Body membership) the following: Professor Charles Foster, Visiting Professor at the Law Faculty; Dr Federica Gigante, Curator of the History of Science Museum's Collection from the Islamic World; Dr Aarti Jagannath, Associate Professor at Oxford's Sleep and Circadian Neuroscience Institute; and Professor Marian Knight, Professor of Maternal and Child Population Health at Oxford's National Perinatal Epidemiology Unit. Another new Supernumerary Fellow is Dr Bojana Mladenovic, the new Director of the Williams at Exeter Programme at Oxford (WEPO) and Professor of Philosophy at Williams College. Also starting in September were the following Governing Body Fellows: the new Monsanto Senior Research Fellow, Dr Georgia Isom (from Oxford's Dunn School of Pathology); the Singer Fellow in Law, Dr Heloise Robinson (formerly a Lecturer at Oriel College); and the Sir John Elliott Research Fellow in Early Modern Spanish Studies, Dr Erica Feild-Marchello (previously a graduate student at New York University). In addition, we welcomed in July Dr Nicole King (formerly of Goldsmiths University of London), as Tutorial Fellow in English.
On a very sombre note, Exeter mourned the death in late August of Professor Paul Snowdon (Tutorial Fellow in Philosophy, 1971-2001), for whom a memorial service will be held in Chapel during the new academic year.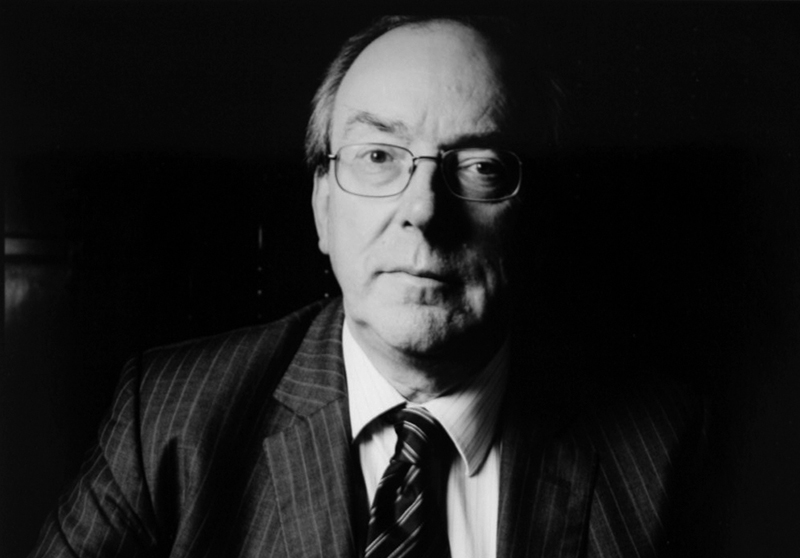 The late Paul Snowdon (Tutorial Fellow in Philosophy, 1971-2001).
Alumni activities featured prominently at Exeter during the Long Vacation. There were three gaudies: for those matriculating 1995-99 in late June, 2000-04 in early July, and 1975-78 in late September. Just before the last event Marguerite and I accompanied Development and Alumni Relations Director Yvonne Rainey on a long-scheduled visit to the West Coast of North America, where we held alumni events in Los Angeles (hosted by Richard Sparks [1970, English]), San Francisco, Seattle (including a wonderful tour by Greg Hicks [1972, Modern Languages] for us visitors), and Vancouver (hosted by Jim Titerle [1973, Jurisprudence]). At each occasion my speech noted the death of the Queen, for whom hundreds of half-mast flags were displayed not only in Vancouver but also in the American cities that we visited.
Many Exeter alumni distinguished themselves during the Long Vacation. For example, Professor Marie-Claire Cordonier Segger (2003, Law) was elected a Fellow of the Royal Society of Canada's Academy of Social Sciences, and Professor Surya Subedi (1989, International Law), gained the signal honour of an earned Oxford Doctorate of Common Law, an event celebrated by a reception in the College. There were also a number of publications by alumni, including (in addition to those noted elsewhere in this edition of e-news) an intensive study of late medieval Exeter followers of John Wycliffe by Ian Bunting (1954, Theology) in Lucas: An Evangelical History Review. In terms of past distinction, among the alumni who died during the summer months was Correlli Barnett (1948, Modern History), who produced a string of highly influential historical studies during his career even though he held no conventional academic appointments.
As I write our new students, undergraduate and postgraduate freshers, have been arriving, as have our continuing students. The two groups of new arrivals have each had a welcoming dinner and are undergoing the time-honoured ritual of signing the College Register during a brief (but for me informative) conversation with the Rector. Some of these students had a much-appreciated preliminary fortnight in College as part of Exeter's now well-established Exeter Plus 'bridging' programme, to be supplemented this academic year by an on-course programme, open to all undergraduates, focusing on study skills. The College had a successful in-person Open Day in mid-September, held its usual access programme for students from East Lothian, and began implementing its schools outreach programme with the extra intensity that a philanthropically funded second access officer makes possible. The new group of UK undergraduates is the most socially diverse ever, but further progress in this respect depends on generating additional applications from aspirants drawn from non-traditional backgrounds.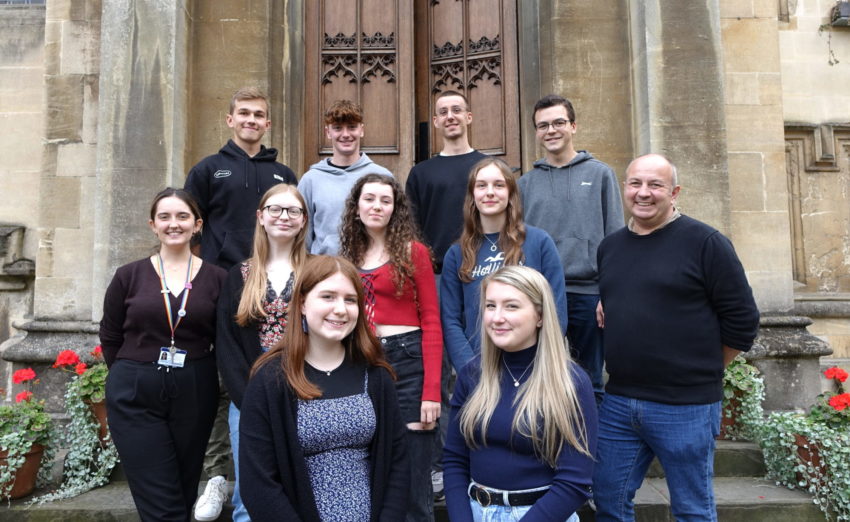 Exeter Plus students with Schools Liaison Officer Evie Sutcliffe and Tutor for Admissions Professor Conall Mac Niocaill. 
Also fuelled by philanthropy are the restoration and renovation of the College Library, now well under way. Among many much-valued gifts in recent months to this much-needed project has been a donation of a million dollars from Exeter's long-standing friend, Biz Stone, co-founder of Twitter, and his wife Livia. More gifts are needed to supplement the College's contribution, and many naming opportunities are still available. Meanwhile, the disruption to normal library facilities during the twelve months of the project has been mitigated by a bookstack for borrowing in the Saskatchewan Room, dedicated study space in a new (heated!) marquee in Front Quad, and the 24/7 opening up of other College study spaces.
Like many of the readers of this letter, the College is mindful of a forthcoming very tough winter for energy supplies and costs. This crisis, prompted of course by the invasion of Ukraine, has led Exeter to redouble its sustainability efforts, assisted now by a sustainability coordinator shared with Lincoln and Corpus Christi Colleges. The hope is that academic year 2022/23 will be intellectually and socially rich but energy-conserving!
Hoping that you all experience an adequately warm winter.
Rick Trainor
Rector