12th April 2020
The Reverend Andrew Allen, Exeter College Chaplain
Reflections from the Chaplain: Easter Sunday
During the COVID-19 crisis Exeter College is providing Chapel services and spiritual reflection online, led by the Reverend Andrew Allen.
In an effort to provide the Exeter College community with spiritual support, in my role as chaplain, during this unusual and challenging time of lockdown, I am posting regular reflections from my home in Germany. Here is my latest, accompanied by a recording from the College Choir, which you can listen to by clicking on the play icon below. If you would like to receive more reflections by email please let me know by emailing me at andrew.allen@exeter.ox.ac.uk. Or you can read all of my recent reflections and listen to the accompanying pieces of music by clicking here.
Easter Day
Children were not the only things to be evacuated out of London during the early days of World War Two. Paintings, furniture, jewels, other objects d'arts were taken from museums and palaces and packed up for safe keeping in the country – usually in disused Welsh coal mines. Such was the fate of the contents of the National Gallery on Trafalgar Square; the building, emptied of its contents was able to be a hospital or army billing office. But the central foyer was used for concerts, as a sort of morale-booster for the blitzed-battered Londoners. Those who went to the concerts petitioned to have a painting from the collection returned so they could look at it during the concert. A list was drawn up and people voted, and what they voted for is Titian's Noli me tangere.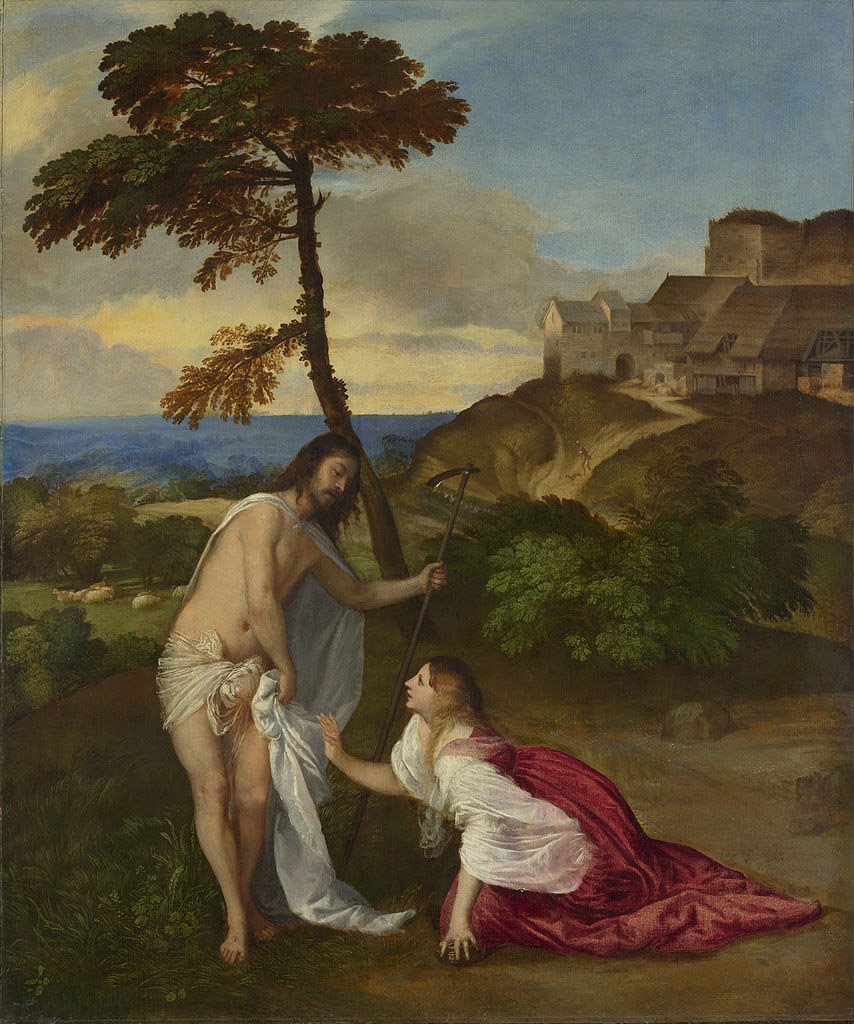 The title, noli me tangere – don't hold on to me – (touch me not, in the translation below) is taken from John's gospel, in the twentieth chapter:
The first day of the week cometh Mary Magdalene early, when it was yet dark, unto the sepulchre, and seeth the stone taken away from the sepulchre. Then she runneth, and cometh to Simon Peter, and to the other disciple, whom Jesus loved, and saith unto them, They have taken away the Lord out of the sepulchre, and we know not where they have laid him. Peter therefore went forth, and that other disciple, and came to the sepulchre. So they ran both together: and the other disciple did outrun Peter, and came first to the sepulchre. And he stooping down, and looking in, saw the linen clothes lying; yet went he not in. Then cometh Simon Peter following him, and went into the sepulchre, and seeth the linen clothes lie, And the napkin, that was about his head, not lying with the linen clothes, but wrapped together in a place by itself. Then went in also that other disciple, which came first to the sepulchre, and he saw, and believed. For as yet they knew not the scripture, that he must rise again from the dead. Then the disciples went away again unto their own home. But Mary stood without at the sepulchre weeping: and as she wept, she stooped down, and looked into the sepulchre, And seeth two angels in white sitting, the one at the head, and the other at the feet, where the body of Jesus had lain. And they say unto her, Woman, why weepest thou? She saith unto them, Because they have taken away my Lord, and I know not where they have laid him. And when she had thus said, she turned herself back, and saw Jesus standing, and knew not that it was Jesus. Jesus saith unto her, Woman, why weepest thou? whom seekest thou? She, supposing him to be the gardener, saith unto him, Sir, if thou have borne him hence, tell me where thou hast laid him, and I will take him away. Jesus saith unto her, Mary. She turned herself, and saith unto him, Rabboni; which is to say, Master. Jesus saith unto her, Touch me not; for I am not yet ascended to my Father: but go to my brethren, and say unto them, I ascend unto my Father, and your Father; and to my God, and your God. Mary Magdalene came and told the disciples that she had seen the Lord, and that he had spoken these things unto her.
 We can see how Mary Magdalene in her white dress with red scarf has come early in the morning to anoint Christ's body – and remember that Christ in Greek is Christus, which means anointed one. If you look very carefully, her left hand is holding the pot of oil for anointment. And Titian has painted the moment at which Mary realises the man with the hoe in the garden is not the gardener, but Jesus, her teacher, her Rabbouni.
The composition of the painting reflects the gospel reading: it is roughly in two halves, the side with Christ and the side with the Magdalene – she is in darkness on her background is a city, representing human endeavour, man-made traditions and constructions, whereas Christ is standing under a tree – hinting at the cross, but look how full of life it is, full of green leaves – and he is set against a background of the early morning sky, all of nature bathed in the morning light of the resurrection dawn.
The structure of this painting, our gospel, and what we're celebrating today all points to a transformation: a moving from the murkiness of earthly values to the glorious light of hope that comes with the resurrection. You can see why the bombed out Londoners chose this painting as they listened to concerts in their war-ravished city.
Yet there is a hesitancy in this narrative: Mary Magdalene does not instantly recognise her closest friend. There is fear, there is uncertainly. We can see this both in the gospel and in the painting: Titan does not paint a triumphal Christ, striding out of the tomb as many other artists chose to do; instead there is timidity, cautiousness, and hushed hope, as shown through the muted colour palette. But, through this, there is light. If there were Easter services today, the theme of light would dominate: many churches usually light a fire, and from this ignite the Paschal candle, which is then brought into churches with great joy and triumph, and put on a tall stand, where the candle will burn through the year to remind us that we are a people born into, and bathed in the light and love of the resurrection.
And it is through this light – the light of the risen Christ, that we see all our fears, our struggles, our doubts. And for me, this gives me great hope. Hope, because my faith is built on the resurrection – of ideas of new possibilities and growth, of a new way of living, but which comes out of uncertainly, confusion, even fear. Questions of whether someone can physically resurrect doesn't really interest me – it is a metaphorical resurrection which is more important.
Hope and new beginnings are to be found in this sonnet from Edmund Spencer's Amoretti
Most glorious Lord of life, that on this day,
Didst make thy triumph over death and sin:
And having harrow'd hell, didst bring away
Captivity thence captive, us to win:
This joyous day, dear Lord, with joy begin,
And grant that we for whom thou diddest die,
Being with thy dear blood clean wash'd from sin,
May live for ever in felicity.
And that thy love we weighing worthily,
May likewise love thee for the same again:
And for thy sake, that all like dear didst buy,
With love may one another entertain.
So let us love, dear love, like as we ought,
Love is the lesson which the Lord us taught.
It is a call, again, to love, and to love in the light of God's love for us. As we continue in this covid confusion and anxiety, perhaps we can take comfort in the similarities of the struggle and triumph of love commemorated and celebrated at Easter with our own situations.
Today's music (available towards the top of this page) is the Gloria in excelsis – a joyful hymn of praise which, during Lent has not been sung. Its origins are lost in time, though the first line is taken from the messages of the angels to the shepherds at the birth of Christ, and its Latin version is attributed to Hilary of Poitiers, who lived 300 – 368. The recording was made in 2014, and is a world premiere recording of Stanford's Mass in G. George de Voil conducts the then College Choir. This is the text:
Gloria in excelsis Deo et in terra pax hominibus bonae voluntatis.
Laudamus te, benedicimus te,
adoramus te, glorificamus te,
gratias agimus tibi propter magnam gloriam tuam, Domine Deus, Rex cælestis, Deus Pater omnipotens. Domine Fili Unigenite, Iesu Christe Domine Deus, Agnus Dei, Filius Patris, qui tollis peccata mundi, miserere nobis qui tollis peccata mundi, suscipe deprecationem nostram. Qui sedes ad dexteram Patris, miserere nobis. Quoniam tu solus Sanctus, tu solus Dominus, tu solus Altissimus, Jesu Christe, cum Sancto Spiritu: in gloria Dei Patris. Amen.
Glory be to God on high, and in earth peace, goodwill to men. We praise thee, we worship thee, we glorify thee, we give thanks to thee for thy great glory, O Lord God, heavenly King, God the Father Almighty. O Lord, the only-begotten Son, Jesu Christ; O Lord God, Lamb of God, Son of the Father, that takest away the sins of the world, have mercy upon us. Thou that takest away the sins of the world, receive our prayer. Thou that sittest at the right hand of God the Father, have mercy upon us. For thou only art holy; thou only art the Lord; thou only, O Christ, with the Holy Ghost, art most high in the glory of God the Father. Amen.
So today, let us celebrate. We will have much to learn from these days, but now, let us give thanks for future possibilities. Let us celebrate the light of the resurrection, and the sense of hope that springs up from uncertain and confusing situations. Happy Easter!
Andrew Allen 12.iv.20
If you'd like to read an excellent Scottish poem about Easter and triumph over dragons and evil, I highly recommend this: https://interestingliterature.com/2019/02/done-is-a-battell-on-the-dragon-blak-a-poem-by-william-dunbar/