25th March 2020
The Reverend Andrew Allen, Exeter College Chaplain
Reflections from the Chaplain: Heaven and earth meeting
Thinking about how I might provide the Exeter College community with spiritual support, in my role as chaplain, has proven difficult during the COVID-19 crisis. I propose to offer some reflections along with a piece of music from our choir. Here is my third piece, along with a recording, which you can listen to by clicking on the play icon below. If you would like to receive more reflections by email please let me know by emailing me at andrew.allen@exeter.ox.ac.uk.
Heaven and earth meeting
St Luke's gospel records the visit of the angel Gabriel to Mary. Gabriel announces to Mary that she is to bear God in the world, in the form of Jesus. This is what the church celebrates today, the feast of the Annunciation. Here is Luke's account of it:
And in the sixth month the angel Gabriel was sent from God unto a city of Galilee, named Nazareth, to a virgin espoused to a man whose name was Joseph, of the house of David; and the virgin's name was Mary. And the angel came in unto her, and said, Hail, thou that art highly favoured, the Lord is with thee: blessed art thou among women. And when she saw him, she was troubled at his saying, and cast in her mind what manner of salutation this should be. And the angel said unto her, Fear not, Mary: for thou hast found favour with God. And, behold, thou shalt conceive in thy womb, and bring forth a son, and shalt call his name Jesus. He shall be great, and shall be called the Son of the Highest: and the Lord God shall give unto him the throne of his father David: and he shall reign over the house of Jacob for ever; and of his kingdom there shall be no end. Then said Mary unto the angel, How shall this be, seeing I know not a man? And the angel answered and said unto her, The Holy Ghost shall come upon thee, and the power of the Highest shall overshadow thee: therefore also that holy thing which shall be born of thee shall be called the Son of God. And, behold, thy cousin Elisabeth, she hath also conceived a son in her old age: and this is the sixth month with her, who was called barren. For with God nothing shall be impossible. And Mary said, Behold the handmaid of the Lord; be it unto me according to thy word. And the angel departed from her.
[Luke 1. 26 – 38]
The Annunciation is found only in Luke's gospel, and is his way of explaining how God came to earth in the form of Christ. The Annunciation represents the meeting of heaven and earth; it embodies the commitment God makes to humanity, because now God is amongst us as one of us, breathing the same air that we breathe. God is no longer far off, or someone who communicates with the world only through prophets, but God takes on human flesh. This is both mystical, magical, and pretty incomprehensible. Which is why it has been the subject for many artists, in many media.
For me, Fra Angelico's fresco of the Annunciation clearest and most movingly (below). Fra Angelico was a Dominican monk, based at the monastery of San Marco, north of Florence. The Medici family were patrons, and commissioned many frescos to aid the monks in their prayers and meditations. This version of the Annunciation, painted around 1450, appears at the top of a flight of stairs, and was intended to be seen from below. That helps to explain why the vanishing point seems much too high, and why the Virgin Mary's body is out of proportion.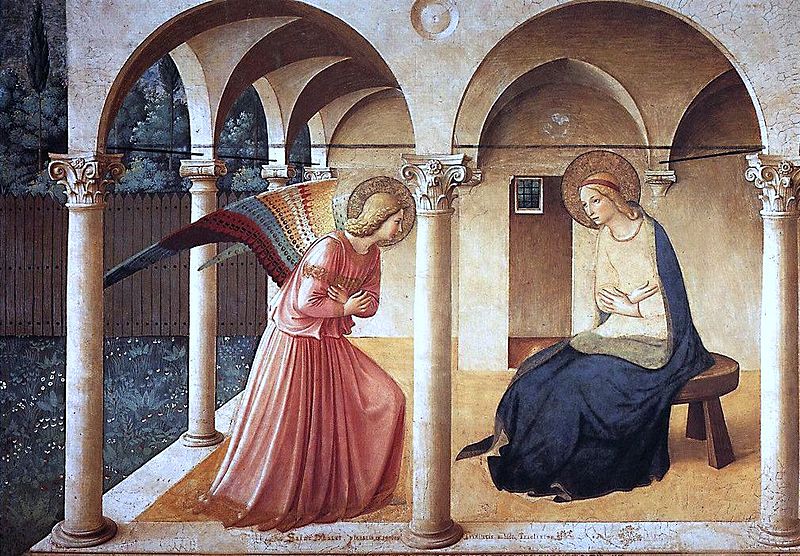 Mary is seated on a simple wooden stool in a cloistered loggia. The architecture is reminiscent of the monk's cells, with similar columns and small, barred windows. Gabriel, with his splendidly detailed and coloured wings inclines towards Mary. The earthly Mary casts a shadow, while the heavenly archangel doesn't. Unlike many other depictions of this angelic salutation, this scene is missing much of the Marian imagery – neither white lilies to suggest Mary's virginity, nor is Mary holding a prayer book, a sign of her devotion. This simplicity appeals, because it means we are freer to make of what we will from this scene. Even the jaunty perspective I mentioned earlier makes it appear that we are tumbling into this encounter; we can almost hear Gabriel speak the words, 'for with God nothing is impossible.'
These are words I've often meditated on when I feel either bewildered, baffled, or even sometimes amused by the situations I find myself in. I know that many of us would describe ourselves as being bewildered or baffled, scared, uncertain, even afraid. And I think it is right that we let ourselves feel whatever we feel; that we own and accept these feelings. That doesn't mean that we let them take over; all of us have a smorgasbord of emotions, and different emotions emerge at different times, in response to specific events. But alongside feelings of fear and bewilderment is love and support, comfort, and although it may seem odd, of joy. The feast of the Annunciation reminds us of the grace and hope that can come out of bewildering encounters: the calm simplicity of Fra Angelico's fresco is exactly that: a moment of calm in the bewilderment and confusion of our situation.
The medium of painting isn't the only way Luke's narrative of the Annunciation has been portrayed, and I leave with you two further renderings: firstly our choir singing Anton Bruckner's Ave Maria, (the words Gabriel says to Mary as he announces her role in God's scheme of salvation) [click on the play icon towards the top of this page to listen]. This was recorded at the 2018 Christmas carol service. And, a short poem by the Orcandian / Scottish poet, Edwir Muir (1887 – 1959).
The angel and the girl are met.
Earth was the only meeting place.
For the embodied never yet
Travelled beyond the shore of space.
The eternal spirits in freedom go.
See, they have come together, see,
While the destroying minutes flow,
Each reflects the other's face
Till heaven in hers and earth in his
Shine steady there. He's come to her
From far beyond the farthest star,
Feathered through time. Immediacy
of strangest strangeness is the bliss
That from their limbs all movement takes.
Yet the increasing rapture brings
So great a wonder that it makes
Each feather tremble on his wings.
Outside the window footsteps fall
Into the ordinary day
And with the sun along the wall
Pursue their unreturning way.
Sound's perpetual roundabout
Rolls its numbered octaves out
And hoarsely grinds its battered tune.
But through the endless afternoon
These neither speak nor movement make,
But stare into their deepening trance
As if their gaze would never break.
Reverend Andrew Allen 25/iii/20