07th April 2020
The Reverend Andrew Allen, Exeter College Chaplain
Reflections from the Chaplain: Hosanna
Thinking about how I might provide the Exeter College community with spiritual support, in my role as chaplain, has proven difficult during the COVID-19 crisis. I propose to offer some reflections along with a piece of music from our choir. Here is my fifth piece, along with a recording, which you can listen to by clicking on the play icon below. If you would like to receive more reflections by email please let me know by emailing me at andrew.allen@exeter.ox.ac.uk.
Hosanna
This is Holy Week for the Western Church; next week is Holy Week in the Orthodox Church. This is the week leading up to the crucifixion and death of Christ on Good Friday. This is a week different from others, even in this time of lockdown. I was supposed to be spending Holy Week with the nuns of St Mary's Convent, Wantage, leading their worship and providing meditations for the sisters to ponder. Instead, like many of us, plans have been abandoned. But life still goes out: spring has arrived in Obercunnersdorf, and the orchard is now full of daffodils and the fruit trees are about to burst into blossom. It's been both frustrating and exciting to try and figure out how to live in the present, whilst either re-imagining or altering plans and expectations.
This is the first Holy Week that I can remember when I won't be spending huge chucks of it either in church or with people, helping them prepare for Easter. This year it is different, but still there is much to reflect on and think about in this holiest of weeks. This is a different week, one which has influenced countless artists, working in many media, I want to offer you, alongside reflections, some poetry, music, and images on the key days of Holy Week; on Palm Sunday (albeit retrospectively); Maundy Thursday, Good Friday, and Easter Day, with the hope that in the cacophony of emotions, sounds, and experiences we might find something to strengthen us and inspire us.
Holy Week started on Sunday – Palm Sunday – with the triumphant entry of Jesus into Jerusalem amidst crowds proclaiming him the King who comes in the name of the Lord, and shouting hosanna. Here is Mark's account of it:
And when they came nigh to Jerusalem, unto Bethphage and Bethany, at the mount of Olives, he sendeth forth two of his disciples, And saith unto them, Go your way into the village over against you: and as soon as ye be entered into it, ye shall find a colt tied, whereon never man sat; loose him, and bring him. And if any man say unto you, Why do ye this? say ye that the Lord hath need of him; and straightway he will send him hither. And they went their way, and found the colt tied by the door without in a place where two ways met; and they loose him. And certain of them that stood there said unto them, What do ye, loosing the colt? And they said unto them even as Jesus had commanded: and they let them go. And they brought the colt to Jesus, and cast their garments on him; and he sat upon him. And many spread their garments in the way: and others cut down branches off the trees, and strawed them in the way. And they that went before, and they that followed, cried, saying, Hosanna; Blessed is he that cometh in the name of the Lord: Blessed be the kingdom of our father David, that cometh in the name of the Lord: Hosanna in the highest. And Jesus entered into Jerusalem, and into the temple.
[Mark 11. 1 – 11]
In many ways the triumphal entry of Jesus is a farce. This isn't some regal or organised procession, but instead Jesus is sitting on a borrowed donkey, with the disciples' cloaks in lieu of a saddle. There are no gilded carriages, nor gleaming uniformed soldiers lining the route.  But obviously the crowds in Jerusalem took note, for they cut down branches to greet him, waving and shouting 'hosanna'. But this crowd, as we will see, changed their minds through the course of the week, as the 'hosanna' changes to 'crucify him'.
Today's image is a small wood cutting by the German artist Albrecht Dürer, who lived 1471 – 1528. This is taken from his 'Small Passion' of 1508. It's a simple image, about 5 x 4 inches in size, and tells the story of Jesus entering Jerusalem on a donkey. It predates any sanctioned translation of the Bible into the vernacular, so services to teach as well as inspire spiritually.  The two men at the head of the crowd behind Jesus show the confusion of the situation, whilst Dürer's mastery as an engraver is shown in the details of the fabric draped on the donkey, and being laid in front of Christ.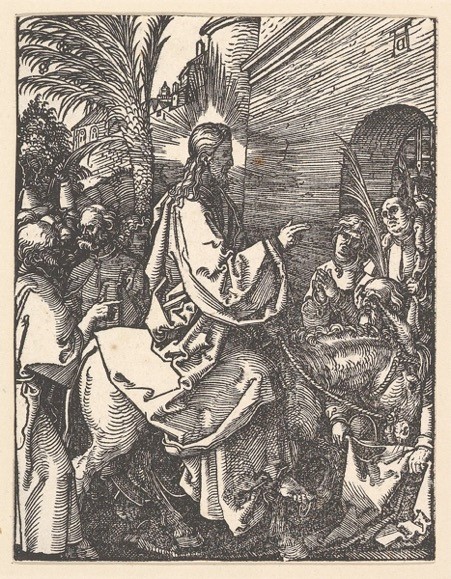 This flurry of activity, of shouting, of getting exciting, of being caught up in the moment has strong parallels with the situation we find ourselves in today. There are many voices shouting and declaiming: on social media, on the TV; it's hard to avoid. And it seems that people are trying to be heard by shouting louder or more frequently. The voices are shouting about lockdown; they're shouting about how to make the most of the time apart; they're shouting fear, and stress.  Just as the crowds in Jerusalem went from showing homage and loyalty with their shouts of 'hosannas' to betrayal and nastiness with their shouting 'crucify him', so too do many of the voices we hear seem to change on a daily basis.
This is a different week. Perhaps we should try and exclude the shoutings of others. In many traditions, this is a week of fasting and of self-discipline. Perhaps we should try and block our ears and eyes to the shouting and ranting, and set time apart to listen to ourselves. What are our fears and worries; what do we want to say to ourselves, but don't have the space or the time, or perhaps even the honesty or courage to say? For me, it is worth doing this during Holy Week, because at the end is Easter Day – the day of hope, and joy, where death and all that is evil no longer triumphs; the day when 'alleluia' resounds.  But before we can shout 'alleluia', we need to work through the 'hosannas' and the 'crucify him'. It's not easy, and not everyone will want to, but, if you do, perhaps listening to today's anthem (available towards the top of this page) will help get you in the reflective frame of mind. It is a setting by the C20th English composer, William Walton, of words by the metaphysical poet Phineas Fletcher. It was recorded by the then Exeter Choir in 2006, under the direction of Stephen Wood, and is from their CD, 'Salve Regina'. Through the three verses there's a progression of emotions; of sadness, marvel, regret, mercy, acceptance of faults. The words of the anthem are also offered as today's poem:
Drop, drop, slow tears,
and bathe those beauteous feet,
which brought from heaven
the news and Prince of Peace.
Cease not, wet eyes,
his mercies to entreat;
to cry for vengeance
sin doth never cease.
In your deep floods
drown all my faults and fears;
nor let his eye
see sin, but through my tears.
I wish you a peaceful and restful Holy Week.
Reverend Andrew Allen 7.iv.20
---
You can find out more about Dürer and how engravers made their images at this link from the Metropolitan Museum in New York
https://www.metmuseum.org/about-the-met/curatorial-departments/drawings-and-prints/materials-and-techniques/printmaking/woodcut