22nd March 2018
Rector Professor Sir Rick Trainor
Reflections on Hilary Term 2018 from Rector Trainor
The deaths of two eminent Exeter alumni and honorary fellows – Admiral Stansfield Turner (1947, PPE) and Sir Roger Bannister CH (1946, Physiological Sciences) – naturally attract attention first in this review of Hilary Term 2018. Stansfield Turner, a Rhodes Scholar at Exeter, greatly distinguished himself subsequently both as a senior serving officer in the American Navy and as a reforming director of the Central Intelligence Agency. His time at Exeter interacted with an instinctive critical spirit to make him an independently minded commentator on American and world affairs right to the end of his life. Meanwhile, Roger Bannister – a household name for breaking the barrier of the 4-minute-mile – was even more proud of his striking achievements as a neurologist. Although Sir Roger later acquired two other Oxford colleges (notably Pembroke, where he was Master 1985-93), he remained very loyal to Exeter. On regular visits Roger displayed an infectiously positive yet also profoundly inquisitive attitude to life, including the current affairs of universities. As the flying of the College's flag at half staff for each man symbolised, we have lost two wonderful exemplars of the enduring ethos of Exeter.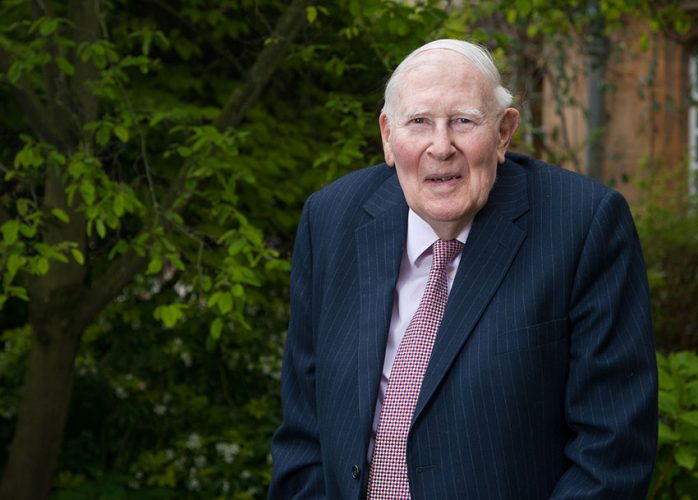 Sir Roger Bannister in 2013, photo by John Cairns
That ethos helps to account for the current achievements of Exeter alumni. Recent examples include Matt Hancock (1996, PPE), the College's first ever Cabinet minister, who has been appointed Secretary of State for Digital, Culture, Media and Sport. Meanwhile, Ivor Crewe (1963, PPE), Master of University College, has been named to the Government's review of university funding and fees. Also, Thomas Cromwell (1976, Law) has been appointed a Companion of the Order of Canada.
In February Development Director Pamela Stephenson and I visited that welcoming country to attend a talk in Toronto, at the annual Canadian PEN dinner, by noted Exonian author Martin Amis (1968, English). The Exeter part of this event, also attended by Exonians Henry Kloppenburg (1968, Law), Bart Holaday (1965, PPE) and David Goldbloom (1975, Physiology), was organised by Philip Slayton (1965, Jurisprudence). He and his wife Cynthia Wine hosted an Exeter reception the following evening. Also in February, Exonian business people Jonathan Gittos (1968, English), Jean Kitson (1992, English) and Ravi Takhar (1984, Jurisprudnce), supplied an intense and enlightening panel discussion at the annual 'Exepreneurs' event in London hosted, as usual, by alumna Tracy Coghill (1990, Jurisprudence) and her husband Nick. At the end of term Marguerite and I visited the College's ancestral home, the city of Exeter, where I addressed a number of Exonians – and one of next year's Exeter PPE students – at the annual dinner of the Oxford University Devon Society.
Exeter Fellows have had a high achieving term. Carol Robinson (Dr Lee's Professor of Chemistry) gave the 2018 Mabel Fitzgerald Lecture. Andrew Farmer (Professor of General Practice) was reappointed Senior Investigator in the National Institute of Health Research. Also, Philipp Kukura (Chemistry) secured a major prize in the initial UK Blavatnik Awards for Young Scientists. Meanwhile, Jared Tanner (Mathematics) gave a stimulating lecture – at the annual subject family dinner for mathematical and physical sciences – on data science in the 21st century.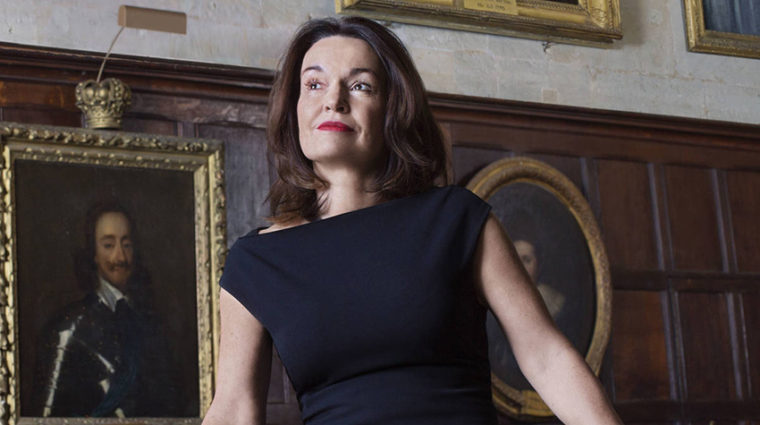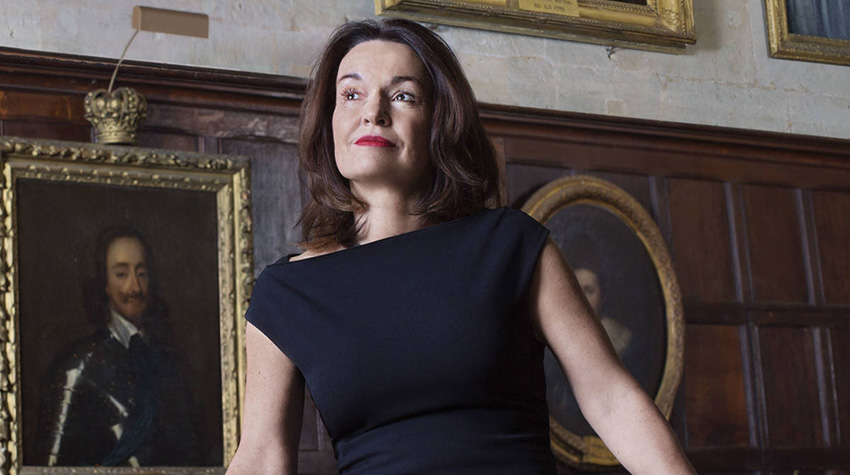 Professor Dame Carol Robinson pictured at Exeter College
Visiting speakers also brought distinction to Exeter during the term. Professor Christopher Cheng (Stanford; Visiting Fellow) gave a highly approachable rector's seminar on 'Using medical imaging to observe the dynamic vascular system' as well as a stimulating after-dinner talk, on the potential value of medical innovations produced by private sector firms, at the subject family dinner for medical and life sciences. Doctoral student Xuan Wang supplied his audience with a new perspective on the decade since the 'credit crunch' with a rector's seminar on 'The State's Monetary Sovereignty and Individual Freedom'. In February Professor Keith Humphreys (Stanford), addressing the topic 'Dealing with drugs: the fundamental decisions societies must make', provided a piercing analysis of the current opioid epidemic. Earlier this month Twitter co-founder Biz Stone, a long-standing friend of Exeter, provided first-hand insights on 'Entrepreneurship and big business skills in high tech today: reflections a year after my return to Twitter'.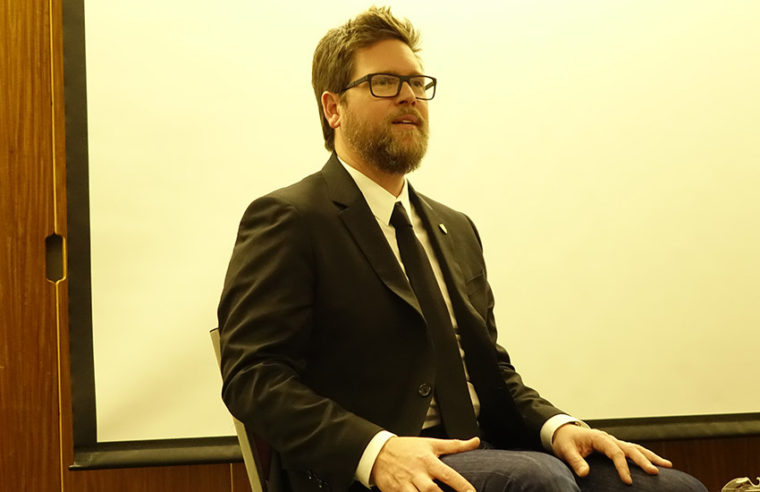 Biz Stone talks to students, alumni and staff
During the term there were also subject dinners – which bring together alumni and current students – in Law (addressed by Tina Cook [1984, Jurisprudence]), PPE (addressed by Oxford philosophy professor Jeff McMahan) and – for the first time in living memory – Classics (addressed by Exeter Lecturer Spencer Klavan).
Student life remained vibrant this term. Several Exeter undergraduates braved the snows of northwestern Massachusetts for the second annual visit of our students to longtime partner Williams College. Oxford's JCR and MCR unanimously supported the flying of the Rainbow Flag throughout February to mark LGBTQ History Month. During the same month Exeter students loomed large in the organisation and execution of the Turl Street Arts Festival, which this year expanded to a fortnight of dramatic and musical performances, exhibitions and recitations. Burns Night and Chinese New Year both included sparkling student performances. (The latter occasion culminated in a fireworks display overseen by Deputy Bursar Gez Wells, who has just left us, after almost 15 years of very valuable and highly diverse achievements, to become Home Bursar of New College.) Our rowers had to endure very cold weather, which limited Torpids to two days of racing. But the results were very encouraging. For example, M1 bumped two places on Wednesday and three places on Saturday, moving from 11th place to 6th in the men's second division. W1 secured a bump and moved from 4th to 3rd place in the women's third division. Meanwhile, the Chapel, with the wonderful Exeter choir, had a distinguished and vigorous term.
I close with news of an important appointment for my predecessor, Rector Cairncross, who will be chairing the Government's review of press sustainability in the UK. All Exonians will of course wish her well in this endeavour, as will all who believe with Thomas Jefferson that newspapers are central to democracy.
Rick Trainor
Rector