Sir Ronald Cohen and Tim Ashley recognised by the University for generous contributions to Exeter
Two Exeter alumni, Sir Ronald Cohen (1964, PPE) and Tim Ashley (1980, PPE), have recently been recognised for their generous donations to Exeter College.
Sir Ronald was made a Fellow of the Chancellor's Court of Benefactors, which recognises exceptional support to the collegiate University. The Chancellor, Lord Patten of Barnes, said the honour was in recognition of Sir Ronald's 'friendship and very generous philanthropy in support of Exeter College'.
The Court meets each autumn in Oxford and offers benefactors the chance to engage with the Chancellor, Vice-Chancellor and other senior leaders within the collegiate University. These meetings also allow benefactors to meet other members of the Court and to gain a greater understanding of the life and work of the University and the colleges.
Exeter's Cohen Quad is named for Sir Ronald's parents, Michael and Sonia Cohen, and Sir Ronald has also given generously to endow College fellowships in perpetuity and to fund College scholarships.
Describing his reasons for supporting education at Exeter College at the opening of Cohen Quad, Sir Ronald said: 'Education is the one possession that cannot be taken away, and I am lucky that I can help future generations of Exeter College students to live in a collegiate environment where their minds are best nurtured and inspired.'
Mr Ashley was made a member of the Vice-Chancellor's Circle, which recognises individuals, foundations and corporate benefactors who have provided generous support to the collegiate University. Members receive regular communications from the Vice-Chancellor and senior officers and are invited to an annual members' event in the spring.
Mr Ashley has given generously to the restoration and renewal of Exeter College Library, commenting that 'Exeter did me, personally, a vast favour by taking a punt and offering me a place in 1979. I have no doubt whatsoever that I would have far less to give now, in so many ways, had those kindly dons chosen another candidate. So for me at least, it's time to repay that debt. And if, in paying it back, I can also pay it forward to future generations of students, so much the better.'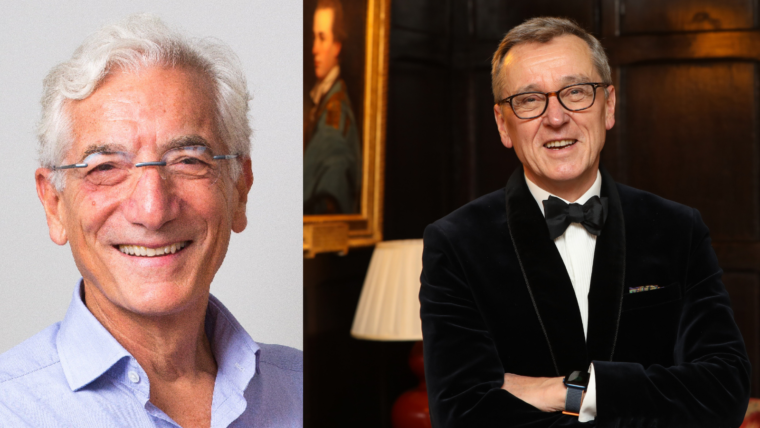 Sir Ronald Cohen and Tim Ashley