Study led by Exeter Fellow Neil Herring could save lives of heart attack victims
Within Oxford's Department of Physiology, Anatomy and Genetics, researchers from the Herring lab, led by Exeter Fellow Neil Herring (Tutorial Fellow in Preclinical Medicine, Associate Professor and Consultant Cardiologist), have found that a blood test for stress hormone levels could save thousands of lives. The test costs only £10 and illustrates how much of the stress hormone Neuropeptide Y (NPY) is present in patients' blood. Those patients with higher levels of NPY sustain more heart and lung damage, and are more likely to go into heart failure or die. The Herring lab hopes to develop drugs that target the receptors that NPY acts on.
Cardiovascular disease, commonly brought on by heart attacks, is the leading cause of death in the United Kingdom. Heart attacks alone cause 25,000 deaths each year. Researchers found that two days after a heart attack, the smallest blood vessels in the heart remained narrowed in patients with the highest NPY levels. MRI scans carried out six months later found that such patients had more scarring in their hearts, which were thus unable to pump blood efficiently. By identifying which patients have the highest NPY levels from the start, the Herring lab's research could effectively target those patients who are most at risk of heart failure.
Professor Herring said: 'We're confident that, in time, this stress hormone will become an effective target for future treatments to reduce the life-limiting effects of a heart attack.'
The full study, 'Neuropeptide‐Y Levels in ST‐Segment–Elevation Myocardial Infarction: Relationship With Coronary Microvascular Function, Heart Failure, and Mortality', is available to read in the Journal of the American Heart Association.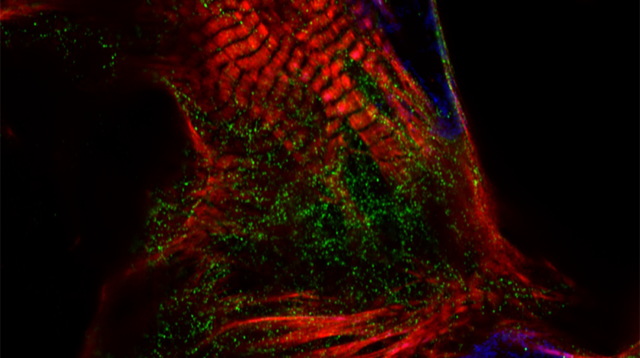 NPY receptors (in green) on human iPS cardiomycytes. Image credit: Ms Carla Handford, Dr Kun Liu, Dr Dan Li