17th March 2022
Rosa Chalfen (2019, English)
Success for ECAFC in Intercollegiate Football League
Exeter's JCR Firsts enjoyed a football season to remember, writes Rosa Chalfen (2019, English).
Exeter's Men's JCR Firsts have enjoyed a run of successes this year and go into Trinity Term having moved up a division in the JCR Intercollegiate Football League, as well as having reached the final of the famous Hassan's Cup.
Captained by Guy Nehushtan (2019, Engineering) and Daniel Gallagher (2019, Mathematics), the team enjoyed a range of wins across term, including beating St John's 8-0 in Second Week, winning 2-0 against St Peter's during Storm Ciara and, most importantly, beating neighbours and fierce rivals Jesus College 3-1 in the final match of term. These strong results elevated Exeter to the top of Division 1 and secured their promotion to the Premier Division, the highest tier of the JCR teams across the University, for the next academic year.
Separately, the Firsts reached the final of the Hassan's Cup, a competition between all JCR First teams. After beating Christ Church in the semi-final on 10 March, Exeter will go on to face either LMH or Hertford in the final next term.
ECAFC's Seconds also had a great run of games, captained by Ben Knights (2019, Mathematics). Their excellent performance in Division 2 of the JCR Reserve's League included victories of 12-2 against Queen's and a whopping 7-0 clean sheet against Teddy Hall. The season came down to the wire in the last game of the term where they faced second placed St Anne's in a battle for promotion, where a 6-2 loss unfortunately meant the Seconds remain in tier two of JCR Reserves.
Guy commented that: 'Topping Division 1 has given us a strong confidence boost going into the Hassan's Cup final next term. Not only has it brought us closer as a team, alongside our weekly football socials, but it has provided us and the fans with something to look forward to in a work-heavy Trinity Term!'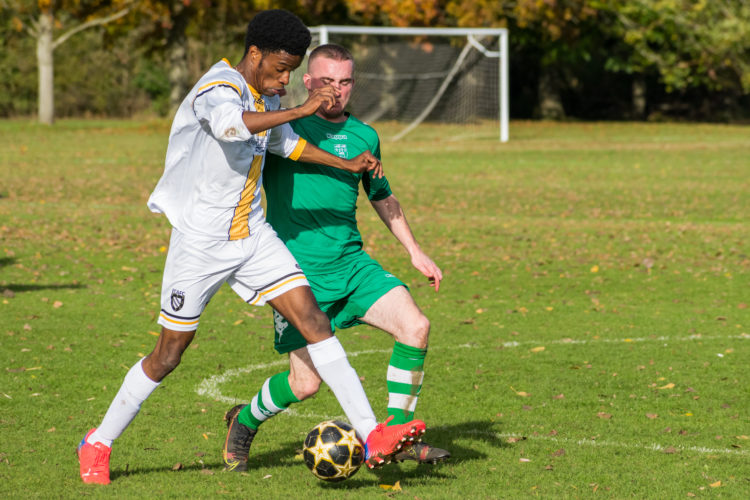 Photo: Chris Roscoe (2019, Fine Art)