30th October 2020
Katrina Oliver (2018, English) and Libby Nicholls (2018, English)
The inside story: student life during the COVID-19 pandemic
Third year English students Katrina Oliver and Libby Nicholls share their experience of life in College during these challenging times.
The Covid-19 pandemic has changed College life for us all. Moving back to College this year presented some sobering realities in many ways. As two finalists living in a double set, you could say our glory days are well behind us anyway, but this new way of College life isn't necessarily all doom and gloom.
Fortunately, the College library is still up and running, with an effective click-and-collect system to boot. Though not the lively hub of social activity that it once was – and that held such a place in all of our hearts – you could argue that the library is now an even more effective study space. (With its plastic screens and the aroma of disinfectant in the air – admittedly better than that of dead rats, as was the case last year).
The most personally devastating shift for us this year was from the eight hobs in Stapledon House, to our beautiful, but hob-less, College double set. Rightly so, the JCR kitchen is now closed, leaving Hall as our primary option for meals. The marquee presents a new dining (unfortunately no wining) experience, with the delightfully romantic seating arrangements of tables for two. Maybe not the most conducive setting for a group situation, but we're sure it's great for first dates. Temperamental and experimental as ever, you never quite know what to expect from the kitchen. There's also now the additional mystery of large lids covering all the food options until after you've chosen your meal; the takeaway cardboard boxes only enhance the suspense. That being said, the catering staff have been doing a fantastic job keeping the College running in these strange times!
Inevitably, the past week has seen us isolating in our double set. We're lucky to have nice big windows looking out over both the front quad and Turl Street, meaning we still can quench our social thirst by waving down to passers-by. Our time, unsurprisingly, has been filled with reading, essays, deadlines, and never-ending Teams Meetings. College have been really supportive for those in isolation, delivering meals promptly – which include, if it so pleases you, a hot main, several sides, snacks, fruit, chocolate, and a drink (a far cry from the horror stories flying around about other university halls with rumours of cereal-bar lunches and starving freshers). We were even lucky enough to receive a care package from the welfare team.
Exeter College has really risen to the challenge that the pandemic has presented. We're all so pleased to be back in Oxford after a remote Trinity and a long summer – even with some restrictions, College is still a home away from home.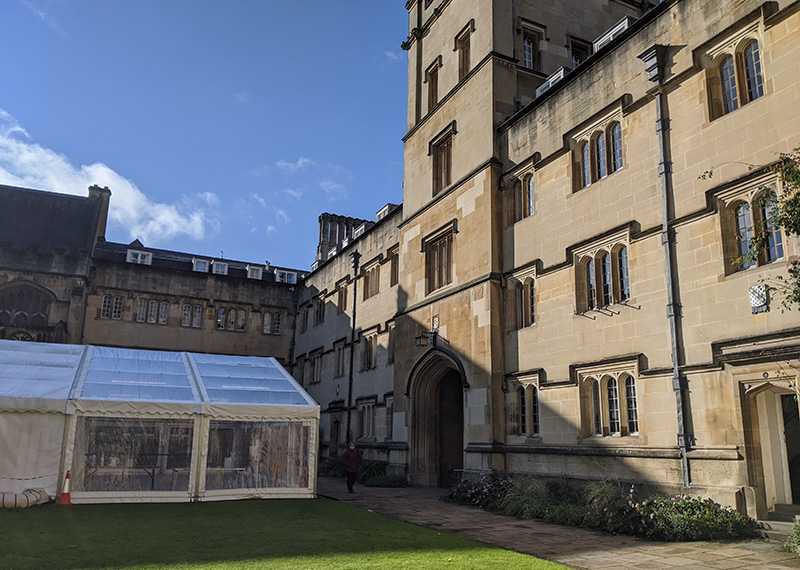 A large marquee in Front Quad provides extra space to enable social distancing at meal times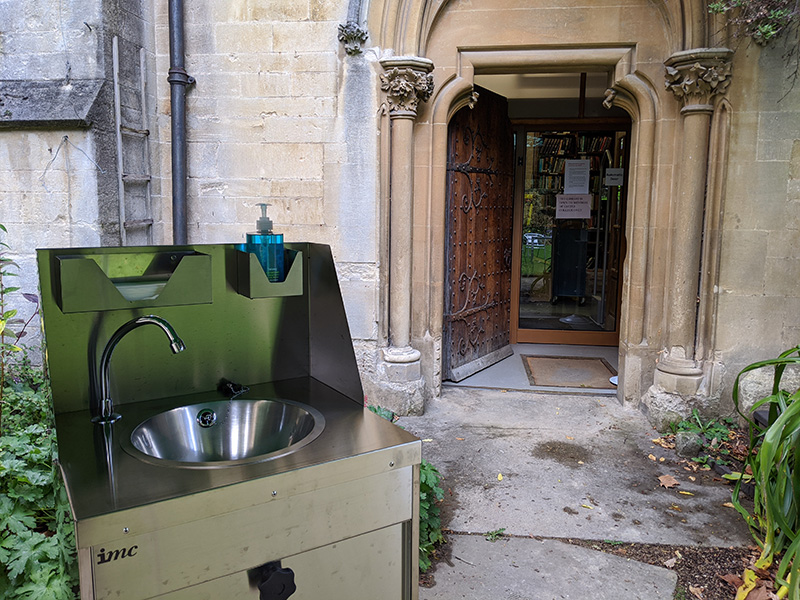 Hand washing stations have been installed around College