Tolkien brought to the silver screen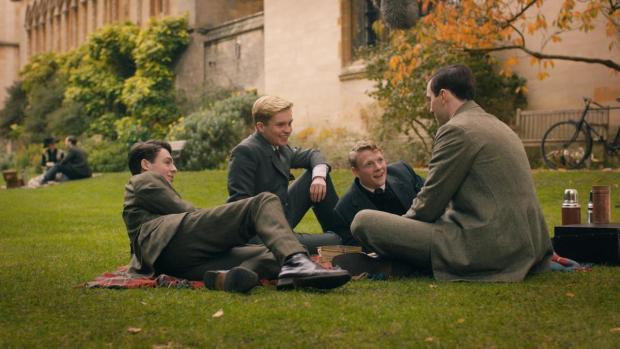 Nicholas Hoult (far right) plays Tolkien in a scene shot in Exeter's Fellows' Garden
A biopic portraying the life of one of Exeter College's most famous alumni, JRR Tolkien (1911, Classics and English), has arrived at cinemas worldwide.
Tolkien was released in the UK on 3 May, with Nicholas Hoult (About a Boy, Mad Max: Fury Road) playing the leading role and Lily Collins (The Blind Side, Love, Rosie) playing Tolkien's wife Edith, née Bratt.
The film explores the formative years of the orphaned author as he finds friendship, love and artistic inspiration among a group of fellow outcasts at school and then at Oxford. This takes him into the outbreak of the First World War, which threatens to tear his fellowship of friends apart and ultimately shapes his life and work profoundly.
Tolkien was partly shot at Exeter College, with the College featuring throughout the film trailer. The film is in cinemas now.