Trinity Term Chapel Card available
The Trinity Term 2021 Chapel Term Card is now available to view online. There will be special services in this term to mark Ascension Day and Pentecost. To view the Trinity Term Chapel Card click here.
The Chapel will offer choral services in Trinity Term in-person for staff and students. As seating is limited, booking in advance via Eventbrite is recommended. Book your place and find out more here.
Sunday Evensong will continue to be broadcast online. To listen to Chapel services online, click here and view the current music list here.
The Chapel looks forward to welcoming more students and staff back over the coming weeks, as and when rules permit.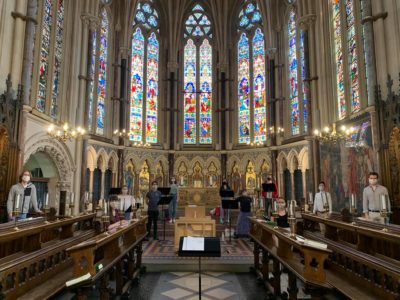 Image Credit: The Exeter College Choir in the Chapel