08th February 2023
Phoebe Mumby (2020, English)
Turl Street Arts Festival returns
The acclaimed Turl Street Arts Festival (TSAF) returns this February for another year of celebrating the arts. TSAF is an annual festival organised by students from the three Turl Street colleges: Jesus College, Lincoln College, and Exeter College. Taking place during fifth week of Hilary Term (12-19 February), the festivities will encompass a variety of exciting and creative events open to the public.
The theme for this year's festival is 'House', broadly inspired by house music, fashion houses, and ideas of home and living. The event is also accompanied by the re-launch of the adjacent arts and culture magazine The Turl. On 11 February, TSAF will kick off with a Jazz ball. Other events will include life drawing classes, collaging, film screening, magazine making, jewellery making and printmaking. The closing event is a street fair on Brasenose Lane on 18 February, which will host stalls celebrating local artists and charities, including Exeter's very own student-run charity, ExVac.
Exeter College's TSAF representative on the committee, Jasmine Ashworth (2021, English) said, 'Turl Street Arts Festival is an amazing celebration. Now more than ever it's important to recognise and appreciate the many forms that art takes, and I'm so fortunate to be a part of it!'
To find out more information on the upcoming festival, follow the TSAF Instagram here.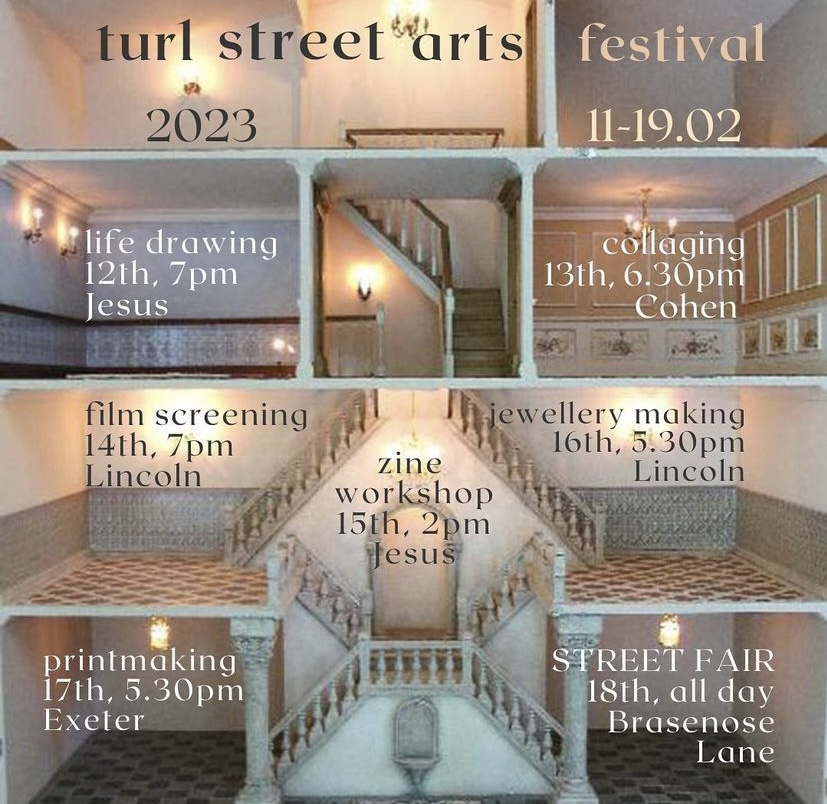 Schedule for the Turl Street Arts Festival