07th April 2022
Costi Levy (2019, Philosophy and Spanish)
Victory for Tobias Schröder in the Oxford-Cambridge Boat Race
Exeter student Tobias Schröder helped Oxford win the 167th men's Boat Race, writes Costi Levy (2019, Philosophy and Spanish).
Tobias Schröder (2021, MPhil History of Science, Medicine and Technology) stroked Oxford to victory in the 167th men's Boat Race last weekend. After three losses and a cancellation, a win for Oxford has been long anticipated. And to win in 2022, the Tokyo Olympics run-off year which saw five and four Olympians sit in the Oxford and Cambridge boats, respectively, makes the result that much more special.
Oxford were positioned on the Surrey station, after Cambridge won the toss and chose Middlesex. The Oxford crew dominated throughout the race, curtailing the potential benefit of the Middlesex station in the first few minutes of the race by putting in a very fast start. By the milepost Oxford were leading Cambridge by a second and maintained this margin until Hammersmith Bridge. As they came under the bridge, the crew began to stride out to a comfortable lead. Reaping the benefits of the Surrey bend through a series of fierce and well-executed pushes, Oxford pushed out to a six second lead by the Chiswick steps. The crew raced down the second half of the course with strength and technical prowess, winning by two and a quarter lengths in a time of 16 minutes 42 seconds.
'I can't describe how much winning the Boat Race means to me', says Tobias, for whom the race marked his fifth year rowing for OUBC and fourth year in the Blue Boat. Whilst rewarding in some ways, these years have been marked by illness, cancelation and near misses to Cambridge.
'I'm immensely proud to have won and I'll never forget it.'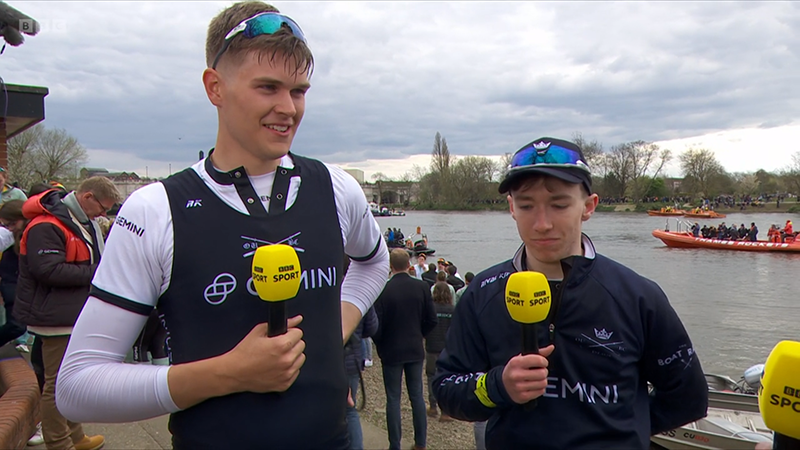 Tobias and Oxford cox Jack Tottem are interviewed on the BBC after the Boat Race