21st March 2023
Professor Jane Hiddleston
Women's History Month: Professor Jane Hiddleston
Professor Jane Hiddleston is an Official Fellow in French and Professor of Literatures in French at Exeter College. For women's history month, she writes about Suzanne Césaire who, she argues, should be regarded as a prolific figure of anticolonial and environmental thought.
My research has recently been focused on the work of some of the great francophone anti-racist thinkers. I published a book on Frantz Fanon late last year, and am currently working on an intellectual biography of the Martinican poet and politician Aimé Césaire. Many of the best-known thinkers working during the period of the decolonisation of France's former colonies, however, are male. Fanon and Césaire are highly influential figures but they have very little to say about the experiences of black women and their work even includes some problematic imagery of black femininity.
So, for Women's History Month, I wanted to remember Suzanne Césaire. The wife of Aimé Césaire, Suzanne Césaire was also an intellectual, and she wrote seven brilliant essays for the journal Tropiques on which they collaborated during the early 1940s, when Martinique was governed by the brutal regime of Admiral Robert, a sympathiser with the Vichy government in France. After the War, when her husband was made Mayor of Fort-de-France and Deputy at the French National Assembly, Suzanne Césaire stopped publishing, and worked as a schoolteacher whilst also caring for their six children. She died prematurely of a brain tumour at the age of 51, and her work now tends to be overshadowed by that of her husband and other more prolific, male thinkers. The intellectual men surrounding her, notably the French surrealist writer André Breton, wrote more about her beauty than about her intellectual work.
But her writing is vibrant and lyrical, and it offers a fascinating outlook on the situation of contemporary Martinique. In 'Poetic Destitution', she wrote scathingly about exoticised imagery of her native land and insisted that 'Martinican poetry will be cannibal or it will not be'. By this, she meant that it had to nourish itself from within its own culture rather than allowing itself to be corrupted by imagery generated by stereotypes from the outside. In her most famous essay, 'The Great Camouflage', she conjured the dynamism and richness of the Martinican landscape in a challenge to prevailing images of a paradise for the pleasure of the coloniser. Most compellingly, in 'The Malaise of a Civilisation', she denounced the colonial history of destruction of both humans and nonhumans through the plantation system and suggested another way of life, that of the 'plant-human'. Influenced by the work of the German anthropologist Léo Frobenius, Suzanne Césaire conceived this idea of a more integrated relationship between human, landscape and ecology as an alternative to damaging colonial attempts at to master and domesticate the land.
Suzanne Césaire should be remembered with the other great thinkers alongside whom she worked. She is just one example of the many female anticolonial intellectuals who have not been given sufficient recognition and her work remains relevant today not only for its antiracism but also for its environmentalism.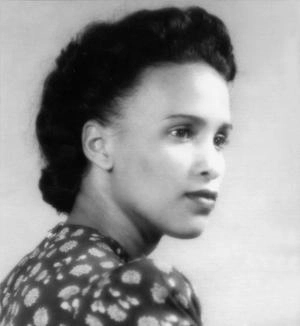 Suzanne Césaire