01st July 2022
Costi Levy (2019, Philosophy and Spanish)
Exeter takes a further step towards carbon neutrality
Costi Levy (2019, Philosophy and Spanish) reports on Exeter's latest step towards achieving carbon neutrality.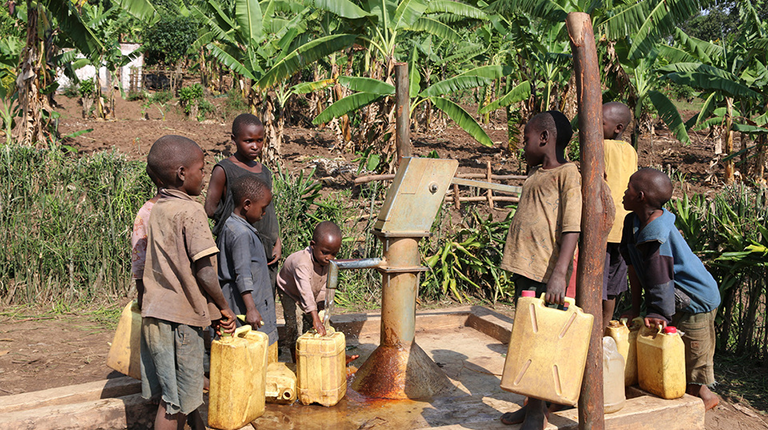 A project that restores boreholes in Rwanda received support from Exeter College this year
Launched in 2021, Exeter College's carbon offsetting initiative supports carbon emissions reduction projects across the globe. Each of the four projects that Exeter is supporting this year removes, reduces, or avoids greenhouse gas emissions while assisting local communities.
The four projects, based in Rwanda, Kenya and Bulgaria, were selected by a panel of students, Fellows and staff, in discussion with AlliedOffsets, a leading source of data and intelligence on carbon offsetting markets. In Trinity Term, College members voted to determine the allocation of support between the projects. Voting has now closed, and the projects will be funded with the generous support of a donor.
The four projects that Exeter will support this year are:
Rwanda safe community water management, which restores and repairs boreholes in Rwandan communities, removing the need to boil water for purification.
The distribution of high-efficiency cookstoves in Kenya and Rwanda. Both projects provide improved biomass cookstoves and also training in how to use them most efficiently, significantly reducing pollution within homes as well as energy use.
Methane gas capture and electricity production at Kubratovo wastewater treatment plant. The project involves recovering Methane in a wastewater treatment plant in Bulgaria, reducing emissions and producing energy.
Support of these four projects will jointly offset 1,830 tonnes of carbon emissions. This includes 735 tonnes of CO2e from the College's use of gas, 872 tonnes of CO2e from international student travel, 174 tonnes of CO2e from domestic student travel, and 22 tonnes of CO2e from the use of mains water.
As well as offsetting, Exeter College is taking significant and necessary steps to reduce the College's carbon footprint by cutting emissions. Last year, for example, the College avoided 366 tonnes of CO2e from entering the atmosphere by using renewable energy sources for its electricity. The College also participates actively in Foodquad, a food and beverage procurement scheme set up by a consortium of Oxford Colleges that will help the College to move to 100% reusable or recyclable packaging by 2023 and 70% fresh meat, dairy and vegetables from regenerative agriculture sources by 2030. Later this year the College's first Sustainability Coordinator will arrive in post and help to accelerate the College's ambitions to become carbon neutral. More information about the College's sustainability initiatives is available here.
There is still a way to go until Exeter College reaches net zero carbon for Scope 1, 2 and 3 emissions and we look forward to sharing further updates in due course.