30th June 2022
Phoebe Mumby (2020, English)
Saba Qizilbash (2021, Master of Fine Art) awarded Emery Prize and Ruddock Prize
Phoebe Mumby reports on the recognition Fine Art student Saba Qizilbash is receiving for her exceptional work.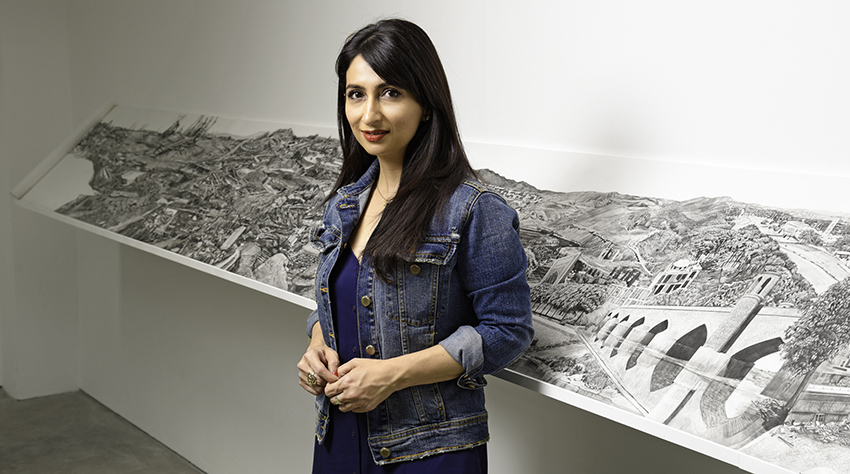 Exeter College congratulates Saba Qizilbash (2021, Master of Fine Art) on being awarded two more prizes following receiving the UC Berkeley South Asian Artist Award. Saba has recently been named the recipient of both the Emery Prize and the Mansfield-Ruddock Art Prize.
Saba's work focuses on place and personhood, examining contentious landscapes and borders. Her work foregrounds a questioning of the abstract concept of home whilst inspecting how human movement is policed, altered and restricted. Memory, migration and movement all bubble to the surface of her pieces as she chronicles the underlying consequences of the politics of cultural policy, nationalism and human geography through graphite or resin renderings of various landscapes. Significantly, these landscapes have all been drastically affected by demarcation lines and tell a story of separation, affliction, yet also an imagined possibility for the future of the dynamics of migration, mobility, and citizenship.
Named after the founder of the Pembroke College JCR Art Collection, the Emery Prize is an annual prize awarded to a Ruskin School of Art BFA or MFA finalist student and is designed to support emerging artists within the Oxford University community. The prize also encourages engagement with contemporary art in the wider Oxford community, finding new ways to support contemporary art practice through providing a platform for exhibition. As such, there will be a solo-exhibition of Saba's artwork in the Pembroke Art Gallery in 2023.
The Mansfield-Ruddock Art Prize is an award funded by the Ruddock Foundation for the Arts. The objective of the award is to open up new conversations around contemporary art as well as supporting the emerging talented artists graduating from the Ruskin School of Art through displaying works by Ruskin students in the College setting.
Saba's winning piece is a 20 ft wide scroll in water soluble graphite and pencil. It charts the little-known northern silk route from Multan to Baku and was recently on display at the 2022 Ruskin Degree Show.
Saba commented: 'I had been working on this scroll for my degree show since the start of Trinity term. I was never in a space large enough to view this 20 ft long drawing rolled out. I saw it for the first time myself as I installed it for the exam.
'From April till June I drew tiny towns and cities charting an ancient trade route from Baku to Multan, crossing through Iran and Afghanistan. When I finally put my pencil down, only then I realised how much distance I had covered.
'The news of winning not one but two awards of excellence was Eid, Diwali and Christmas all rolled in one.'
Saba's artwork, as well as more information about her art, are available on her website.