Shining a spotlight on the best of Exeter
Celebrating the achievements of Exonians all around the world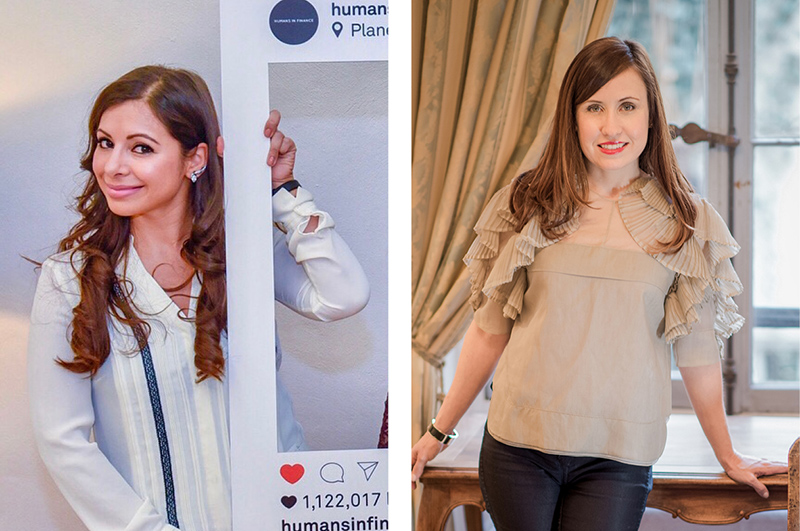 Zahra Husain, co-founder of Humans in Finance, and (right) Susanna Cerasuolo, Founder and CEO of CollegeMapper.com
As alumni, you are our ambassadors in the world beyond Exeter College. Amongst you are well-known and widely celebrated individuals, including actors, writers, composers, athletes, artists, politicians, academics and more. But across the globe and in all walks of life, less well-known Exonians are making a difference, improving lives, furthering knowledge and shaping our future.
We want to celebrate your achievements in a new feature, Alumni in the Spotlight. Alumni such as Susanna Cerasuolo (2012, Literature and Arts), whose passion for access to education drove her to create a start-up, CollegeMapper, aimed at helping underrepresented people attend university. Or Zahra Husain (2006, Economics for Development), who has recently been named in Management Today's 35 Women Under 35 for her work as co-founder of the social enterprise Humans in Finance, which champions finance professionals who are committed to a better world.
Pamela Stephenson, Director of Development and Alumni Relations, says: "One of the great joys of my job is meeting talented, fascinating people who are doing amazing things. There are wonderful stories just waiting to be shared and Alumni Spotlight will enable us to celebrate them."
We'd like you to nominate Exonians who you feel deserve to be in the spotlight. That could be a friend, a colleague, or simply an Exonian you admire. It could even be yourself! Perhaps you know someone whose work is breaking boundaries, or whose side-project is creating opportunities and enhancing lives. Perhaps it's your own passion-project, voluntary role or hobby that is making an impact and shaping our world. Whatever it is, send us your nominations here or email development@exeter.ox.ac.uk.