26th March 2021
Rector Professor Sir Rick Trainor
Rector Trainor reviews events of Hilary Term 2021
Hilary Term 2021 at Exeter was full of surprises. The most fundamental occurred when the UK Government suddenly imposed a lockdown in the early days of the new year. This further change to the regulatory regime entailed the scrapping of the arrangements that Oxford colleges had been expecting. Instead of a staged return of all students – a more gradual version of what had occurred in Michaelmas Term – Exeter had to adjust to Government and University rules that entailed most of the College's students remaining at home.
There were significant exceptions: postgraduate research students, undergraduates in a small number of hands-on professional programmes, some international students. Students living in private accommodation who had returned to Oxford before the lockdown took effect were able to remain. Also, individual students could apply to the College for permission to return if they had either especially inadequate study facilities at home or particular personal difficulties. In addition, from Seventh Week a small number of courses were allowed to resume in-person learning, allowing their students to return.
Nonetheless, throughout Hilary Term a majority of Exeter's students, especially of undergraduates, remained at home. There they had online tutorials, classes and (in the case of graduate students) supervisions. As a result, Turl Street and Cohen Quad were once again underpopulated, though less starkly so than during Trinity Term 2020. In turn the shortage of students in residence, and the continued absence of income from conferences and other outside bookings, entailed another term's pandemic reduction in College income. We are doing everything we can to mitigate this loss of income including furloughing those staff who cannot work, offering an online version of our highly successful summer school programme, actively encouraging film production companies to use the College as a film location, cutting our budgets where we can and also undertaking an in-depth review of the College's finances aiming to minimise interest on debt while maximising returns from investments.
Those surprises were, clearly, unpleasant ones. Much more positive was the resilience of the College as students, staff and Fellows made the best of these unanticipated further disruptions to Exeter's routines. Although lateral flow testing was required for returning students, the results were uniformly negative. Albeit bereft of formal halls, in-person chapel services, sporting fixtures, and celebrations of Burns Night and Chinese New Year, College life had a number of attractive features. For example, as last spring, the JCR and MCR staged online social events, study sessions and meetings. The College provided rooms in which individual 'households' at Turl Street and Cohen Quad could safely study outside their own rooms. Also, Exeter's assiduous welfare team staged regular 'Zoom' information sessions in collaboration with JCR leaders. Similarly, Library staff produced large quantities of books and articles through click-and-collect (and postal equivalent) and scanning services.
Among the most successful of these adaptations – to judge from Hilary Term's very upbeat series of Rector's Collections – was student learning itself. Undergraduate work for tutorials was diligent, often inspired – aided by Exeter's Fellows and Lecturers despite so many of them having once again to supervise their family's home schooling. Likewise, to judge from Hilary Term's graduate review sessions, Exeter's postgraduates (often in fruitful communication with their College advisors as well as with their University supervisors) have also been making substantial academic progress. Recently released postgraduate academic results from the 2019/20 academic year reinforced this positive picture. A series of sparkling postgraduate and undergraduate presentations in this year's four Subject Family Dinners – despite the absence of food and drink as incentives! – gave further proof of continuing intellectual vitality at Exeter.
Another positive surprise was that many other aspects of College life proceeded smoothly despite the lockdown and the shortfall of resident students. For example, the Chaplain and Choir supplied lively online services and organ recitals. The latter included a special performance in memory of the victims of the pandemic. Hilary Term also saw the launch of the Friends of the Chapel, open to everyone with connections to this vibrant aspect of College life. In terms of student initiatives, Alexandra Vasilyeva (2018, Engineering) has been co-leading a project to provide information about Covid-19 to people whose English is limited. Also, Chenyu Zhang (2020, Williams) captained an Exeter team to considerable success in the Oxford-wide All Innovate competition. In addition, Safa Sadozai (2018, History) won election as Vice-President (Access & Academic Affairs) Oxford Students Union. Meanwhile, Costi Levy (2019, Philosophy and Modern Languages) will cox for Oxford in the women's boat race.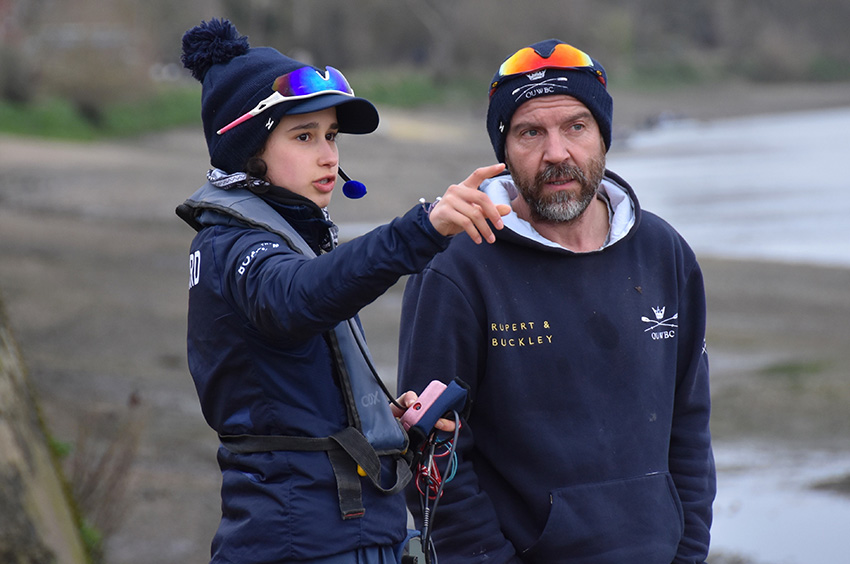 Costi Levy will cox for Oxford in the 75th Women's Boat Race on 4 April
As in earlier stages of the pandemic, College business unrelated to Covid-19 advanced across a variety of issues. The restoration and renovation of the Library took a major step forward in early February when Domestic Bursar Babis Karakoulas submitted the College's design to the authorities. In Trinity Term the College will consider committing itself to construction (and substitute library provision) between July 2022 and September 2023. The Development team are busy preparing to launch a mini campaign to secure further philanthropic support for the project and we look forward to sharing more information with you as plans progress. A significant encouragement to this new project came through a major award for the College's last substantial construction exercise, Cohen Quad; it won a national Civic Trust Award, the building's second major architectural accolade. Another capital project planned for later this year is the refurbishment of the lodge entrance on Turl Street. This work is needed in order to make the College more accessible and will allow us to keep the doors open during certain times of the day whilst also ensuring that the site is secure. On another front, the project to update the College's statutes secured formal approval from the University. The College seal (affixed by a large thumbscrew-like device under the care of the Finance & Estates Bursar, Nick Badman) was then applied to the proposals; they now await approval by the Privy Council and Parliament. With sustainability a core part of the College's strategic plan it is encouraging that environmental projects are also gaining momentum, including reductions in the College's production of solid waste and the use of regulatory devices on Exeter's radiators.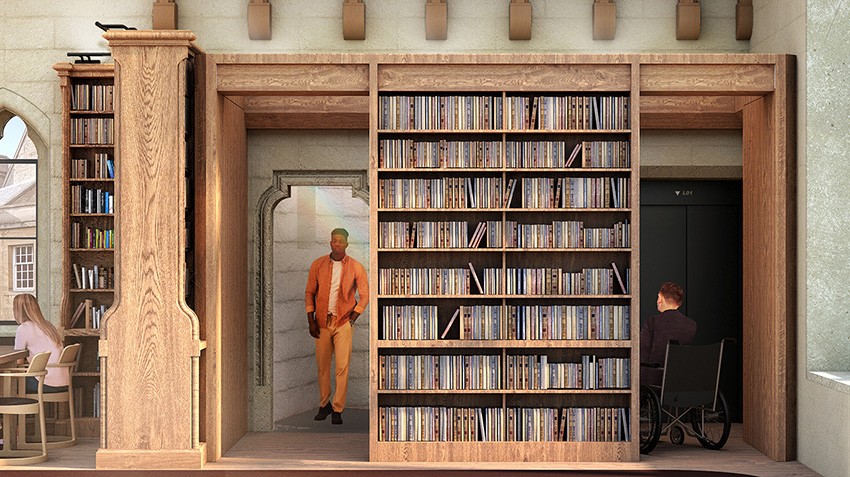 The refurbished Library will have a lift, making it fully accessible
Undergraduate admissions is always a painstaking process – inevitably so, as the demand for such places at Exeter exceeds supply by a ratio of approximately seven to one. This year interviews took place, smoothly, online. Subject to confirmation in the summer by A-level results – which, as in 2020, will occur without the exams actually being sat – the Exeter students entering this October will approximate, as in very recent years, the rapidly advancing social and economic diversity of Oxford as a whole. The ethnic composition of this Exeter contingent will not be revealed for another twelve months; a recent ethnic profile of Exeter's 2020 intake revealed diversity surpassed by only two other colleges. Attention at Exeter is now focused on providing support for those holding offers for entry in October 2021. The first major step in this direction was an online version of the annual offer holders day; reinforced by undergraduate volunteers in discussion groups, this well-attended occasion took place on 27 February. Meanwhile, vigorous 'outreach' activities are being undertaken – necessarily online – with the aim of generating additional Exeter applications from groups under-represented in the College's current 'pool'. Whilst increasing such outreach in London, Exeter is now collaborating with LMH and Merton in a South-West region expanded to include Bristol and the whole of Somerset.
In the inevitable continuing absence of in-person alumni events, the College's popular webinar series has continued. Chemistry Fellow Professor Philipp Kukura spoke about 'Weighing Molecules with Light', discussing both basic research and a successful commercial spinout. Twitter co-founder Biz Stone struck a similar note in a talk skilfully focused on 'My journey from founding start-ups to serving founders of start-ups'. Law Fellow Professor Jonathan Herring addressed the College's Fortescue Society with a highly stimulating presentation on 'Law and the Relational Self'. Very recently, Professor Neil Herring (Pre-Clinical Medicine) fascinated his audience with his cardiology research under the title 'Weathering an electrical storm: a matter of life and death'. Neil's talk relaunched the College's medical society as the Bannister Society, in memory of Sir Roger Bannister (1946, Physiological Sciences). During the current Easter Vacation, the Development and Alumni Relations Office is presenting talks by Fellows to groups of alumni in East Asia and Eastern North America. A talk to alumni in Western North America will follow later in the year.
Another current example of dissemination of the expertise of Exeter Fellows came in the announcement that Professor Nandini Das (English) will head a new Radio 3 series, Rainsong in Five Senses, which will examine the cultural importance of rain across the world, starting with Professor Das on 'India and the Sound of Rain'. The series is available to listen to online now. She has also been awarded a grant by the European Research Council for TRACTION, 'Teaching Race, belonging, Empire and Migration', aimed especially at secondary school teachers. Another major achievement for a Governing Body member was the UK Government's nomination of Professor Dapo Akande (Law) for the UN Law Commission.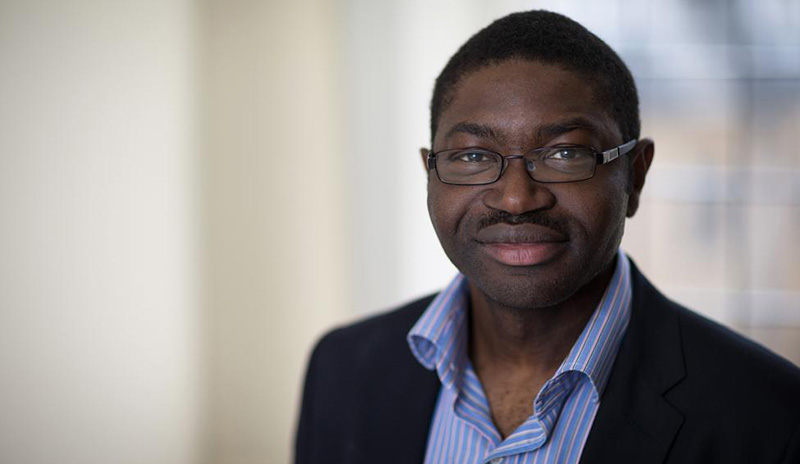 Professor Dapo Akande has been nominated by the UK for the International Law Commission
A sad note concerning the Fellowship: Emeritus Professor Cyril Mango FBA died on 8 February. A great authority on the development of Constantinople and other major subjects, Professor Mango held the Bywater and Sotheby Chair of Byzantine and Modern Greek Language and Literature from 1973 to 1995. His funeral, with numbers limited by the lockdown regulations, was held in the College Chapel on 23 February.
Turning to Exeter's alumni, the New Year Honours List featured two Exonians: Peter Mann (1971, English), chairman of the Hong Kong Branch of the Royal Commonwealth Society, with an MBE for services to the Commonwealth Community in Hong Kong and Asia; and Professor Kathleen Stock (1991, Philosophy and Modern Languages), professor of philosophy at the University of Sussex, with an OBE for services to higher education. I also note, among recent publications by alumni, the posthumous book The Constitutional Balance by Sir John Laws (1963, Literae Humaniores), formerly a Lord Justice of Appeal, who died in 2020. Among many other alumni deaths, I mention that of Professor Sir Peter Harper (1957, Physiological Sciences), who influenced both the ethics and the science-based clinical practice of medical genetics.
Over 100 alumni came together to support current students who are facing financial difficulties due to the Covid-19 pandemic and restrictions especially those who have had to stay in Oxford during the Easter vacation. Their gifts were matched by Jo Jesty (Biochemistry, 1964). As a result of the generosity of the Exeter community, every student who needs support will receive it – thank you. Although plans for next term depend on progress with the Government's 'roadmap', the College expects an influx of undergraduate finalists from 12 April and, more speculatively, of other undergraduates from the middle of Trinity Term. The University has yet again postponed graduations, which will not resume now (except of course in absentia) until September at the earliest. Please be assured, however, that when we are allowed to restart in-person graduations, the College will as usual include in graduation day (in addition to the University's festivities in the Sheldonian) a group photograph, a supplementary secular ceremony in the Chapel, and a reception for graduating students and their families.
On a lighter note, the Oxford-based murder mystery series 'Endeavour' has been filming in College; look out for an 'explosive' episode featuring the historic site. Also, the College cat, Walter, having undergone convalescence in Cohen Quad (truly a gilded cage!) for an injured paw, is now confidently roaming the grounds of Turl Street once again. Marguerite and I hope that, within the regulations which apply where you live, you can imitate Walter's outdoor exercise during the coming Easter break.
Rick Trainor
Rector