16th December 2019
Professor Sir Rick Trainor
Rector Trainor reviews the events of Michaelmas Term 2019
Rector Professor Sir Rick Trainor reviews the events of the past term at Exeter College and looks ahead to the new decade!
Michaelmas Term consistently provides opportunities for celebration at Exeter. It is always my great pleasure to welcome new students as well as to welcome back those who return. The pace and rigour of academic life in Oxford can sometimes take new students by surprise, and I am delighted, as noted in my last report, at the successful introduction of the Exeter Plus bridging programme, which aims to ease that transition. Assisted by such programmes, by tutors, by welfare providers and by fellow students, the large majority of our freshers, undergraduate and postgraduate alike, soon adjust – and start to embrace not only academic life here but also the many other opportunities that Exeter and Oxford provide.
As usual, Exeter celebrated Diwali and Thanksgiving during the term, with special dinners in Hall. For many – particularly among our newest students – these were their first experiences of these festivals, and it was pleasing to see how enthusiastically students and Fellows of all backgrounds joined in.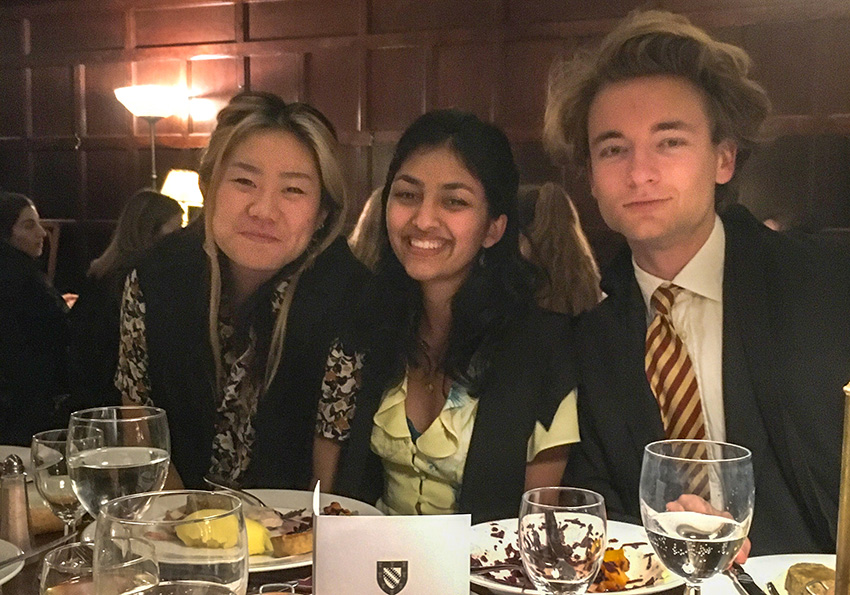 Students enjoy the Thanksgiving celebrations. Photo: Coral Kim
This Michaelmas Term we also celebrated 40 years of co-education at Exeter, first with a reunion dinner for those who matriculated in 1979, then with a special symposium. At the latter alumni of all eras were joined by Rector Cairncross, by current and former Fellows and by students for a variety of lively discussions assessing how co-education came about, how it influenced College life, and how the College has continued to develop and prosper since.
During the term Exeter's students contributed to Oxford's rich arts and culture with a series of events of their own. Zerlina Vulliamy (2017, Music) founded last year the Oxford Contemporary Opera Society, whose inaugural performance was the UK premiere of Gavin Bryars' acclaimed opera, Marilyn Forever. Perhaps even more remarkably, this term the Society performed three operettas, all written and directed by Oxford students. Susanna, a modern retelling of the story in Mozart's The Marriage of Figaro, was composed and directed with great accomplishment by Zerlina. Exeter's first year students threw themselves into Drama Cuppers with relish, staging an adaptation of Ibsen's A Doll's House, for which Costanza Levy (2019, Philosophy and Spanish) was awarded the prize for best director. Antonio Perricone (2017, English) and postgraduate Halina Suwalowska (2016, Population Health) put on art exhibitions. Antonio displayed in the Rector's Lodgings photography from a trip to New York, which he undertook in the Long Vacation as Exeter's North America Travel Scholar. Halina explored the theme of autopsy in an exhibition at Oxford's Jam Factory.
One of the portraits from Antonio Perricone's photography exhibition
Our students also excelled in sport this term. Jessica Abele (2019, Physiology, Anatomy and Genetics) played tight-head-prop in the Women's Varsity Rugby match, scoring Oxford's only try. Others whose performances deserve special mention include Phoebe Anderson (2019, English), Yasmine Copley (2017, Chemistry), Henry Hampson (2019, Physics), Jack Hughes (2018, Medicine), Guy Nehushtan (2019, Engineering), Sam Ritblat (2019, Engineering), Rachel Tudor (2017, English), Patrick West (2019, Mathematics), and Nicholas Whitley (2018, Engineering) who helped Exeter to reach the darts intercollegiate tournament final. Sadly the rugby and the darts teams both fell just short of lifting their respective trophies, but I must commend everyone for their efforts. I am confident that they will each enjoy even greater success in years to come.
Other notable contributors to College life this term include the speakers in the Rector's Seminars. Physicist Professor Frank Close (Emeritus Fellow) revealed the fascinating story of the atomic bomb's metaphorical father, Rudolf Peierls, and his intellectual son, the atomic spy Klaus Fuchs. Dr Henry Sun, an expert in political marketing, shared his insights into President Trump's chances of re-election in 2020. Celebrated author Sir Philip Pullman (1965, English, Honorary Fellow) discussed his approaches to reading and writing to a capacity audience in Cohen Quad in the wonderfully titled talk, 'Read like a butterfly, write like a bee', which is available to watch online until 13 February. Lord (Stephen) Green (1966, PPE, Honorary Fellow), the former Minister of State for Trade and Investment and former group chairman of HSBC, discussed his wide-ranging new book, The Human Odyssey: East, West and the Search for Universal Values, with Professor Peter Frankopan, Oxford Professor of Global History and author of The Silk Roads: A New History of the World. The most topical of the term's seminars, on the then forthcoming General Election, featured Politics Fellow Michael Hart, who by cherished tradition gives a presentation in College before each major UK electoral event (he has been very busy in recent years!). Dr Hart delighted a packed audience with judicious criticism of the campaigns of each major political party; he then arguably set a record for the number of questions dealt with constructively in a single session!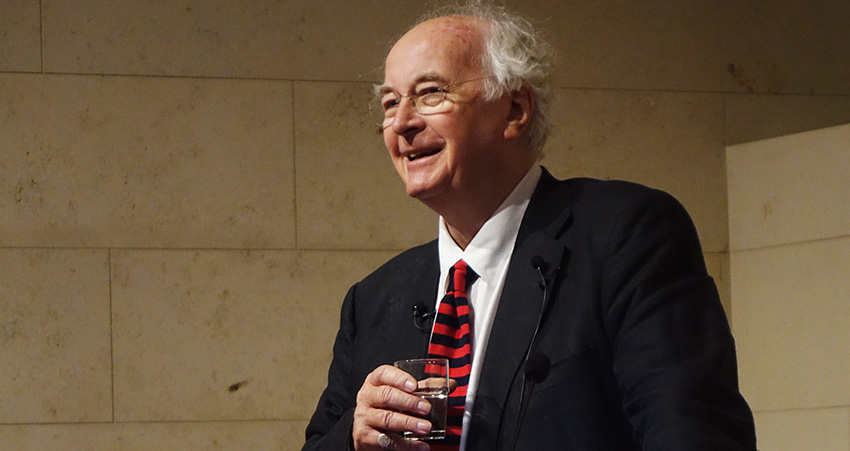 Sir Philip Pullman entertains an audience at Cohen Quad's FitzHugh Auditorium
Among the many achievements of our alumni, I must make special mention of Jonathan Wilkinson (1988, PPE), who has been appointed by Prime Minister Justin Trudeau to the Canadian Cabinet as Minister of Environment and Climate Change. Mr Wilkinson joins fellow Exonian David Lametti (1991, Law) in Canada's Cabinet. Professor Lametti will continue to serve as Minister of Justice and Attorney General. Congratulations also to Matt Hancock (1996, PPE), who has been re-elected as Member of Parliament for West Suffolk and continues as Secretary of State for Health and Social Care in Boris Johnson's new Government.
Turning to our Fellows and Lecturers, I am delighted to announce that Dr Neil Herring, of Keble College, the John Radcliffe Hospital and the University's Department of Physiology, Anatomy and Genetics, has been appointed Tutorial Fellow in Physiology at Exeter with effect from April 2020. Meanwhile, two Exeter Lecturers have featured in the media. Dr Emily Oliver (German) spoke on the BBC World Service about attempts by East Germany, during the Cold War, to use radio to shape opinion in Africa; she also appeared on a BBC Four documentary, London Calling: Cold War Letters. On Radio 4 and also at a Subject Family Dinner at Exeter, Dr Oliver Ready (Russian), spoke about Dostoevsky's Crime and Punishment, of which he has recently published a much-praised translation. This term those dinners also included presentations by Fellows Professor Nandini Das (English) and Dr Dexnell Peters (History).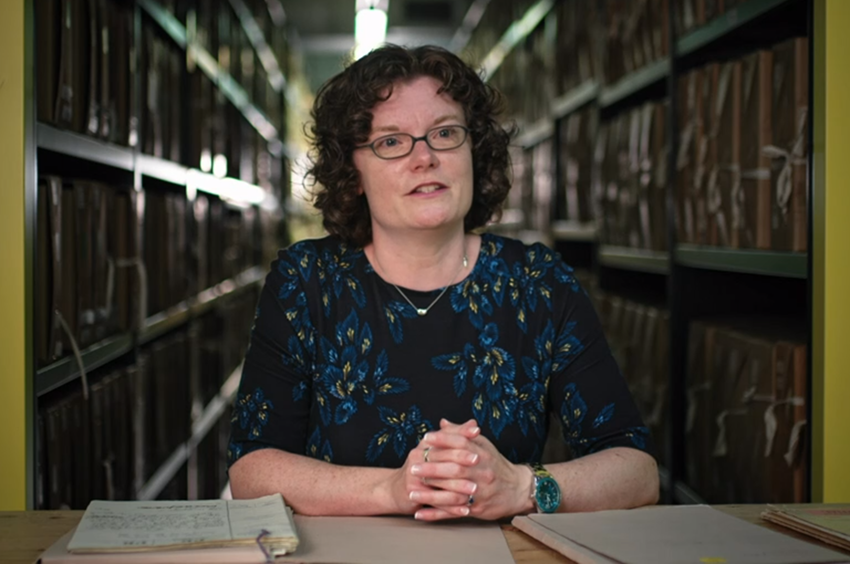 Dr Emily Oliver appeared on BBC Four's London Calling: Cold War Letters documentary, pictured above
During Michaelmas Term there has been considerable emphasis on policy innovations helping to implement the College's new Strategic Plan, with its themes of diversity, excellence, stewardship and community. For example, seeking to build on recent resource-friendly policies such as windows renewal, 'keep cups' and disposable wrapping for mailings, the College has established a working party (including student participation) on sustainability and climate change. In addition, the Governing Body endorsed a decision to increase further the number of hours of welfare support available to Exeter's students. There has also been careful discussion of a new outreach scheme designed to increase the College's applications for undergraduate admissions, especially from individuals from disadvantaged backgrounds. Meanwhile, we are also making rapid progress, in consultation with our architects on the Library restoration project, in formulating ideas for a preliminary application by January to the planning and listed building authorities. Watch this space!
As the end of this decade approaches swiftly, Marguerite and I are anticipating a New Year visit to Hong Kong where we shall meet with as many alumni as possible. This will be followed by a further visit to East Asia in March, a trip to Eastern North America in April (centred on the University's North American Reunion in New York on the 18th), and an expedition to Southern and Northern California in September. In the longer term, I look forward to discovering what new accomplishments Exeter's Fellows, students, staff and alumni will achieve in the 2020s. In the interim please allow me to wish you all a very pleasant holiday season and a happy and prosperous New Year.
Rick Trainor
Rector