14th December 2021
Rector Professor Sir Rick Trainor
Rector Trainor looks back at events of Michaelmas Term 2021
Michaelmas Term 2021 was exciting – paradoxically because it was (almost) normal! Admittedly, a marquee in Front Quad once again facilitated well-ventilated events and socialising. Also, mask-wearing was required in confined spaces, open windows were the norm, and Fellows, staff and students could attend meetings online if they wished. Nonetheless, life at Exeter was much closer to the pre-pandemic norm than during any term since Hilary 2020. In particular, the large majority of tutorial teaching was in person. Everyone was delighted to have a much freer regime than in recent terms, as attendance (for example) at formal dinners and College lunches demonstrated. Likewise, the JCR and MCR eagerly resumed nearly normal operations.
Warm welcomes characterised the start of term. On freshers' arrival day, I hosted a tea in Hall for the parents of our new undergraduates; simultaneously, the JCR's intrepid Freshers' Week Committee greeted the new students. Register signing resumed, including 'catch-up' appointments for those who missed out in 2020/21. Matriculation, online last academic year, once again was held in the Sheldonian. In College, there were two freshers' dinners each for undergraduates and postgraduates in order to avoid crowding. Hall was also the venue for the annual introductory tea for visiting students from Williams College; the speaker, as usual, was Philip Pullman (1965, English), who gave a very stimulating talk about techniques of writing, academic as well as creative.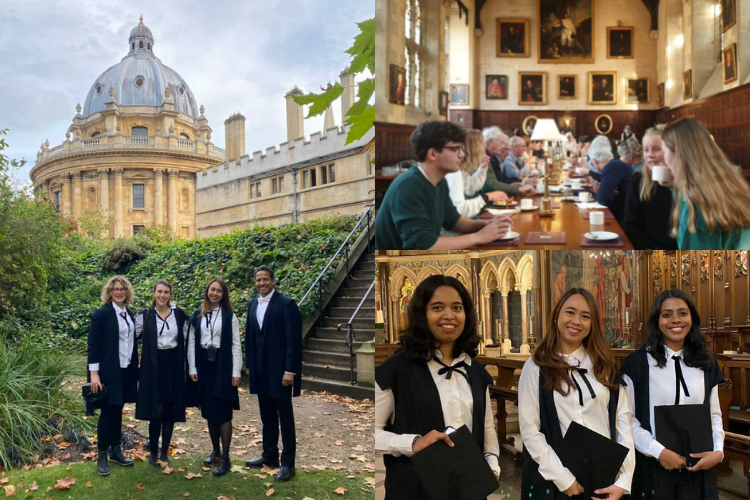 Left and bottom right: Exeter students during Matriculation. top right: Williams College visiting students received a very warm welcome to Oxford from Sir Philip Pullman in Hall.

Michaelmas was a bumper term for awards and recognition. Much related to Cohen Quad, designed by Alison Brooks Architects. In mid-October 2021, at the annual UK Education Estates ceremony in Manchester, that beautiful and well-used building received two accolades (for Project of the Year and Inspiring Learning Spaces), plus a highly commended rating for Client of the Year. Cohen Quad also won an Architecture MasterPrize award. In addition, the building attracted a highly favourable article in The Observer by Rowan Moore, who described it as 'a tour de force that puts people first'.
Exeter's Fellows also had a distinguished term. Professor Dapo Akande (Law and Public Policy) was elected to the highly influential International Law Commission. Professor Nandini Das (English) was appointed the Literature Delegate for Oxford University Press. Professor Cath Green (Senior Research Fellow) was honoured, with the rest of the Oxford Vaccine team, at the Pride of Britain Awards. Professor Jonathan Thacker (Spanish) published a co-edited study of a major dramatist of the Spanish Golden Age. Also, an Oxbridge team, including Dr Chris Ballinger (Academic Dean), secured a grant of £800,000 to tackle persistent inequalities hindering access to postgraduate research for Black, Asian and minority ethnic students.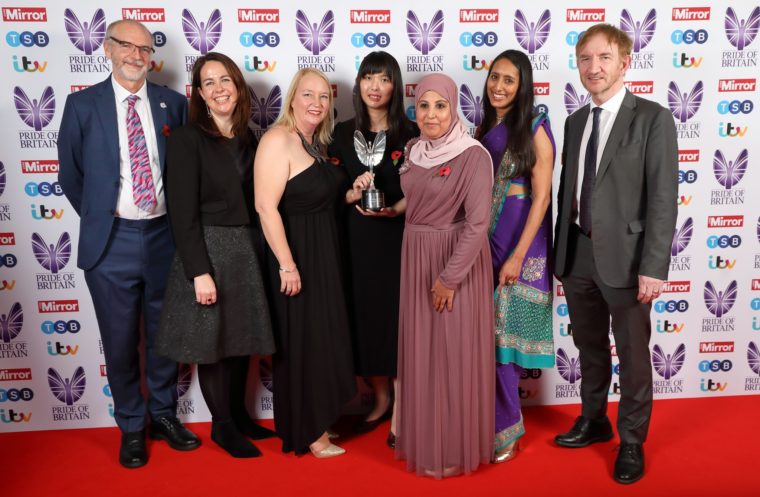 Oxford Vaccine Team at the Pride of Britain Awards (Professor Cath Green third from left)
Likewise, also in pursuit of further progress on access, the College is using a philanthropic donation by an alumnus to appoint a Schools Liaison Officer, making two full-time access staff altogether. Meanwhile, another major focus of Exeter's attention – sustainability – now has its own special section on the website, pulling together the College's various initiatives.
Michaelmas Term also featured four webinars. Dr Jim Grant (Philosophy) was helpfully precise in addressing the subject of 'What Good Is Art?', Professor Asli Niyazioglu (Ottoman History) gave a strikingly illustrated presentation on 'Old Talismans of a New City? Istanbul's antiquities in the Ottoman Book of Wonders'. Biz Stone, co-founder of Twitter, captivated his audience in discussing 'Society and the Biosphere: How the tide is turning for Startups and Companies alike'. In addition, Visiting Fellow Professor Nicolas Espejo Yaksic, a permanent adviser to the UN, gave a stimulating overview of a key topic in his talk on 'Child Safeguarding and Human Rights: Towards a polycentric approach for public and private organisations'.
It's also gratifying to note that the College's Visitor the Right Reverend Robert Atwell (Bishop of Exeter) became a member of the House of Lords.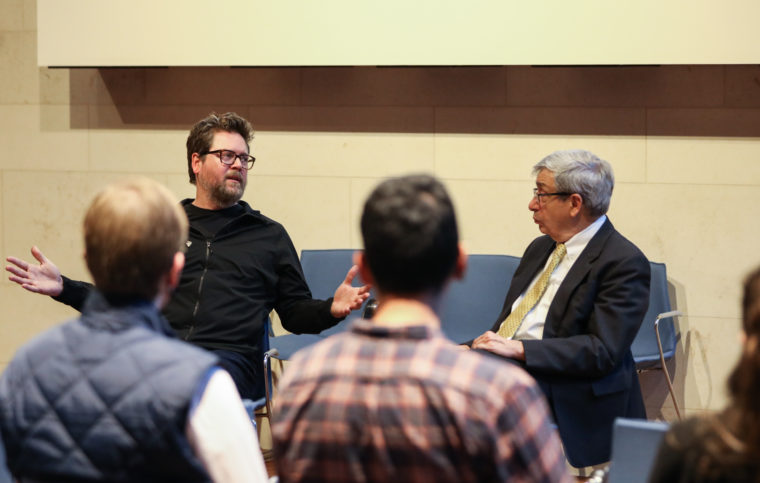 Biz Stone in conversation with Rector Trainor at The FitzHugh Auditorium, Cohen Quad 
Exeter students gained much recognition during the term just ended. The Choir, which performed splendidly both at Chapel services throughout the term and in a concert (with New Trinity Baroque) of Mozart's 'Requiem' in November, released a new CD, 'Masters in this Hall: Carols Ancient and Modern'. Michaelmas was also a very active term for drama. In Cuppers, Jasmine Kaur (2021, History & Modern Languages) received the runner up award for best director, and Jade Khan (2021, Literae Humaniores) secured the runner up award for best actor in a leading role. Sarita Williams (English, 2020) served as assistant director of a new student musical, 'Ocean Madness', in which Sophie Elliot (2019, Biochemistry) played a major character. Also, Celine Barclay (2018, Modern Languages) performed in a play at the Burton Taylor Studio.
Sport also featured largely during the last few months. Reviving from a lull associated with the pandemic, the Boat Club resumed its 'renaissance' with a number of successes in the Christ Church Regatta. This followed a Freshers' Open Day, which attracted nearly fifty novice rowers. Spurred on by the Club's new senior member (Nick Badman, Finance and Estates Bursar, who rowed for Oriel as an undergraduate) and by renewed attention from alumni (led by Matt Holyoak [2015, History]), the Club seems poised for further success in Torpids under the presidency of Henry Hampson (2019, Physics). The Club, which held its termly dinner in late November, also staged a six-hour sponsored 'ergathon' for the College charity, ExVac. Meanwhile, the resumed annual football dinner attracted many alumni (led by Mark Labbett [1983, Mathematics]); a student-alumni football match took place the next day.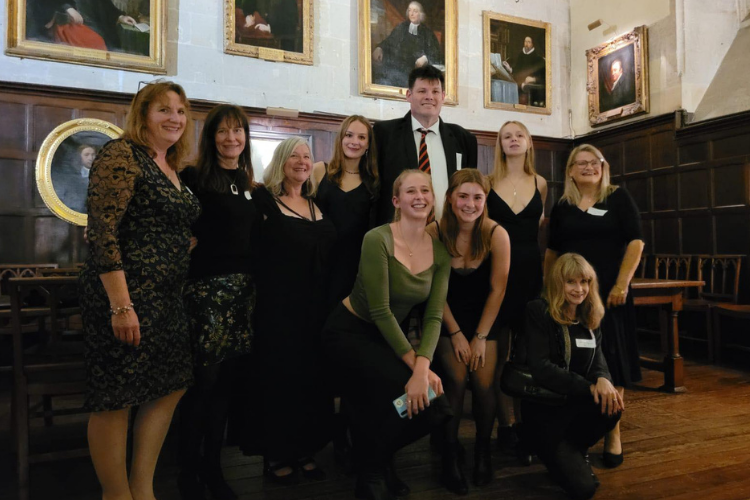 Current and former Exeter men's and women's football teams gathered for dinner in Hall, with a special appearance from alumnus Mark Labbett, aka 'The Beast' from The Chase!
Exeter resumed the creation of new alumni as in-person graduations re-started in September. Existing alumni secured many forms of recognition. Jonathan Bengtson (1992, Modern History) received a prestigious award for services to academic libraries across the world. With regard to books: Robert Sider (1956, Theology), General Editor of the New Testament Scholarship for the Collected Works of Erasmus, produced two books in that University of Toronto Press series; Chris Skidmore (1965, Chemistry) brought out Quakers and their Meeting Houses (Liverpool University Press); and Shon Faye (2006, English) published The Transgender Issue: An Argument for Justice (Allen Lane). Meanwhile, in terms of business success, Quantum Dice, co-founded by George Dunlop (2015, Mathematics and Statistics), completed its pre-seed fundraising round, raising £2 million. 
The more relaxed Covid regime of Michaelmas Term facilitated many well-attended events in College. The Marett Memorial Memorial Lecture in anthropology took the form of a scintillating talk by Dr Kit Davis (School of Oriental and African Studies) on 'The Ground Beneath Our Feet: Ethnography & Empathy in the 21st Century'. A scholars' dinner honoured both academic achievement and service to the College. Likewise, there was a subject family dinner for social sciences and Exeter's annual dinners to mark Diwali, Thanksgiving and a twice-over early Christmas. The Lyell Society staged its biennial dinner, preceded by a talk by Dr Richard Walters (2004, Earth Sciences), 'Stop-start rupture: The importance of seismic sequences'. In addition to Remembrance Sunday in Chapel, there was also the traditional, poignant service on the 11th of November held under Palmer's Tower beside the newly restored Second World War Memorial. The Choir sang at that service and, in a lighter mood, led carols on the Front Quad just before lunch on Wednesday of Eighth Week. Finally, I'm happy to highlight with gratitude the second annual Giving Day, in late October, which raised almost £70,000.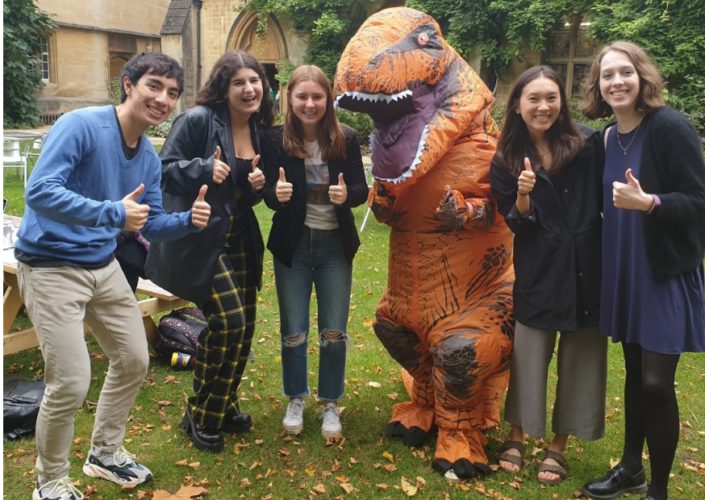 The Giving Day TRexeter mascot with students in the Fellows' Garden 
I also note two important sombre events. On 22 October, the College played a leading role in the memorial service at St Mary's for our late Finance and Estates Bursar and Fellow, Peter Warner, who died in June 2020. The Chaplain led the service, the Choir sang, and I gave one of the tributes to Peter, who left a strongly positive mark on Exeter during his tragically brief time here. Then, on 23 November, I represented the College – as did Rector Cairncross – at the memorial service in London for the distinguished jurist Sir John Laws (1963, Literae Humaniores & Honorary Fellow), formerly a justice of the Court of Appeal, who died in April 2020.
During Michaelmas Term, the College's Lodge refurbishment project, scheduled for completion in late March, prompted the opening of a temporary Lodge in Front Quad. Preparatory work for the Library restoration and renovation project will start during the Easter Vacation; special attention will be given to preparing the temporary book stack, which will serve student needs during the construction period, July 2022 – September 2023. Focused fundraising for this vital project continues.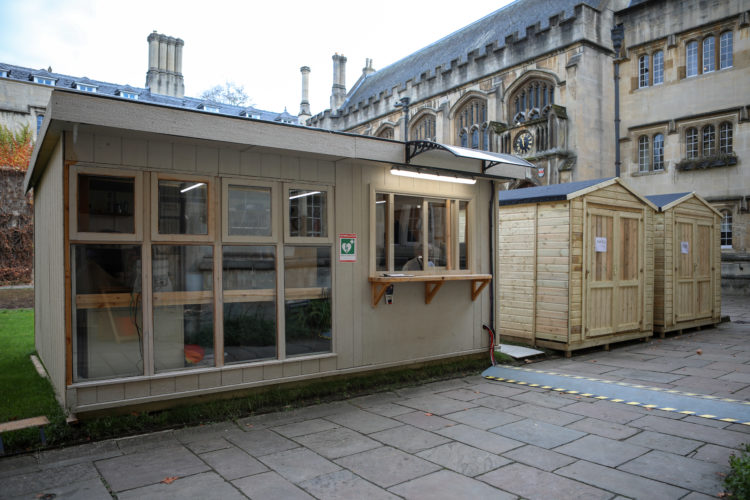 Temporary Porters' Lodge in Front Quad
The new year will bring a number of new recruits to the Fellowship: Professor Guy Thwaites (Infectious Diseases) and Katherine Noren (Director of the University's Disability Service) as Supernumerary Fellows; Michael Bronstein (Imperial College London) as DeepMind Professor of Artificial Intelligence; and Antony Willott (the University's Director of Planning and of the Council Secretariat) also as a Professorial Fellow. We're also looking forward, as a result of an appointment process held during Michaelmas Term, to welcoming in May Dr Paula Koelemeijer (Royal Holloway University of London) as a Tutorial Fellow in Earth Sciences.
I write in the midst of the UK's full share of worldwide forebodings about the Omicron variant. These worries have caused the postponement of some pre-Christmas Exeter social events – and may have implications for the operation of the College in January and beyond. But, however that works out, Marguerite and I send warm festive greetings to you all after a highly satisfactory Michaelmas Term at Exeter.
Rick Trainor
Rector